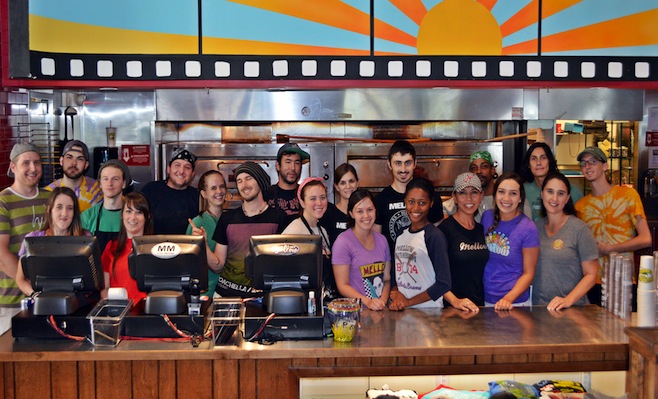 "Mellow Mushroom, Mellow Lovin'" BY: Shea Nolan
Great food in a casual, fun environment can sometimes be hard to find. A restaurant that caters to the whole family – from high-energy kids to too-cool teens to parents that want a place to relax – is a rare occurrence.
Mellow Mushroom in Suwanee Town Center has been serving up unique culinary fare in an engaging atmosphere since opening in April 2010. The menu is constantly open to new creative ideas, and already includes an eclectic variety. The restaurant offers something for everyone – from Thai inspiration to Cajun flavors
 to Mediterranean influences. They even have offerings for those with gluten free or vegan needs. In fact, the Mellow Mushroom website now has a link to a tool that allows a customer to enter his or her dietary needs and find suitable menu items.
Like the menu, the restaurant itself is unique. The décor is funky and fun, and the staff is friendly and upbeat. When entering the dining room, a customer will likely find flying pizza dough, singing servers and managers who aren't too busy to tell a joke.
Sandra Hobson, the restaurant's general manager, described the amiable atmosphere:
According to owner, Jill Johnson, Suwanee Town Center is the perfect location for the restaurant.
"I loved the mixed-use environment with an urban feel and the park, which is a community gathering place," Johnson said.
And so far, Suwanee has loved the "Mellow" experience. "The reception has been so positive from day one," Hobson said. "Guests still see the value in our food and continue to crave that 'lovin' from the oven,' so we have been privileged to stay strong, even in a difficult economy."
As a thank you to loyal customers, Mellow Mushroom offers discounts and deals through E-Club, the restaurant's Facebook page, and a Mobile VIP club that sends text discounts right to the member's phone. They are also starting a fun new promotion with the Atlanta Falcons. Beginning on Sept. 2, guests will receive a bobble head of one of six star Falcons players with the purchase of any Large Specialty Pizza and two Coke products. Along with Happy Hours on Monday through Thursday every week, there are plenty of opportunities for Mellow customers to get a great deal.
"We genuinely care and want every guest to feel that "Mellow Love" when they are here," Hobson said. "We operate with heart and are like a family."
■ For more information, visit mellowmushroom.com/ store/suwanee