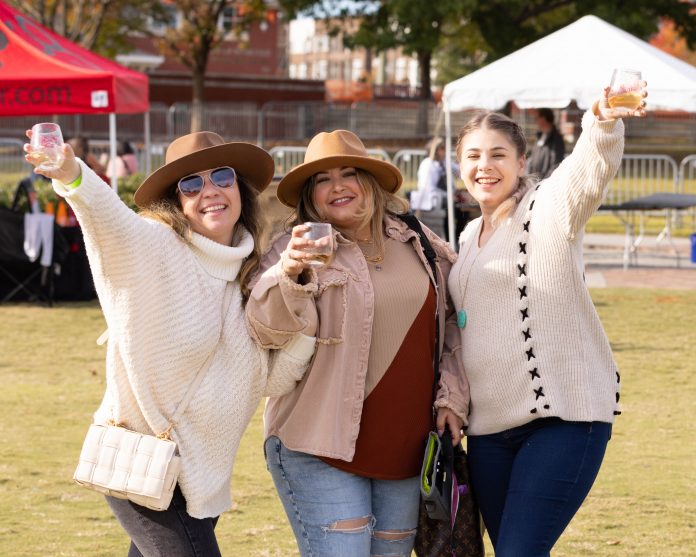 The 2022 Suwanee Wine Fest returns to Town Center Park this November for an afternoon of wine, music, shopping and more!
Georgia's favorite wine festival makes its way back to Town Center Park on November 5, 2022, to usher in the official start of the fall season — at least for all of us here in Suwanee. As one of the most anticipated local events of the year, Suwanee Wine Fest offers oenophiles a chance to sip their way through samples of more than 150 premium wines, from rosés and Chardonnays to Cabernets, many of which were hand-selected by the experts at TopShelf Beverage. The festival will feature a large selection of wines from around the world, with Georgia wineries taking center stage in the Georgia wine section, where you can enjoy all your favorite Peach State wines.
In addition to all of the wine samples, festival- goers can also stroll the park and shop from local vendors, taste delicious food, participate in backyard games like giant Jenga, and listen to live music from local bands. This year, local country musician Seth Michael makes his return to Wine Fest, but this time on the main stage!
New for 2022: Grape Stomping!
Channel your inner Lucille Ball as Suwanee Wine Fest gives attendees the chance to experience grape stomping this year. This old-school wine-making method may have been replaced with more modern technology, but it sure is a fun experience for all wine lovers — so kick off your shoes and feel the grapes between your toes as you stomp away!
Cheer on Your Team at the Tailgate Tent
Don't want to miss the game? Head to the Tailgate Tent to catch the latest scores and see what StillFire Brewing and Indio Brewing Co. have on tap. Taco Mac will also be on hand serving up chips and salsa to help pad your belly before venturing out for more wine samples.
Take a Wine Break
In addition to all of the amazing wines that will be on hand, attendees can also sample a number of ready- to-drink cocktails from Cayman Jack, Cutwater Spirits, The Long Drink, Superbird, Six Bridges Brewing, and Crown Royal.
Support a Good Cause
A portion of the Wine Fest proceeds will be donated to Annandale Village, a Suwanee organization that provides care and life assistance to adults with developmental disabilities or traumatic brain injuries and enables them to maintain their independence in the least-restrictive environment possible.
Get a sneak peek at some of the 2022 wineries:
BOUTIER VINEYARDS
Located in Danielsville, Georgia, Boutier Vineyards boasts a long growing season producing rich, ripe fruit and healthy vines. Whether your wine choice is sweet or dry, this winery has something to satisfy your thirst for wine. Sitting on nearly 32 acres, the vineyard's current varietals include Chardonnay, Cabernet Sauvignon, Cabernet Franc, Viognier, Syrah, Corot Noir and Cynthiana. The winery is open to everyone for a casual afternoon glass of Chardonnay or a private wine-tasting session with a group of friends. For those looking for more than an afternoon, Boutier Winery and Inn has accommodations. BoutierWinery.com
CHATEAU ELAN WINERY
Located just 40 minutes north of Atlanta and 50 minutes from Hartsfield-Jackson International Airport, Chateau Elan Resort has 329 guest rooms and suites (including a European Spa mansion with 33 treatment rooms and 14 overnight suites), 63 holes of championship golf, a 25,000 square-foot conference center, five restaurants and two lounges. The full-production winery, the largest in the state of Georgia, produces 20,000-25,000 cases annually and showcases the only vegan certified muscadine wine in the Southeast. The winery also produces other traditional European varietals, sparkling, and an American Port. ChateauElan.com
CLOUDLAND VINEYARDS AND WINERY
Established in 2015, Cloudland is a farm winery located in the foothills of the North Georgia mountains. Located along the Eastern Continental Divide, the 10-acre site sits at a unique 1,300-foot elevation in the unexpected urban setting of Buford, Georgia. Cloudland focuses on growing premium quality fruit and rare grapes that are ideal for the region. The tasting room is designed for a truly personal experience. Enjoy nooks and experiences tailored for visitors' special outings, all while nestled among the vines of Cloudland's estate vineyard. Facebook.com/cloudlandwines
ETOWAH MEADERY
Located in Dahlonega, the very heart of Georgia's wine country and wine tasting capital of Georgia, Etowah Meadery gives "wine" a unique buzz. In fact, their meads are wines made with only the finest honeys, fruits, and spices. Mead is a honey-based wine enjoyed by many enlightened civilizations throughout time, and its enthusiastic acclaim is known to China, Europe, Africa — anywhere in the world that honey is produced. Thankfully, the modern artisans of Etowah Meadery have resurrected this golden elixir for our enjoyment. EtowahMeadery.com
Suwanee Wine Fest takes place Saturday, November 5, 1-4:30 p.m. VIP opens at noon. General admission tickets are $60 and increase to $65 on Sept. 25. For more information about Suwanee Wine Fest and to purchase tickets, visit SuwaneeWineFest.com.