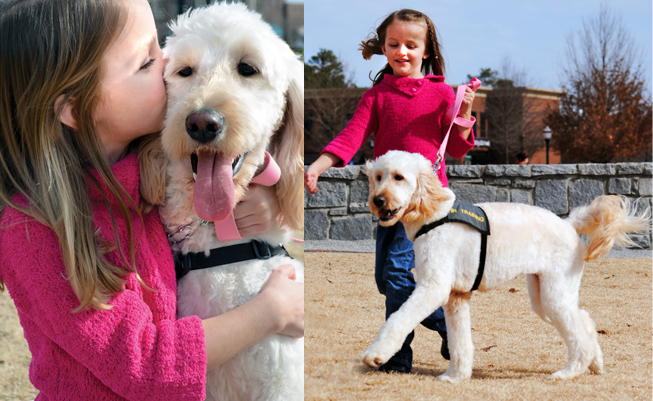 There is evidence that indicates having a pet can help make a person healthier. A dog, cat, or other animal can help to keep someone active, offer companionship, and their presence can help to reduce stress, among many other benefits. But for people with life threatening medical conditions, bringing an animal into their lives can offer something even greater: peace of mind. Just ask Suwanee resident Jennifer Schillig.
Schillig, her husband Andrew Weingarth, and their three children have lived in Suwanee since 2000. Their youngest daughter, Meghan Weingarth, 7, and a first grader at Riverside Elementary School was diagnosed at just 4 months old with tuberous sclerosis complex (TSC), a rare genetic disorder, which can affect the central nervous system, causing seizures, developmental delay, and other symptoms as well as epilepsy. Meghan tried multiple seizure medications, all of which failed. In addition, at age 3 Meghan's parents found out she also has a peanut allergy.
Now that Meghan is older and more independent, Schillig said the idea of having a companion to assist Meghan with seizures and provide emotional support is very comforting, especially at night time and at school. So after doing some research, Schillig opted to use a private trainer so Meghan could bond with her dog while still a puppy.
Schillig said the decision to obtain a service dog for Meghan required a leap of faith, and since service animals are not covered by insurance, the financial commitment required made it a big decision for the family. Ultimately, their dream of obtaining a dog for Meghan came true with generous help from family, friends, and the community. Girl Scout Troop 2492 (Meghan's troop) organized a yard sale and called it "Meghan's Miracle." A friend of Schillig's held a Silpada jewelry party and donated the proceeds, while another friend raised money with a neighborhood lemonade stand – "Lily's Lemonade Stand," and anonymous donations were made to a special account established for Meghan and Lily.
In addition to helping Meghan with her seizures, Lily is also learning to detect the presence of peanuts in food to help avert an allergic reaction. Lily, named Pinkalicious Lily Belle by Meghan, currently lives full time with her trainer, Ashleigh Kinsley of Georgia K9 Academy, but Meghan and Lily spend time together every weekend, and Lily attends each of Meghan's medical appointments. Lily also stayed with Meghan throughout her recent 15-day hospitalization for pneumonia. According to Schillig, if all goes well Lily will live with Meghan and the family full time beginning in March, and Lily will accompany Meghan to school where Schillig said her teacher, Mrs. Wallace, and her classmates are eager to have Lily join the class.
Schillig said the process of integrating Lily into Meghan's life has been a positive experience. "Meghan was very happy and excited to have Lily as her special dog," she said. "The bond was instantaneous and beautiful. Lily definitely knows that Meghan is her person."
And Lily has already made a positive impact on their lives.
"Lily's presence in Meghan's life has made a priceless difference," says Schillig. "It is difficult to find the words to really explain it, but Meghan is more at ease when Lily is around. Meghan has more tolerance for medical tests and appointments. (Meghan's) anxiety level is lower when Lily is with her."
Blood draws, in particular, are stressful for Meghan, but with Lily by her side they have, so far, been much easier.
"With Lily present, Meghan has actually smiled during a blood draw," Schillig added.
Meghan said she enjoys playing with Lily, and that her friends and family tell her (that Lily) is so cute, and that she is lucky. When asked how it feels to have a special friend like Lily at her side, Meghan said simply, "I am happy!"
BY: Amy Wilson