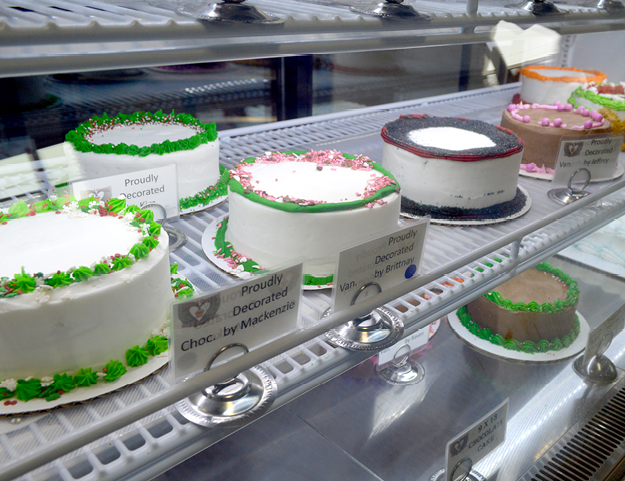 Special Kneads and Treats is a Lawrenceville nonprofit bakery that provides free, personalized birthday cakes for the less fortunate and employment for adults with special needs.
By: NATALIE STUBBS | Photos by NATALIE STUBBS
Walking into Special Kneads and Treats is more than walking into a bakery; it's walking into a ministry. It's walking into walls filled with scripture, a kitchen full of smiles, and a door that's closed on Sundays for "God and family." Special Kneads and Treats is a 501 (c) (3) nonprofit with a core mission to provide birthday cakes for children whose families are not in a position to provide one themselves, all while employing adults with specials needs.
The idea of their mission began in 2008 when Founders, Michael and Tempa Kohler, were wondering what would be the next step for their son, Bradley, who was born with Fragile X Syndrome. As an adult with special needs, the options for employment and work programs become quite limited after aging out of the school system. Then one afternoon, while Tempa was watching a talk show on TV, the host was interviewing a woman from a homeless shelter and learned that it was her son's birthday. When asked what the little boy wanted for his birthday, he replied that all he wanted was to be able to have a birthday cake, and Tempa realized "I can make that happen!"
Combining Tempa's lifelong talent for baking with her husband's shared desire to serve, their dream became a reality in January of 2014 when they opened their doors on the Lawrenceville square. With their first customers being a special needs group on a community skills trip, and their final customer being a wheelchair-bound child who had chosen dessert rather than dinner since their parents could only afford one, it was well affirmed that Michael and Tempa were following God's will for their lives. Three years later, their lease was due for renewal and the Kohlers began praying about their next step. With new commercial ownership of their building, increased rent, and the need for a larger space, they began looking into other properties. After finding the perfect building and the demand of a hefty down payment, they began reaching out to the community and sharing their story.
Through this outreach, their $350,000 down payment was paid completely by donations, the construction of a new roof was donated, and the full remodel was graciously completed at reduced rates by various contractors.
"God puts every person in our lives for a reason. You never know the opportunity they might bring," Michael shared as he reflected on the abundance of God's work through this transition, "Every time we turn around, we feel God's hand. His confirmation and blessing that this is His plan." Special Kneads and Treats opened their new, almost 12,000 square foot location this past August, less than a mile down the road from their previous location. With 17 special needs adults employed and 12 who volunteer their time until funds are available to begin receiving a paycheck, Special Kneads and Treats still has 154 adults on their waiting list. While the Kohlers wish they had the ability to hire more, they encourage their current employees to remain part of the team for as long as they wish, even when they need to take long breaks due to various reasons. They have made sure to create a "home away from home" atmosphere for these adults to feel comfortable to work at their own pace and find tasks they enjoy and strive at completing. "We try to find the best fit for everyone here, while taking it a step further to help them grow and reach their full potential. Then hopefully they can take the skills they've learned while they've been here and carry those into another job, if they choose to leave," added Michael.
Special Kneads and Treats partners with several local ministries, foundations, shelters and organizations to fulfill their birthday cake mission. By offering gift certificates to be redeemed for a free 13"x9" sheet cake, not only children, but special needs individuals and elderly on low or fixed incomes can enjoy the luxury of a free, personalized birthday cake. Others in the community are also offered the chance to sponsor a birthday cake, by contributing only $7 per cake.
Michael and Tempa are completely humbled by their amazing journey and find difficulty in explaining how everything has been provided for them every step of the way. "It's not us, it's ALL God. He gets all the credit. The only thing we can take credit for is being obedient," they proclaim, "People always ask us what our business plan is and how we're so successful, and we tell them that we don't have a business plan, we have the Bible."
When planning for the future, the Kohlers aren't sure what else is to come for their ministry, but know that they will continue to follow God's plan. They would eventually like to utilize their current location as a distribution point and have a number of store fronts in the community, but they patiently wait for God to reveal their next step. In the meantime, another goal of Michael's is to educate businesses on how they can hire individuals with special needs. No matter the type of business, he passionately believes there is absolutely something at any workplace these special adults can do – and it's a win-win as businesses receive the help they need, while making an impact their community needs.
In addition to birthday cakes, Special Kneads and Treats retails cupcakes (26 standard flavors and 6 seasonal flavors changing each month), cake pops, cheesecakes, and other delicious pastries. Tempa sums up their incredible story: "When you feel like you're doing what you've been led to do, it truly blesses you."
SPECIAL KNEADS AND TREATS 156 Scenic Hwy S., Lawrenceville, GA (678) 237-7147 specialkneadsandtreats.org