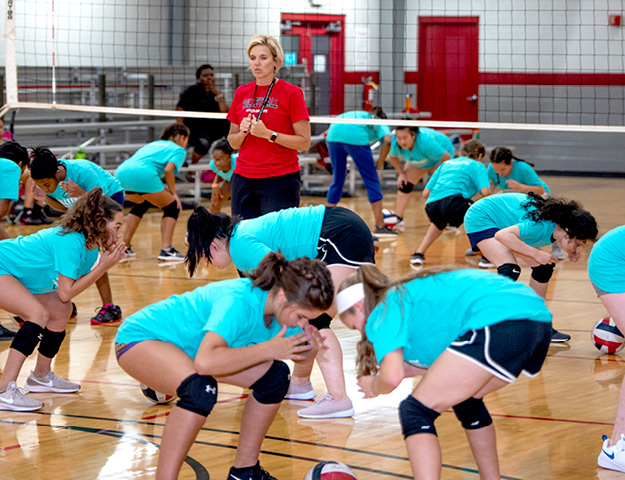 Suwanee's premier multi-sports complex is in the business of building confidence.
By: Alicia Carter | Photos by Karl Lamb
There's a palatable kinetic energy at
Suwanee Sports Academy
. Not only is it present in the motion of the players on the court, but it's also apparent in the drive of its leadership, who facilitate a safe space for students to learn, grow their skills, and establish a sense of self. "We are in the business of building confidence," says Christy Howard, Suwanee Sports Academy's assistant general manager and assistant volleyball director. "We give you the tools to learn how to play a sport and then build on that. One of our tag lines is to 'build your future,' and that's what Suwanee Sports Academy helps to do. We help build you through the process."

The 100,000-square-foot multi-sport complex, featuring seven basketball courts, 11 volleyball courts, and an off-court training area, provides training and development programs for athletes of all ages. The coaching staff has decades of experience working with athletes to help mold them into competitive and productive teammates and individuals at all levels. "We invest in the coaches who will invest in the kids," says Vincent Scales, SSA's general manager. "Kids come here to learn. Whether they are training or coming here for summer camp or coming to play in a league, we focus on training and teaching every time they are on the court. It's not about trophies or wins or losses, it's about 'did I get better?' We want you to learn, develop, grow, and get better. We want to help prepare you for your future."

On a recent evening in June, the complex was teeming with energy as Howard and her team prepared for the start of SSA's summer programs. As a line forms for the students to receive their official SSA volleyball shirts, the sounds of sneakers against the court's floor, the slap of hands serving a volleyball, and the coach's whistle piercing through the commotion signal that practice is about to start.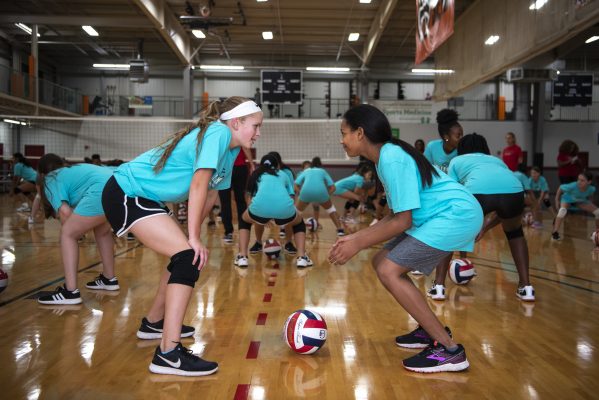 VOLLEYBALLOn the court, a group of girls ranging in age from elementary school to high school, pair up with a volleyball placed on the floor between them. The girls squat into "ready" position with their hands out in front of them, each channeling a boxer waiting for the fight to begin. Cindy Young, director of volleyball, asks the group if they're ready, and then begins her chant: "Shoulders! Head! Nose! Knees! Feet! Back!" The girls follow Young's instructions, moving their hands in unison from their shoulders to their head to their nose, knees, feet and back. Finally, Young shouts, "Snatch!" and the girls all reach to grab the ball before bursting into laughter that fills the gymnasium.

"This is a great warmup for the group," Howard says. "If we asked them to sit in squat position, many of them would say that their legs hurt, but when we turn it into a game like this, they're able to get into those fundamental and strengthening positions without a second thought. It makes it fun for them." And this is a big part of what SSA strives to do: create an environment of learning while also making it fun for the students. "We focus on individual training so each player receives the proper fundamental training to help foster a love for the sport of volleyball," Young says. "Our coaches have years of playing and coaching experience, and we hire coaches who are passionate about mentoring young women and making a positive impact on their lives." On this day on the court, it's clear that the coaches are passionate about what they do and the students they teach. As the girls break out into groups, there's a sea of high-fives and pats on the back before the serious work begins.
SSA offers year round volleyball training programs and competitive leagues for girls of all skill levels, from elementary to high school. Players are divided into skill groups that challenge them according to their individual needs. SSA also offers elementary training programs that include technique training and modified competitive games that serve as a great introduction to the sport of volleyball.
BASKETBALL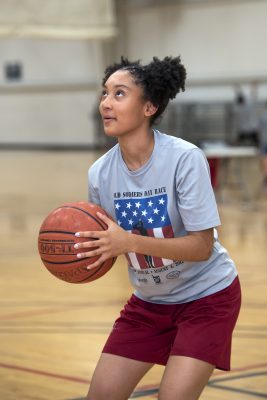 Across the building there are more sneakers squeaking on the court, but this time it's a co-ed group practicing basketball drills: layups, free throws, three-point shots and more. The group is participating in the summer basketball camp, which provides players in grades 4-10 with the skills necessary to strengthen their confidence, improve their skills, and take their game play to the next level.

Beginning in August, SSA will offer two training programs for students looking to improve their skills and grow within the sport. The Rookies program is geared toward elementary school students who are just getting into the sport. "We focus on building fundamentals through stations, fun competitions and controlled game play," says Nadiya Miller, SSA's operations manager and assistant basketball director. The Future Stars program, however, is targeted toward elementary and middle school kids who want to advance their skills and competitiveness. "The program is designed so players are put through a combination of training stations and controlled game play," Miller says. "This allows them to apply what they've learned through the stations to game situations, and also prepares players to try out for their school's feeder program or school team."

While the focus is always on improving skills and building confidence on and off the court, SSA strives to also be a place of inclusion, especially in an area that is known for its outstanding and competitive sports leagues and athletes. "We provide an environment that takes some of the pressure away," Scales says. "Everybody wants to feel like they matter. Here you can be a part of a team and you matter to these people. You belong to something."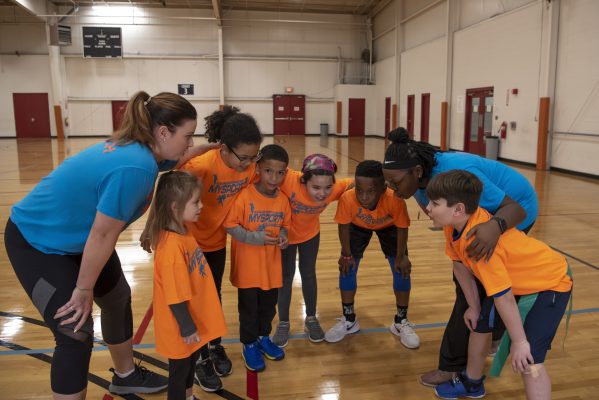 MYSPORTIn addition to the basketball and volleyball programs, Suwanee Sports Academy also offers MySport, an after-school program that's ideal for parents looking for something different from traditional after-school care. There is time set aside for homework, as well as an opportunity to learn the sport of the day. By offering the chance for kids to participate in different activities, it opens the door to a lifelong love of sports and creates another opportunity to get kids moving and active, promoting a healthy lifestyle and instilling confidence.

When it comes down to what sets Suwanee Sports Academy apart from other similar sports complexes, everyone agrees that the staff is really the heart of the operation. "Each of us genuinely enjoys what we do and the evidence can be seen all around — every smiling face after a made jump shot, ace served, and dodgeball victory is the very spark that ignites the flame here at Suwanee Sports Academy," says MySport co-directors Alexis Moore and Morgan Rooks. "We open our doors each day at the chance to make a positive and lasting impact on our community. The families who participate in our programs are the very heartbeat of who we are and we are incredibly grateful to be a part of their lives."

Suwanee Sports Academy is located at 3640 Burnette Road in Suwanee. For more information, visit SSASPORTS.com.