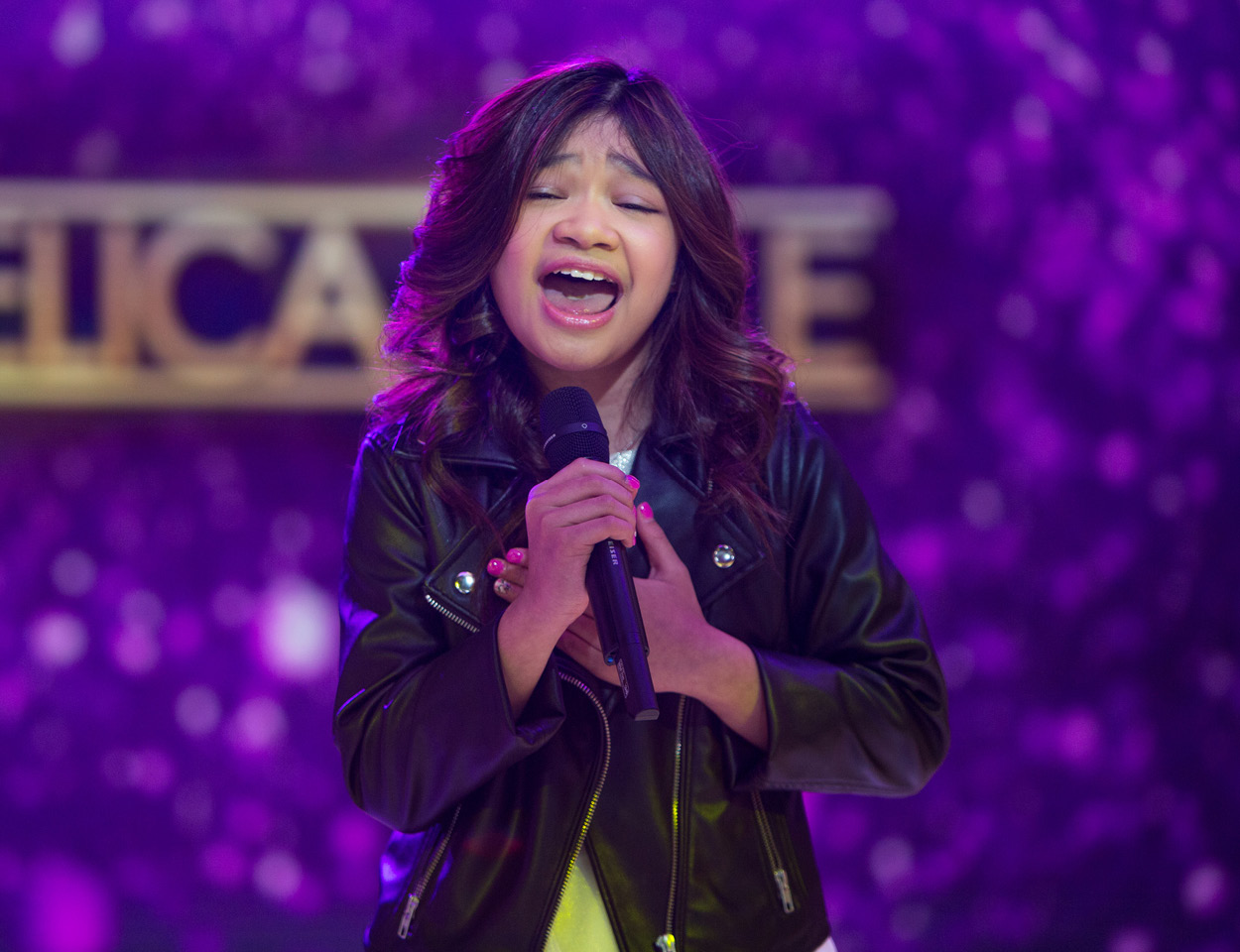 SUWANEE RESIDENT ANGELICA HALE STOLE THE HEARTS OF MILLIONS AFTER APPEARING ON "AMERICA'S GOT TALENT." NOW, THE 12-YEAR-OLD SINGING SENSATION IS WORKING ON HER DEBUT ALBUM WHILE PERFORMING ALL OVER THE COUNTRY.
By: Lizzy Kidney| Photos Courtesy of Angelica Hale
Suwanee's own Angelica Hale, at 11 years old, has left a lasting impression on the hearts of millions. In 2017, she appeared on "America's Got Talent," where she became the youngest runner-up in the show's history, and then again as a finalist on the most recent season, "America's Got Talent: The Champions." Despite facing medical struggles that resulted in Hale receiving a life-saving kidney transplant at only 6 years old, the singing sensation persevered and followed her dreams with fierce determination and an ear-to-ear smile that inspires everyone she meets.
Hale's charm and undeniable talent caught the world's attention at just 9 years old with her audition of Andra Day's "Rise Up" on Season 12 of "America's Got Talent." The judges, along with the audience, could barely contain their surprise at the booming voice coming from such a tiny, sweet girl. Later that season Hale was awarded the coveted Golden Buzzer after her performance of "Girl on Fire," sending her straight to the live shows.
Hale went on to become the youngest runner-up in "AGT" history, and was asked back to participate on "The Champions" the following year. On this season, she once again made "AGT" history by becoming the first contestant to receive two Golden Buzzers.
When she first walked across the "AGT" stage back in 2017, she told the judges she wanted to be a superstar, and since then it seems as though all of her dreams have been coming true. We had the chance to catch up with Hale at her home in Suwanee, where we learned more about her time on "AGT," had an impromptu dance party, and got the scoop on her upcoming debut album.
SUWANEE MAGAZINE: How long have you been singing?
ANGELICA HALE: I've been singing since I was about 3 years old. I would sing in the backseat of the car and in public restrooms, and people would tell me I had a great voice. My parents then started putting me into voice lessons which were awesome and have really helped me to get where I am today. I am so thankful that my parents realized my passion at a young age and encouraged me to follow my dreams.
SM: What made you want to audition for "America's Got Talent"?
AH: When I was 4 I got sick with double pneumonia and went into septic shock. I was put on ECMO for a total of 12 days and eventually found out I needed a kidney transplant. After being put on dialysis, we learned that my mom was a match and she ended up giving me one of her kidneys! My mom is truly my hero and I'm so grateful that I have such amazing parents because they have continued to encourage me. I wouldn't be here without them. After I got better, I started singing for charities and Children's Healthcare of Atlanta as a way of giving back to the people who made me healthy again, and then that kind of led me to "AGT." I originally auditioned in 2016 and didn't make it, but they reached back out and invited me to audition again in 2017. I decided that this could be my big break, so when I auditioned and made it, I couldn't believe it.
SM: What was it like not only being the youngest "AGT" runner-up, but also being the first-ever contestant to receive two Golden Buzzers?
AH: After I got the Golden Buzzer on my first season of "AGT," I was so shocked and excited, and as time went on it just kept feeling more and more surreal. Even though I didn't win I was still so incredibly proud of myself for making it that far and being the youngest runner-up in "AGT" history. When I came back for "Champions," I wasn't thinking about the Golden Buzzer, and when Howie Mandel hit it my mind went completely blank and I was so shocked. When I moved on to the finale of "Champions," I was so nervous because amazingly talented people had been eliminated and I was so grateful Howie chose me to be there.
SM: How was "The Champions" season different than your first season?
AH: "Champions" was a lot different from my first season because instead of competing with people from all over America, we were competing with the "best of the best" from all over the world. When I was on "AGT" the first time, I treated that stage like I was never going to go on it again, but when I had this chance to go back I was thrilled. Singing "Fight Song" by Rachel Platten on "Champions" really meant a lot to me because it applied to not only what I was doing at that moment on stage, but also to the struggles I had in my past. This was my song when I was fighting for my life, and now I'm here fighting for my place on "AGT Champions."
SM: How has "America's Got Talent" changed your life?
AH: After the shows, everything changed completely. I started singing everywhere around the world and it was really crazy, but it is also a dream come true. I'm so grateful and I thank God every day for this wonderful gift. Neither of my parents can sing, so I truly consider my voice a God-given gift and I am careful to take care of it every day.
SM: You've already accomplished so much at such a young age, what other goals do you hope to reach?
AH: One day I want to look back on myself and say, "Wow, look how far I've come since being on 'America's Got Talent.'" I want to continue to improve my voice, stage presence, and who I am as a person, but I also hope that I can continue to inspire more and more people with my story and encourage them to pursue their dreams. I want to show people that I started as this 6-year-old with a big dream, and I've worked so hard to get to where I am today and am so happy to say it paid off.
SM: What has been your biggest challenge since shooting to fame on "AGT"?
AH: I think my biggest challenge has been battling with who I am as an artist and really finding myself. I know when I was on "AGT" it seemed like I found myself, but in reality I still am working on that. I know I want to be a singer, but I also know that I want to be the best version of myself.
SM: Do you have any exciting things happening in the near future?
AH: Hopefully, I will be doing a tour this year and I'm releasing my very first debut album within the next few months. It has been a dream come true working on my own album, and half of the songs I was able to write myself. I am so excited because it's going to be such a breakthrough for me and I hope to tell my story through it and inspire more people with my music than ever before.
SM: What does it mean to you to be a kid ambassador for the National Kidney Foundation and a Celebrity Advocate for the Sepsis Alliance and Children's Miracle Network?
AH: I know how hard it is to be on dialysis, and I am very fortunate that my mom was a match to give me a new kidney. There are a lot of people out there who aren't that fortunate and I want to be an advocate for them and to bring awareness of it to other people. I love to give back and support organizations that help children who may be going through something similar, because it's a part of my story, too, and I want other people to know that they are not alone.
SM: What advice do you have for anyone looking to pursue a career in music?
AH: I want to encourage everyone that if you have a dream, you should pursue it. Don't be afraid to follow your passions, because you should enjoy doing what you love! It's important to remember to have fun and just be yourself