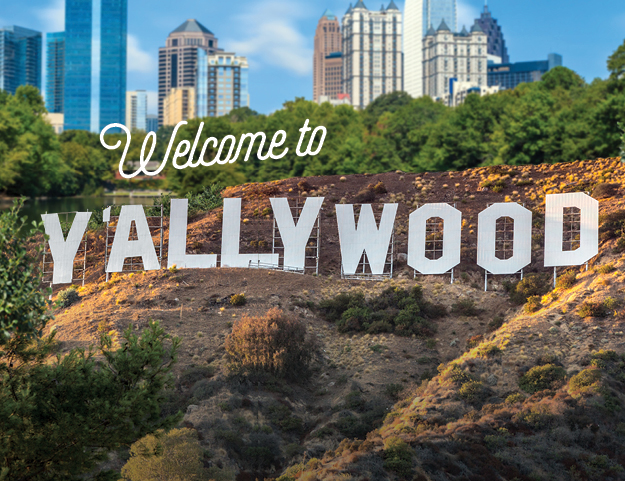 According to FilmL.A.'s annual report, the state of Georgia has outpaced the longstanding frontrunner, California, as the top location for feature film production.
By: Rachel Pillow | Photos courtesy Explore Gwinnett
According to FilmL.A.'s annual report, the state of Georgia has outpaced the longstanding frontrunner, California, as the top location for feature film production. In the year 2016 alone, 245 total movie and television productions, including 17 feature films were shot in Georgia. Did you also know that filming of the new CW series Dynasty has taken place in Suwanee? To learn why "Y'allywood" has become the new Hollywood, read on…
In the fiscal year 2017, the Georgia TV and film industry generated an economic impact of $9.5 billion, including $2.7 billion in direct spending. In 2010, the award-winning AMC series, The Walking Dead, helped put Atlanta on the map as a TV and film destination and since then the unrivaled statewide tax credit incentives have only fueled that growth.
The film and TV industry is responsible for more than 85,300 jobs and nearly $4.2 billion in total wages in Georgia, according to the Motion Picture Association of America. The economic impact that the industry has had statewide, citywide and countywide is tremendous. And, while the City of Atlanta is currently the world's fastest growing TV and film destination, more and more of those productions are making their way up I-85 North to Gwinnett.
Gwinnett is home to two major studios and more in the works: Atlanta Media Campus & Studios and Eagle Rock Studios in Norcross – which boasts the largest stage complex under one roof in the country.
We met with Lisa Anders, the Executive Director of Explore Gwinnett, and the first point of contact when a location manager is looking to film in the county, for an inside scoop. Anders receives about 4-5 location requests a week. "I receive requests that range from an empty school to a courtroom, to a deserted road with a gas station at the end of it, to a haunted house in the middle of the woods," said Anders. Currently, nearly 70 TV shows and movies are being filmed in Georgia. At any given point there are over 40 productions being filmed in the state with more than half being filmed in and around Gwinnett County. One of the reasons Gwinnett has seen such a recent boom in film production is because of its "proactive approach," plus a firm commitment and cooperation from City officials.
Earlier this year, in September, you may have noticed Suwanee Town Center Park being transformed into a winter wonderland (while it was 90 degrees outside). This was for the filming of a new CW series called Dynasty, whose filming has taken place primarily in Suwanee at a home near North Gwinnett High School. The series, a reboot on the 1980s original, premiered on October 11, 2017 on the CW and on Netflix internationally, one day later.
The Atlanta area has seen an influx of aspiring actors and actresses in recent years as more and more productions move to this area. "It just made sense for me to move here," said actress Catherine Parker, who recently relocated after a ten-year stint in Los Angeles. "I really liked Atlanta when I traveled here for the filming of Halt and Catch Fire," Parker said, "and lately a lot of my friends in the industry have noticed too that you go to an audition in LA for them to then tell you that the filming is going to take place in Atlanta," she continued.
The state of Georgia created the "Camera Ready Program" to accommodate the booming film industry. The program connects film and TV productions with county liaisons, like Lisa Anders, who can provide local expertise and support. "Being a camera ready community is very important to us. Currently I have about 50 unique filming locations in Gwinnett and am actively growing that database," said Anders. "Sometimes I'll be driving down the road and happen to see something that would be perfect for a film, so we'll go out and take photos and upload those to the state film database," she continued. "They (the film crew) always try to support and buy local when they can," said Anders. So, she makes sure that the entire process is as seamless as possible for them by coordinating with the fire marshal's office and police for permitting, lane closure, etc. Explore Gwinnett is the official tourism and destination marketing for Gwinnett County with a mission to showcase that Gwinnett offers something you can't find anywhere else… and that includes distinct places and memorable destinations that you will see on many of your favorite TV shows and movies.