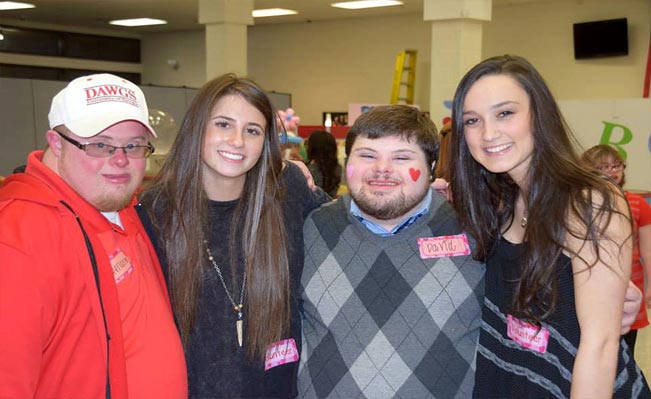 Special needs community and students from local high schools participate in 2nd annual dance
BY: Rachel Fasig
When Lucy Miller attended North Gwinnett High School last year she noticed an undeniable need for friendship, camaraderie and acceptance between the special needs community and her other classmates. With that, the inaugural "You are Loved" Valentine's dance and a lasting legacy was born!
This year's 2nd Annual "You Are Loved" event took place on Saturday, February 7th with over 250 students from local clubs, programs and schools including: North Gwinnett High School, Collins Hill, Lanier, Peachtree Ridge, Mill Creek, Duluth and even Decatur! The dance included a DJ, photo booth, candy bar, balloon artists and delicious refreshments provided by Zaxbys, Mellow Mushroom and several generous NGHS families.
When asked to recall some of her favorite moments from the evening, Miller remembered a young man who came in, very reserved and shy, but by the end of the dance he was smiling, laughing, dancing and "literally danced his way out the door…it summed up the evening!" she said.
A freshman at the University of Alabama, Miller dove headfirst into developing her career with a double Major in Special Education and Business, yet is still dedicated to donating time for the special needs students in her own hometown. She founded the non-profit organization called HappyFeat – whose mission is "to better the lives of our special needs friends and the communities they support through employment, education and entertainment opportunities."
Some of Happy Feat's events this year will include a "Come on and get Happy" Prom – held at Gwinnett Church in May, a "Happy Haunted House" for Halloween and their annual live nativity during the holidays. For more information or ways to be involved, please visit HappyFeat.org