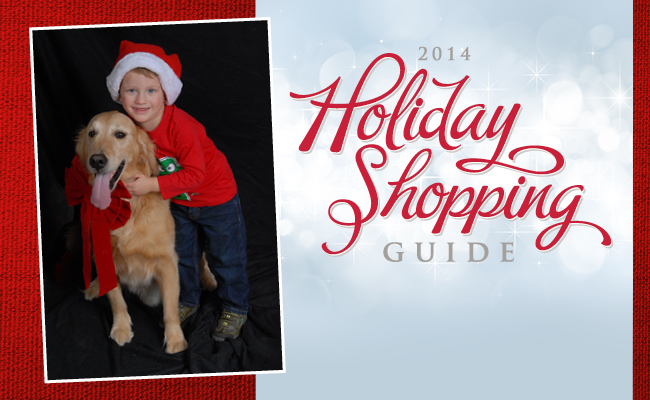 Brady, with his dog Foster: Photo taken by Main Street Photography
We asked several local businesses to help us put together an exclusive shopping guide to make your holiday shopping spree a bit easier. Whether you are searching for a gift for your parents, friends, teachers, furry friends or yourself; or are in need of quick, gourmet food for a holiday party – there are plenty of unique options that you won't find anywhere but Suwanee. Many of your favorite stores run special promotions during this busy season. Find many coupons in the shopping guide and throughout the magazine! Shop on!
Gifts for the Dog Lover
Come check out Pooch N Paws extensive selection of doggy ornaments. They have breed specific and others, including a local artist who uses 100% recycled product for these beautiful creations. Many ornaments can be customized with you or your friends' doggies name for no extra charge!
320 Town Center Ave. Suwanee, GA
770-932-7040
PoochNPaws.com
Gifts for the Coffee Connoisseur
Give a gift pack of: two bags of great coffee, five one-pot "Frac Packs" of our various flavors, and a box of handmade coffee toffee. With each purchase,
a donation is made toward a cinder block manufacturing machine for Pastor Rafael Trejo of San Juan Moca, Guatemala. The perfect gift that participates in the "Cycle of Relief "!
Gift Pack: $49.95 Each pack includes: 2 Bags of Coffee; 1/2 pound box of Coffee Toffee; 5 Flavored (one-pot) Fractional Packages; Donation
2650 Chattahoochee Dr, Duluth, GA PhoenixCommunityCoffee.com
Gifts for the Fashionista
Ensemble Boutique, a women's boutique in Suwanee Town Center Park that offers exclusive clothing lines, beautiful jewelry, accessories and high quality items at an affordable price. They carry blouses, tunics, dresses, jewelry, leather handbags and accessories designed for every occasion – from casual to formal. Look for the addition of denim, boots and jackets coming soon!
340 Town Center Avenue, Suwanee, GA
ShopEnsembleBoutique.com
Gifts for Your Little Princess
Posh Ave specializes in making all era vintage and current designer labels affordable to all. They also customize tutus for your little princess and can make one for Mommy too! Posh Ave makes headbands, bows, skirts and dresses to match your birthday party theme. She will feel very special in an outfit made just for her. Call 404-765- 8580 to make an appointment.
3463 Lawrenceville-Suwanee Rd, Suwanee, GA
678-765-8580 PoshAveConsignment.com
Give the Gift of Music
Town Center Music is Suwanee's hometown music store, outfitting pros and beginners alike with the best gear and top-notch instruction. They also rent and repair band and orchestra instruments, and carry a full complement of accessories. Want to start playing? There's no better time to start than now!
4072 Suwanee Dam Rd NW Suwanee, GA
770-831-7936 TownCenterMusic.com
Gourmet Gift Baskets
Just like Santa, Floristique delivers! Gourmet gift baskets with fresh fruit and other seasonal sweets, custom flower arrangements that liven up any holiday home, plushes, plants, and plenty of other gifts great for year round!
Mention Suwanee Magazine and Save 20% off holiday orders*
(*$75.00 minimum, restrictions apply)
1175 Buford Hwy. Suwanee, GA. 678-541-0622 Floristique.com
Great Suwanee Community Gifts
Stuffed Parker dolls – $10
City of Suwanee license plates – $5
Suwanee Fest posters – $5
Available at Suwanee City Hall
Award-winning professional photography in studio or on location. Book your family portrait session/holiday gathering by DECEMBER 1, 2014, and enjoy 15% off your purchase! Hurry! Appointments will not last! Gift certificates available.
770-831-7922
MSTPhoto.com
Get Your Hands on a Louis Vuitton Just in Time for the Holidays
Get to Panache for a Louis Vuitton handbag $10 off $50 regular priced purchase. Check out their large selection of: formalwear, trendy jewelry, infinity scarves, designer handbags & jeans (ask about layaway).
340 Town Center Avenue. Suwanee, GA
770-945-5227 PanacheConsign.com
Gift Certificate Sale – Salon Greco
Purchase a $100 Gift Certificate Get a FREE $20 Gift Card
4320 Suwanee Dam Rd
Suwanee, GA
678-546-5116
SalonGreco.com
Gifts for the Nature Lover
Bring nature home for the holidays! Look no further than Wild Birds Unlimited this holiday for gifts suitable for beginners or seasoned bird enthusiasts. You really can complete your entire holiday gift-giving list at WBU. WBU is ready to help you bring people and nature together this holiday season.
2133 Lawrenceville- Suwanee Rd. Suwanee, GA
678-442-9691 Suwanee.WBU.com
Unique, High Quality Gifts for the Woman in Your Life
Simply Pink Resale Boutique invites you to come visit
their unique boutique! Allow yourself plenty of time to browse all the eye candy for yourself. You will find a unique, high quality collection of women's clothing, shoes, accessories, jewelry, designer bags, and lots more. Grab your girlfriends and come to a fun place to hang out for the day!
Simply Pink Resale Boutique
94 East Main Street, Buford, GA 30518. 770-364-5187
SimplyPinkResaleBoutique.com
Gifts for the Knotty or Nice
No matter who's on your list, Gift Cards from LaVida Massage are the perfect gift for everyone!
Buy one $50 Gift Card and get a $10 Gift Certificate! Expires 12/31/14.
or
Buy three $50 Gift Cards and get a FREE Massage or Facial!*
*60 minute custom massage or signature facial session
10945 State Bridge Road. Johns Creek, GA, 678-624-9091
Give the Gift of Fabulous Hair!
Maybe it's your favorite Zumba instructor, the hard- working student, or the super-busy mom of three, one or all of them deserve a little extra love! Give them the gift of Fabulous Hair! Give three blowouts, get one for you FREE!
686 Peachtree Industrial Blvd, Suwanee, GA
770-932-1555
AirBlowoutSalon.com
Gift Cards Make Great Gifts
Lanier Islands has the perfect Christmas gift idea for you: Lanier Islands Gift Cards. Use it for an overnight stay at Legacy Lodge, Legacy Villas or Legacy LakeHouses,
horseback riding, tickets to SnowWorld, a summertime LanierWorld Season Pass, dinner at one of their lakeside restaurants, and the list goes on!
7000 Lanier Islands Pkwy
Buford, GA
770-945-8787
LanierIslands.com