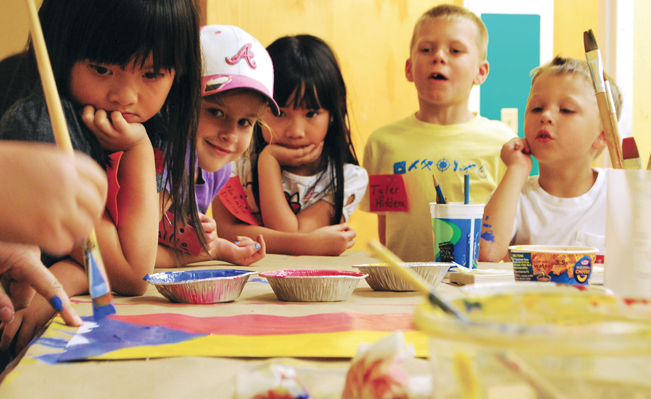 For many, summer camp experiences are some of the best childhood memories we have. Summer camp is an adventure that encourages independence and exploration – giving kids the opportunity to make new friends, spend days being active, learn new skills and do what they love. Our summer camp guide is filled with camps that cater to every interest. From a variety of sports camps to nature and science camps, there are day camps and sleepover camps that are sure to give your child memories that will last a lifetime!

Homework Central    |    678-541-5738      |     MyHomeworkCentral.com
Inviting all enthusiastic learners to Homework Central's MORNING AND AFTERNOON SUMMER PROGRAM!
"BRAIN BOWL CHALLENGE!" Daily, 3 hour-block, Reading, Writing and Math sessions, provide a balance of academic and fun activities for grades 1 – 8.  June 1 – July 31, 2015. Fun-loving, M.A degreed teachers. Student-centered portfolios. Competitive • Interactive • Problem Solving • Games! NOW ENROLLING – $159/wk.
Chambers
Performing Arts    |    770-614-3381     |     ChambersPerformingArts.com

TAKE A ROCKETTE CAMP WITH A RADIO CITY ROCKETTE, A BROADWAY CAMP FROM A BROADWAY PERFORMER AND MORE AT CHAMBERS PERFORMING ARTS Est. 1980. Dance, Drama, and Performing Arts Camps for Ages 3+/All Levels. Half Day or Full Day Camps and 2-Week Intensives. Johns Creek and Suwanee Locations.
DON'T MISS THE EVENT OF THE SUMMER! KIDPAK IS BRINGING A HUGE DOSE OF FUN TO THE FREE CHAPEL GWINNETT CAMPUS ON JULY 22-24! Each day they will have incredible services, exciting games, hilarious fun, and amazing excursions during a week you will not forget. Mark your calendars now and register for Summer Xtreme 2015!

N-Step Dance Academy    |    770-886-6500    |    NStepDanceAcademy.com
NSDA IS OFFERING SUMMER 2015 DANCING FUN!
Exciting and energetic camps for dancers ages 3–18 years old!
POP PRINCESS & PRINCE-$175.00 June 22nd-26th – 3-6yrs – 9am-12pm
DANCE MANIA-$205.00 June 22nd-26th – 7-10yrs – 9am-3:30pm
DANCE WORKSHOP-$210.00 JULY 20th-24th – 11yrs & up – 9am-3:30pm
COMPANY BOOT CAMP-$315.00 JUNE 15th-19th – Limited spots-approval needed

Masterpiece Mixers    |    678-928-1100    |    MasterpieceMixers.com
GET CREATIVE THIS SUMMER WITH ONE OF THEIR ART CAMPS!
School age and up. You will be painting, sculpting, and having shows for your parents.

Preschool Summer Camp    |    770-497-8215    |    JohnsCreekUMC.org
Johns Creek United Methodist Church
FIVE WEEKS OF UNIQUE AND EXCITING ADVENTURES AWAIT JOHNS CREEK UNITED METHODIST CHURCH SUMMER PRESCHOOL CAMPERS. Each camp will explore a new theme with art and hands on projects designed to inspire the children. Camps are during the weeks of June 8/June 15/July 6/July 13/July 20. 9:30 – 1:30 Monday-Friday. Ages 2-5. $ 130/week, $30 /registration fee.

Eye Candy Art Studio    |    678-714-5683    |    EyeCandyArtStudio.net
JOIN EYE CANDY ART AS THEY CELEBRATE THEIR 6TH YEAR OF ART CAMP!
Each week you will explore sculpture, canvas painting, tie-dye, pottery, glass fusions & more. Camps runs Mon-Fri from 10 – 2. Cost is &180/week or $45/ day. ages 6+. Camp T-shirt included with full week. Register at www.EyeCandyArtStudio.net or call 678-714-5683
Legacy Academy    |    770-932-0091    |    LegacyAcademy.com
#THEPERFECTLEGACYSUMMER2015 IS THE THEME OF THIS YEAR'S FUN-FILLED SUMMER CAMP AT LEGACY ACADEMY. You will take field trips, explore nature, and play sports to strengthen your bodies as well as your minds. Legacy has six locations in the area. Learn more at LegacyAcademy.com or @legacyacademy4c.
"YES, YOU CAN ABSOLUTELY GROW A CHILD'S CONFIDENCE!"
And that's exactly what they do at The Actor's Edge Summer Camps. In June, children from 7 – 17 years old will Act, Dance, Sing, and learn Improv. And in July, they are producing Into The Woods for children age 12+ (auditions in April!). Visit theActorsEdge.com or call 770-846-6721.

Primose Schools* Summer Adventure Club    |    770-932-3900    |    PrimroseSuwaneeWest.com
PRIMROSE IS AN ACCREDITED PRIVATE PRESCHOOL THAT PROVIDES A PREMIER EDUCATIONAL CHILDCARE EXPERIENCE. As The Leader in Educational Childcare, they partner with parents to help children build the right foundation for future learning and life. Primrose helps to build Active Minds, Healthy Bodies and Happy Hearts!

Epiphany Lutheran Church    |    770-831-1966    |    EpiphanySuwanee.org
JOIN EPIPHANY LUTHERAN CHURCH JUNE 22-26 FROM 9 TO NOON FOR CAMP DISCOVERY
A week of high adventure that will excite and challenge! Campers, from 3 years old through 5th grade, will experience how Jesus gives them courage, wisdom, faith and love to share. T-shirt and daily snack included. Register at epiphanysuwanee.org
Gwinnett Parks & Recreation    |    770-822-8840    |    GwinnettParks.com
GWINNETT COUNTY PARKS & RECREATION
Gwinnett County Parks & Recreation offers a multitude of adventures this summer for ages 4-14 from June 1-July 31. Top-notch facilities, super staff, and a low counselor-to-camper ration provide safe, enriching environments. Day camps start at an affordable $125 per week.  Call 770-822-8840 or visit gwinnettparks.com
Cornelia School of Ballet    |    678-386-9429    |    CorneliaSchoolofBallet.com
2nd floor above Marco's. ONSTAGE DRAMA CAMP WITH ELAINE WADSWORTH
Ages 6 and up • June 8-12 and July 13-17 • REGISTER NOW!!  Space is limited
Pre-Ballet Camps and Intensive for older dancers also available. Call 678-386-9429 or email corneliaballet@live.com for more information on summer offerings. You can also visit their website at CorneliaSchoolOfBallet.com.

School of Rock Johns Creek    |     678-580-1882    |    JohnsCreek.SchoolofRock.com
PERFORMANCE BASED SUMMER ROCK CAMPS FOR BEGINNER THROUGH SEASONED ROCKERS
Rock 101 Camp (ages 8-11) M-F – 9am – 3pm
Camps run June 1-5, June 15-19 & July 20-24
Performance Camp (Ages 11-17) M-F – 9am -3pm
Camps run June 8-12, June 22-26 & July 13-17
For more information email them at johnscreek@schoolofrock.com.
EARLY BIRD DISCOUNT: 25% OFF THRU APRIL 1

Grow Spartan Summer Camp    |    770-243-2275    |    GreaterAtlantaChristian.org
SPARTAN SUMMER CAMPS AT GREATER ATLANTA CHRISTIAN SCHOOL
Ages 3-18, May 26-July 31 Before/After extended care available. Summer Day Camp, Art, Cheerleading, Diving, Dance, Drama, Film Making, Lacrosse, LEGO Engineering, Nike Basketball, Overnight Adventure Camps, Pottery, Swimming, Volleyball, Sports Performance and more! See why hundreds of families choose GAC as their summer camp option each year. Email summercamp@greatatlantachristian.org for more information.

Agnes Scott College    |    404-471- 6475    |    ASCallSportsCamp.com
"SMART KIDS SWEAT" is the motto! At the All Sports Camp, campers have a great time running, jumping, playing, and sharpening their sports skills. This program is an excellent opportunity for kids ages 5-14 to be coached by current college athletes in baseball, soccer, lacrosse, tennis, basketball, volleyball, and fun fitness. Register today at ASCallSportsCamp.com.

Georgia Gymnastics Academy    |    770-945-3424    |    GGAcademy.com
YOUR CHILD WILL FLIP OVER GEORGIA GYMNASTICS ACADEMY SUMMER CAMP! The camp is open to boys and girls 4 years old and up, with select weeks offered to 3 year olds. The GGA Camp experience includes structured gymnastics instruction, recreational games and activities. Half-day and full-day sessions are available.

Camp Westminster    |    770-483-2225    |    CampWestminster.org
CAMP WESTMINSTER PROVIDES THE BEST IN CHRISTIAN CAMPING EXPERIENCES!
Located in Conyers, Georgia, Camp Westminster offers weekly overnight & day camp sessions for boys & girls ages 6-16. Activities include horses, climbing tower, paintball, wakeboard, and more! Open House on Saturday, March 28th.

Enrichment Camps K-12    |    770-932-8363    |    OmegaLearning.com/Suwanee-GA
JUMP AHEAD OF THE CLASS THIS SUMMER WITH OMEGA'S ENRICHMENT SUMMER CAMPS
Omega's certified teachers solidify core fundamentals and help students build the critical thinking skills needed to apply their knowledge to more advanced learning concepts and succeed with challenging Common Core Curriculum.
Summer Programs Available: Credit Recovery, Summer Enrichment, Math (all levels), Reading, Writing, Spanish, SAT/ACT Prep, kindergarten Success

Play By Play Sports Broadcasting Camps    |    800-319-0884    |    PlayByPlayCamps.com
JULY 13-17; EMORY UNIVERSITY
Boys and Girls, ages 10 -18, will have an opportunity to learn from the pros.  Meet sports celebrities.  Make play-by-play, reporting, sports anchor, and PTI style videos. Host your own sports talk radio shows! Participate in sports trivia contests and much more. Day and overnight options available.

WAYNE NORTON TRACK & CROSS COUNTRY CAMP    |   706-542-7915    |    GeorgiaTrackCamps.com
FOR BOYS AND GIRLS – HELD AT THE UNIVERSITY OF GEORGIA TRACK
Resident Campers: Age 12 up to high school
Day Campers: Ages 10 up to high school
June 16th-18th, 2015 (Overnight & Day Camp)
July 6th-9th, 2015 (Morning DAY Camp Only).

Tiger Tails Animal Hospital    |    770-817-9565    |    TigerTailsAnimalHospital.com
DOES YOUR CHILD ASPIRE TO BE A VETERINARIAN WHEN THEY GROW UP?
Do they love animals? If so, then join Tiger Tails for two weeks of learning and hands-on activities to see what Veterinarians do daily! For more information email: customercare@tigertailsanimalhospital.com
June 1st-5th, 9:00am-2:00pm, Grades 3rd-5th
June 8th-12th, 9:00am-2:00pm, Grades 6th-7th

Deer Run Camps & Retreats    |    888-794-2918    |    Camps.DeerRunRetreat.org
EXPERIENCE "DEEPER FAITH. GREATER ADVENTURES."
Nondenominational Christ-centered. Exceptional leaders. Builds character, confidence, relationships. Grades 3-12. All-inclusive activities: lake (zip line, water slide, kayaks, swimming, aqua park), horseback riding, climbing tower, paintball, ropes courses, cardboard boat regatta, archery, BB guns, games and more. Daily small-group Bible study.
Nightly large-group worship with engaging speaker.

Valley View Ranch Equestrian Camp for Kids    |    706-862-2231    |    ValleyViewRanch.com
Valley View Ranch Equestrian Camp May 31 – July 31
Horse Lovers' Paradise Since 1954! A'top Lookout Mountain, ages 8-17; 1-9 weeks, 600 acres, English, Western, Barrels, Vaulting, and Trails.  CHA instructors teach beginner to advanced riders.  Spend 4-6 hours daily with your OWN camp horse.  The Jones family are third generation horse lovers, camp administrators, and equine educators making girls dreams come true!

All Stars Performing Arts Academy     |    678-400-0091    |    AllStarsPerform.com
BEST OF GWINNETT, 2015 SUMMER OF TRANSFORMATION.
Fun Camps for young dancers: Disney Princesses, Sophia the 1st, Barbie Magic & American Girl. Workshops & Intensives for dancers ready to get to the next level: Ballet, Jazz, Ballroom Styling, Tumbling, Contemporary, & Musical Theatre Camp, Annie. Register Online at www.AllStarsPerform.com.

Barrington Hall    |    770-640-3855    |    SouthernTrilogy.com
MARY ANN RODMAN WILL AGAIN TEACH HER POPULAR CREATIVE WRITING CAMPS, "KIDS CAN WRITE" AT THE HISTORIC BARRINGTON HALL IN ROSWELL
Camp dates are: June 22-26, July 6-10, July 13-17 and July 20-24. From 9 AM to 4 PM each day. Age range is 10 –  14 years. Cost per camp is $250.00. Call 770-640-3855 for information.

North Gwinnett    |     770-945-9558    |    NorthGwinnett.com
JOIN NORTH GWINNETT HIGH SCHOOL THIS SUMMER!
*Because of the severe winter weather, the initial dates for the camps may change due to make up days. For complete information on the camps, please visit NorthGwinnett.com, Community School, or emailDennis_Miles@Gwinnett.k12.ga.us.

Tavani Soccer    |    770-722-8258    |    TavaniSoccer.com
TAVANI SOCCER CAMPS ARE BACK FOR THEIR 13TH YEAR.
Camps are for all skill levels, boys & girls ages 4-15, M-Fri at Bunten Rd Park in Duluth & Dunwoody. Players are grouped by age and skill. Dribbling, passing, shooting and small-sided games daily. Each player receives T-shirt, ball and personal evaluation.

Stepping Stone Montessori School    |    770-614-4310    |    SteppingStoneMontessori.com
MONTESSORI SCHOOL SUMMER CAMP
The SSMS Summer Camp incorporates an active, hands-on experience for children aged 5-12. Weekly themes are both fun and educational. Call for more info or visit their website, www.steppingstonemontessori.com
Ms. Stem Nurturing and Mentoring   |    470-238-8786    |    MSStem.com
FUN, HANDS ON STEM EXPERIENCES FOR YOUNG GIRLS AGES 7-15!
Learn, explore, and be STEM- confident in one or all of their summer experiences offered throughout Atlanta.
Hudgens Center For The Arts    |    770-623-6002    |    TheHudgens.org

PRINT, PAINT, SCULPT, SEW, HAMMER, CARVE AND GLUE!
The Hudgens offers fine art camps for budding artists grades K-5. Camps are offered throughout the months of June and July. Register before April 15th and receive 10% off!
Jeff Wallace Tennis Camps    |    706-542-7995    |    GeorgiaTennisCamps.com
HOSTED AT THE UNIVERSITY OF GEORGIA GIRLS OVERNIGHT AND DAY CAMPS AGES 9-17
Three sessions: June 14-18   /   June 21-25    /     July 12-16
Overnight: $675, Commuter: $475
For more information or to register, go to www.GeorgiaTennisCamps.com.

Parkway Preschool    |    404-786- 7072    |    ParkwayBaptistPreschool.com
PARKWAY BAPTIST PRESCHOOL SUMMER FUN CAMP
June 1-5 And June 22-26 9:30Am – 1:30Pm
Children 2 years to 3rd grade • $15 registration fee • $25 per day
Contact Sue Moser for more information: 404-786-7072.
Sugar Hill UMC Summer Camp    |    770-945-2845 ext. 250    |    SugarHillUMC.org/Recreation
OFFERING A VARIETY OF SUMMER CAMPS THAT ENCOURAGE GROWTH, LEARNING AND FUN!
Preschool camps include sports/coordination, art/cooking or science/math. Camps for rising K-rising – 7th grade include basketball, cheer/tumble, art, golf, tennis, cooking, horseback riding, drama/music, science, extreme sports or explore Atlanta. Sign up early, the camp fills up fast!
NIKE GOLF SCHOOLS & JUNIOR CAMPS    |    880-645-3326    |    USSportsCamps.com/Golf
NIKE GOLF SCHOOLS & JUNIOR CAMPS
Now in the 22nd year, Nike Golf Camps provides junior golfers with the tools to improve and enjoy this great game for a lifetime. With over 100 locations nationwide at prominent universities, prestigious golf resorts, and local golf courses, there is an opportunity for every junior golfer to get better and have fun doing it.
>
 NIKE RUGBY CAMPS    |    800-645-3326    |    USSportsCamps.com/Rugby
NIKE RUGBY CAMPS
The mission of Nike Rugby Camps is to provide rugby education to young athletes and engender confidence and self-esteem on and off the rugby field. They are dedicated to providing their campers with one on one and group coaching by top college coaches and Team USA players.
CLUB SCIENTIFIC NORTH GEORGIA OFFERS HANDS-ON SCIENCE CAMPS FOR CHILDREN AGES 4-14.
Robotics, Video Game Creator, Crime Scene Investigation, Veterinarian, Physician, and more! All lessons meet or exceed National Science Foundation standards. 3 locations in Gwinnett and Cumming. Multiple weeks in June and July. All information and registration is online: www.northgeorgia.clubscientific.com.
CRABAPPLE ACADEMY'S SUMMER CAMP!
Crabapple Academy's Summer Camp offers the opportunity to develop and maintain physical, cognitive, social, and emotional skills through a theme-based curriculum designed to encourage creativity, adventure and fun! Experienced teachers provide a stimulating, supportive learning environment that includes weekly field trips, enriching group & individual activities designed to inspire each child's potential.
Early-bird discount registration ends April 30th, so call today!

Suwanee Sports Academy    |    770-614-6686    |    SSASports.com
CHECK OUT SUWANEE SPORTS ACADEMY'S SUMMER CAMPS FOR KIDS WHO WANT TO STAY ACTIVE THIS SUMMER.
With Basketball, Volleyball and MySport camps available, everyone can participate in their favorite sport, activity or field trip. Spend a week or the entire summer at one of the premier sports facilities in the Southeast.

Top Notch Training    |    770-416-1881    |    TopNotchTrainingCenter.org
TOP NOTCH TRAINING GYMNASTICS CAMP. AGES 3-13.
Gymnastics fun plus weekly themed activities. 9:00 – 4:00; 9:00 – 12:30, or 12:30 – 4:00 plus free extended care 7:30 a.m. – 6:00 p.m. One week sessions June 1 – August 14. $155/week, $145/week for 3 plus weeks.

Tabula Rasa The Language Academy    |    404-409-0827    |    Trlanguages.com
TOTAL IMMERSION SPANISH SUMMER CAMPS. BABIES – 5TH GRADE.
Part-time (8am-1pm) or full-time (7am-6.30pm). Camps held at two convenient locations in Sandy Springs off of I-285 and Lawrenceville-Suwanee off of I-316.  June 1st – July 24th. Registrations going on now. See more details at www.trlanguages.com, or call 404-409-0827.

Southeastern Railway Museum    |    770-476-2013    |    SoutheasternRailwayMuseum.org
"RAILROADS ACROSS AMERICA" SUMMER CAMP HELPS YOUR CHILD DISCOVER THE EXCITEMENT OF RAILROADING AT THE SOUTHEASTERN RAILWAY MUSEUM!
Your child will learn about the exciting world of railroads from around the country — all while exploring real train cars and locomotives. Each day will feature a different kind of railroad, related activities, and a real train ride!

Karate Atlanta    |    678-714-0000    |    KarateAtlanta.com/Locations/Suwanee
MARTIAL ARTS & ADVENTURE SUMMER CAMPS 9AM – 1PM
Activities includes: Kicking, Tricking, Sparring, Weapons, Dodgeball, Nerf Wars, & More
ATA Fight Camp June 8th – 12th Teaches footwork, distance, timing, & countering attacks
Nerf Wars Camp July 13th – 17th Teaches sword, bo staff, double chuks, dynamic kicking, & Nerf Wars.

MMA Legacy Academy    |    678-541-5254    |    LegacyMMAAcademy.com
LEGACY'S ADVENTURE DAY CAMP
Ultimate Summer Camp Experience! $99/week and $85 for second child. 8am to 5:30pm M-F. Sports, arts and crafts, marital arts, bowling, swimming and hiking, tons of field trips.
Call Legacy's Adventure Day Camp to reserve your child's place today. 678-541-5254.
Camp All-American    |    678-405-2266    |    CampAllAmerican.com
VOTED BEST SUMMER DAY CAMP BY LOCAL PUBLICATIONS!
Camp All-American is the premier camp in North Atlanta. Join them for their 27th Summer and see for yourself why campers and parents are making CAA their place to be! Go to www.campallamerican.com to see what everyone is talking about!
Calvin Center    |    770-946-4276    |    CalvinCenter.org
LIVE IN CHRISTIAN COMMUNITY!
Play in God's creation, and Grow in your faith! Through a variety of activities, Bible study and worship, you will begin or deepen your faith and make new friends and lasting memories.
SUMMER CAMP TO DEVELOP THE NEXT GENERATION OF GRIZZLY SOFTBALL PLAYERS!
June 1-4—skills and drills grizzly softball style—open to all skill levels; players grouped by age/experience
July 20-23—elevating your talent to the next level—players must have 3+ years of competitive softball experience.

Suwanee Academy of the Arts    |    678-482-6333    |    SuwaneeAcademy.com
ENCHANTED PRINCESS ADVENTURES CAMPERS (ages 3 – 7; June 8-12 & June 15-19) will dance and sing with Princesses.
SUPERHEROES (ages 3 -7; June 29-July 2) learn basic tumbling and sports skills.
MUSICAL THEATER PERFORMANCE CAMPERS (ages 7-13; June 1-5 & June 22-26) experience all facets of producing a musical.

Royal Dance    |    770-232-2997    |    GoRoyalDance.com
THE ROYAL DANCE ACADEMY SUMMER BURN 2015
Join The Royal Dance Academy this summer for fun dance educational camps, classes and intensives at either 2 locations. • Developmental programs ideal for growing dancers • Wide range of evening classes throughout the summer • Intensives for the serious. For more information visit www.goroyaldance.com or call 770-232-2997. Email: info@goroyaldance.com