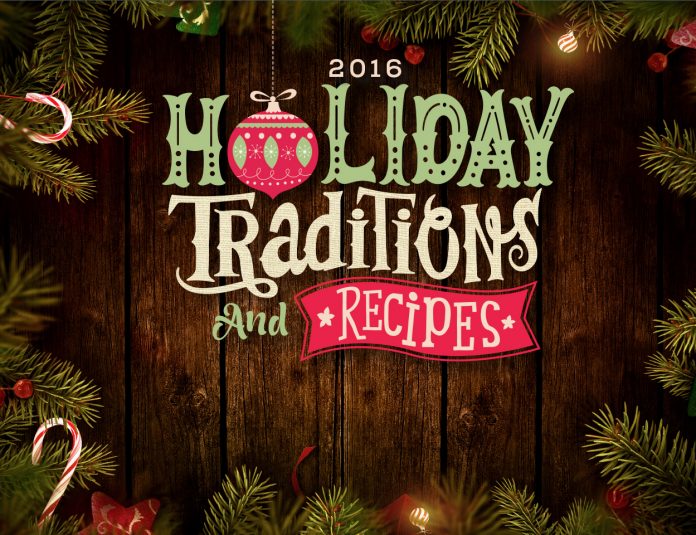 Edited By: Angela Veugeler 
The holidays are a time to make new memories and to celebrate old traditions. We asked our advertisers and friends to send us some of their favorite traditions or recipes. We love hearing about how people connect and spend time with their families during this special time of year, and we'd love to hear from you too! Connect with us on Facebook and share your own holiday tradition or recipe for a chance to be featured on our website.
 A fun tradition we have picked up over the years is while traveling to see family in Cincinnati, we always make a point to stop downtown and go ice-skating at the famous Fountain Square with cousins and top it off with yummy hot chocolate from Starbucks. – The Mortons


One of our favorite Christmas traditions is coming to the Jolly Holly-day celebration at Town Center Park. My kids love it because there are s'mores and hot chocolate, and I love it because Suwanee always has the REAL Santa year after year (i.e., my Santa photos consistently have the same Jolly Ol' Saint Nick!)
– Abby Wilkerson
I was a Rockette for many years in NYC and always performed on Christmas Day, with my family flying to NYC to see me at Radio City, so we always opened gifts one night early on Christmas Eve. Now that I am living in Georgia surrounded by my family, we still celebrate Christmas on Christmas Eve – that tradition stuck with us years later!
–  J. Paige Chambers Rutsche Co-Director, Chambers Performing Arts
Because I still have younger kids, one of my favorite traditions is the elf on the shelf. Our elf does not appear until our Christmas tree goes up! He doesn't cause too much mischief but he does have fun and our kids love to find where he ends up every morning. We like that he reports about their good behavior to Santa! If he ever falls over we have to use tongs and hot pads to handle him so he doesn't lose his magic! I love when he arrives and we also enjoy reading our books about the elf on the shelf. The kids are usually sad that he leaves with Santa on Christmas after a month of having him around! Our elf is named Fisby.
– Amy Doherty 
Stepping Stone Montessori
The holidays are coming and Stepping Stone Montessori School couldn't be happier! From Thanksgiving through the winter holidays we celebrate family, friends, our community, and different cultures. Thanksgiving is a time to honor those that we are most thankful for, so we always prepare a huge feast for friends, parents, and our grandparents. Our children are involved with all of the preparations and are in charge of the day's entertainment as well.
 Suwanee Annual Christmas Tradition:
The Suwanee Academy of the Arts Gingerbread Festival Tiger Tails Animal Hospital First held in December 2007, Patty Etherton & Berneta Davis conceived this event to serve as a living, breathing Christmas card to the community. As in years past, the community is invited to participate in the Gingerbread House contest, enjoy performances by the talented young singers and dancers of Suwanee Performing Arts' Sounds of Suwanee and Suwanee Ballet, and delight youngsters with an interactive telling of The Nutcracker by Ms. Bernie in an intimate tea party atmosphere. The 2016 Gingerbread Festival will be held on Sunday, December 18th, beginning at 1:00 pm.
GINGERBREAD FESTIVAL 2016 HIGHLIGHTS:
Gingerbread House Contest Theme: favorite Christmas movie. Featuring songs performed by Sounds of Suwanee. Location: Suwanee Academy of the Arts (341 Main Street, Suwanee). Time: 1:00 – 3:30 pm
Nutcracker Tea
Featuring dancers of the Suwanee Ballet. Location: Main Street Playhouse at Suwanee Academy of the Arts (341 Main Street, Suwanee). Time: 1:30 – 2:30 pm. Tickets required.
Best of The Nutcracker

Selections from The Nutcracker performed by the Suwanee Ballet. Featuring The Actor's Company. Location: Lanier High School Theater (918 Buford Hwy NE, Buford GA). Time: 5:00 pm and 6:30 pm. Tickets required. Event details and tickets are available at SuwaneePerforms.com or visit Suwanee Performing Arts on Facebook.
The Wednesday before Thanksgiving, my family and I go to Garland Brothers to buy a Christmas tree. They are not even open for business yet for the year. They never seem to mind, though. We choose our tree and take it home that night. The tree doesn't get decorated until the day after Thanksgiving. We cannot ignore one holiday to rush in another! On that Friday, our tree is decorated, the magical Elf appears and we usher in the cheer of the Christmas season.
– The Belflowers
Tiger Tails Animal Hospital
Tiger Tails Animal Hospital opened the Monday after Thanksgiving 2012. Starting in 2013, and every year since, we've celebrated Thanksgiving with our Tiger Tails employees on the day before Thanksgiving. Dr. Zack fries several turkeys, sides are catered in and the employees bring a favorite dessert to share. We are grateful for the team members who work beside us every day to care for our clients and patients!
In the Burkhart family, while some traditions have continued from childhood, my siblings and I have begun to form our own traditions. In the days leading up to the 25th,  it is now custom to watch National Lampoon's Christmas Vacation with a glass of "strong" eggnog in hand. On Christmas Eve through Christmas Day, its 24 hours straight of The Christmas Story on our televisions ("You'll shoot your eye out!"). Also, I cannot leave out the annual Christmas Day family basketball game in the driveway of the house I grew up in. It's all tradition. Traditions begin and traditions carry on with each generation. Traditions are what make each of our families and friendships unique and special.
– Kevin W. Burkhart Partner at Alford & Burkhart LLC
Greater Atlanta Christian School
The Christmas season at Greater Atlanta Christian School is always special. We delight in opportunities for our community to celebrate through intentional acts of service and missions. Our families and students alike enjoy donating toys, coats, and food to Atlanta-area organizations, and
partnering with 11Alive and the Salvation Army in the annual Canned Food Drive. The annual Christmas Tree lighting and caroling is a favorite event, as is the all-school Christmas Concert featuring students in choir, dance, band, and orchestra. These are some of the many ways we enjoy celebrating this joyous Christmas season!
Cranberry Pecan Bread – Clarke Glidewell 
WET INGREDIENTS:
2/3 cup buttermilk
6 tablespoons unsalted butter, melted
1 large egg
1/3 cup orange juice
1 teaspoon grated orange zest
DRY INGREDIENTS:
2 cups unbleached all-purpose flour
1 cup plus 2 tablespoons sugar
3/4 teaspoon salt
3/4 teaspoon cinnamon
1 teaspoon baking powder
1/4 teaspoon baking soda
1 1/4 cup fresh cranberries, quartered
3/4 cup chopped pecans
– Grease 9 x 5 loaf pan
– Pre-heat oven to 375O
– Combine and whisk wet ingredients in small mixing bowl
– Whisk dry ingredients (excluding canberries & pecans) together in large mixing bowl – Mix wet ingredients into dry until combined making sure not to over mix
– Gently fold cranberries and pecans into batter
– Transfer batter to pan and bake for approximately 55 minutes
– When toothpick inserted into center comes out clean, remove from oven and allow to cool for 10 minutes before removing from pan
Grandma Doris' Strawberry Pie
INGREDIENTS:
1 baked pie shell
1-1/2 cup water
3/4 cup sugar
2 Tbsp. cornstarch
1 (3 oz.) pkg. strawberry Jello
1 qt. cleaned, fresh whole strawberries
Few drops of red food coloring
Cook in saucepan over medium heat: water, sugar and cornstarch until clear and thickened. While hot, add the Jello and food coloring. Stir until dissolved. Fill the baked shell with whole strawberries. Pour chilled syrup over all and return to refrigerate. Chill well and serve with whipped topping.
Holiday Ham – The Powers Family
INGREDIENTS:
10 lb. full-cooked, bone-in ham
(shank or butt work best)
1 1/4 cup brown sugar
1/3 cup pineapple juice
1/3 cup honey
1/3 orange, juiced & zested
1/4 teaspoon ground cloves
Cherries (to garnish, optional)
Pineapple Slices (to garnish, optional – can also use 1 can of sliced pineapples for both slices & juice)
TO MAKE GLAZE:
1. Mix all ingredients in small saucepan and bring to a boil
2. Reduce heat and simmer for 5-10 minutes
TO BAKE:
3. Bake ham uncovered for 2 hours at 325 degrees
4. Brush ham with glaze and add pineapple slices and cherries with toothpicks
5. Bake for an additional 30-45 minutes, continuing to brush ham every 10 minutes
Grandma Dasher's Chicken Dumpling Soup

TO START:
6 chicken breasts with skin
3-1/2 qts. Water
– Bring to a boil. Reduce to simmer and cook until chicken is tender. Remove chicken & place in a large bowl to cool.
– Skim off and put in a separate bowl: 1/4 cup broth, 1/4 cup chicken fat and add 1 tsp salt in a bowl (for dumplings).
TO BROTH ADD:
1 Tbsp salt
1 tsp celery salt
1-1/2 tsp parsley flakes
1/2 tsp black pepper
1/8 tsp crushed red pepper
5 chicken bullion cubes
Add 1-2 more pts of water
2 cups diced carrots
1-2 large potatoes, peeled and sliced
1 large onion finely diced
– Boil until vegetables are almost tender.
– Remove skin and bone from chicken. Break into small pieces and add to soup.
DUMPLINGS:
– Using chicken fat, broth, and salt. Add: 1 large beaten egg 2 cups flour
– Roll onto a floured board to 1/4" thickness Let stand 15 minutes.
– Cut into small squares and add to broth a few at a time. Cover and turn heat to low.
– Cook approximately 15-20 minutes.
Cranberry Pear Chuntney – Cathy Hyer
INGREDIENTS:
3 pears peeled and cut into bite size pieces
1 cup fresh cranberries
3/4 cup sugar
1/2 cup apple cider vinegar
1/2 teaspoon cinnamon
1/4 teaspoon ground cloves
DIRECTIONS:
– Put all ingredients in a 2 quart sauce pan.
Bring to a boil. Reduce heat to low and
simmer 1 hour. Stir frequently.
– Cool for 1 hour while stirring occasionally.