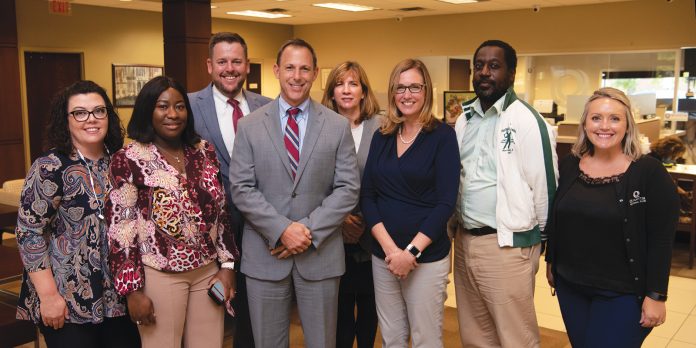 Quantum National Bank is an exemplary example of how showing up and supporting local small businesses and nonprofits can have a huge impact on the community.
By Angela Veugeler | Photos by Karl Lamb
As the week of March 8, 2020, unfolded, the shutdowns caused by COVID-19 quickly created a domino effect. Major sporting events were canceled and retailers were shutting their doors. I remember hearing that Chick-fil-A and Starbucks had closed and thinking, "Is this really happening?" Next were the churches and schools, which is when it really started sinking in and I began to realize how this was going to heavily impact our business, too. I know I am speaking for many companies when I say our incredible team of people is what makes our business. Our team is our company. Businesses across the country were wondering how and IF they could keep their doors open and sadly, we were in the same boat. Fortunately, we were able to work remotely and remain open during the shutdowns; but our business, like most others, saw a drastic drop in revenue. We were desperately trying to figure out what could be done to protect our business and our team.
Like most people, I was following the news very closely looking for information wherever I could find it. When they announced the CARES Act, and specifically the Payroll Protection Program (PPP), I was calling bankers, other business owners and anyone else in my contact list who might know more than me, trying to figure out when applications were going to be available and how we could apply. We have always banked with larger institutions, although I'm not sure exactly why… other than the convenience of having many branches, which seemed helpful back in the day when you had more of a demand to visit the physical branch more often. However, we never established a relationship with anyone from our bank, which became evident through my search for intel. I remember making an appointment at our local branch, calling the corporate office, calling another branch in our area and no one had any information regarding the PPP loan. So here I am, knowing that these forgivable loans were going to become available to businesses all over the country — the loan that would enable us to keep our doors open and compensate our team members — and I'm unable to get any answers. Reaching out to multiple business owners, I learned they, too, were having similar experiences with their larger institutions!
Then, I remembered that I met the Senior Vice President of Quantum National Bank, Tyler Phillips, through the Suwanee Business Alliance, and was hopeful that he could offer some sort of insight. And, sure enough, Tyler (thankfully!) called me back and explained all of the details of the funding and when they expected applications to be available. advised me of all of the information I needed to collect in order to apply for the loan, as I suddenly became hyper-aware of the value of a community bank. As soon as the application was made available, I completed all of the paperwork and submitted it to Quantum. They processed our application and the loan was funded within a week. What an enormous relief! We were guaranteed to have payroll covered for the next few months, despite the lack of revenue coming in to otherwise do so!
Helping the community
Quantum National Bank helped more than 1,000 small businesses obtain over $83 million in PPP loans. That translates to more than 12,000 jobs saved in our community! Many of those small businesses were not even customers of Quantum Bank at the time. According to Quantum President Brad Day, "During that whole process it was like drinking water out of a firehose. The PPP loans were just coming. We were staying late, working on weekends, trying to serve as many customers as possible. We have a great team. More than half the bank was working on PPP loans. We focused our staff to make sure we could get as many of these loans approved as we could. That's what people needed, people needed our help."
Locality, community and authenticity
Reading a statement Quantum Founder and Chairman of the Board Dr. Narasimhulu Neelagaru (Dr. Neel) posted on their website rang true based on my experience with Quantum. He said, "Since day one, Locality, Community and Authenticity have been our priorities. We intend to keep it that way." A perfect example of this is the fact that their team was working around the clock to help local businesses during the quarantine. And, in addition to helping with funding to keep them afloat, I noticed Quantum would not only order lunch for their team from local restaurants who were all struggling, but they would send out an email showcasing each restaurant to help market their food and service. They were spending money with these businesses, taking care of their team members by providing lunch and taking it a step further by spreading the word to their customers about these restaurants. If that doesn't show community support, I don't know what does.
Local roots
Quantum National Bank was founded in 1995, opening with their headquarter location in Suwanee before expanding to additional locations in Milton and Buckhead. The vast majority of their customers are small businesses in the greater Atlanta area. Quantum offers all products related to small- business banking and even offers no ATM fees across the country. If you use an ATM that charges a fee, they will refund that fee for you. When asked about what differentiates Quantum, President Brad Day shared, "Being a local bank we make quick decisions. We are flexible, a high touch bank, we really like to get to know our customer. In many cases, we try to get out and meet our customers at their office. We like to learn more about their businesses. Most of the time when we go out and meet a customer, they are very proud of what they have built and developed. We love to see that."
They also have a large presence for Small Business Administration (SBA) lending and service all of Georgia on the SBA side, mostly working with people who are trying to start a new business and get funding. Additionally, Quantum does significant residential and construction lending, including helping builders with acquisition & development (A&D) loans.
Giving back
Quantum prides itself on giving back to our community. Each year, they teach financial literacy classes at North Gwinnett and Lanier high schools as well as at JA Discovery Center. They host food drives for the North Gwinnett Co-Op and team members have volunteered with Habitat for Humanity and many other local organizations. According to Day, "We try to reach out, to help as many people as we can. Being a community bank, it really is our civic corporate obligation to give back to the community. We provided a $100,000 donation to the City of Suwanee's arts initiative. Suwanee is a great place to live, work and play and this is our opportunity to give back to our community."
On the Quantum website they share, which I have also found to be the case, "When we look at financials, we see faces. We rely upon personal insights as well as professional expertise to assess the situation and make decisions. Our goal is always to deliver the products and services that will benefit our customers. If you're already a Quantum customer, we thank you for your business and look forward to serving you in the future. If you haven't discovered the Quantum difference yet, we invite you to call or come in to one of our offices. Let us show you what we can do when you allow us to be 'Your Banking Partner for Success.'"
We live in a fantastic community, and during seasons and circumstances we've encountered in the year 2020, it is more important than ever to support those around you. Our community has succeeded at that in several ways, and Quantum has been an exemplary example of showing up and supporting local businesses and nonprofits.
For more information on Quantum National Bank, visit QuantumBank.com.