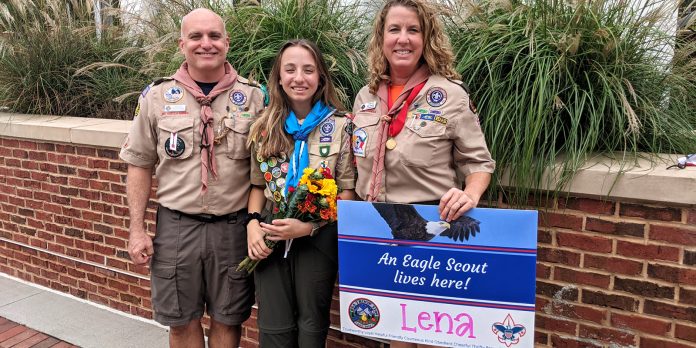 Suwanee resident Lena Towne becomes one of the country's first female Eagle Scouts.
By: Lizzy James | Photos courtesy Kim Towne
In late 2018, the Boy Scouts of America (BSA) announced plans to allow all-girl troops to form nationwide. Now just two years later, a Suwanee resident has become one of the country's first female troop members to earn the rank of Eagle Scout. Lena Towne is a member of Scouts BSA Troop 5109, an all-female troop chartered to the Buford Presbyterian Church. Lena attained the rank of Eagle after earning more than 25 merit badges, holding multiple leadership roles, and leading a large-scale project to renovate the Sunday School room at her home church, Epiphany Lutheran, which included painting a mural, crafting several furniture pieces, and adding storage and seating to the room. We had a chance to catch up with Lena and her troop leader (and mother) Kim Towne to learn more about her journey to becoming an Eagle Scout.
HOW DID A GWINNETT COUNTY FEMALE EAGLE SCOUT TROOP GET STARTED?
Kim Towne: Our troop, 5109, was started by me and a wonderful group of adult leaders who already had scouting experience. Many of them had older sons already in the program and I had worked with them through various council and district level leadership positions. Scouts BSA opened its membership to all-female troops in 2019. Girls must be age 11, or have completed the 5th grade, in order to join and may remain members until they are 18 years old. Troop 5109 has members ranging in age from 11 all the way through 18, and we currently have 22 members and we are growing!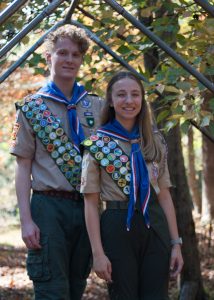 WHAT IS REQUIRED TO BECOME AN EAGLE SCOUT?
Kim Towne: Eagle Scout is a rank that is attained by being an active member of what is called a Scouts BSA troop. Scouts BSA is the rename of traditional Boy Scouts. Troops are only single gender, meaning that a local area will likely have several male-only and girl-only troops. Incidentally, the Girl Scouts is still going strong and is a completely separate organization. I liken it to the idea that kids might choose to be involved in two different sports, or two different instruments, etc. The requirements to earn Eagle Scout include a minimum of 21 merit badges, 13 of which are specified and the rest are electives that the scout may choose out of the over 120 available topics. The required badges are what I like to call adulting skills, things like cooking, personal fitness, time management, communication and public speaking skills. There are also the traditional scouting badges such as swimming, camping, etc.
In addition to badges, the scouts must complete their journey up through seven ranks. Each rank has its own set of requirements which often include outdoor skills coupled with working with and teaching younger scouts, and holding leadership positions within their troop. There are also service hour requirements, as well as conservation-focused community service components.
WHAT MADE YOU WANT TO JOIN THE EAGLE SCOUTS?
Lena Towne: Although I had also been in Girl Scouts for almost 10 years, I saw an experience that my brother was having in his BSA troop that was different than mine. My mom and I talked about starting a troop with some other friends who might be interested in more of the high adventure activities that BSA offered, plus I love a challenge and really wanted to attain the rank of Eagle Scout just as my brother and grandpa have.
TELL US A LITTLE BIT ABOUT THE SIGNIFICANCE OF BEING ONE OF THE FIRST FEMALE EAGLE SCOUTS?
Lena Towne: I am proud to be an example to younger girls, and show them that becoming a female Eagle Scout is attainable. It is a lot of hard work and I spent almost every weekend either working on completing badges, going to camps, or completing paperwork and other steps for my Eagle project.
Being one of the first girls going through this process had its own challenges. A lot of the materials still have male pronouns and photos so it felt exclusionary at times. And honestly, some of the older adult male leaders could be critical of my skill level or understanding of a badge or concept, maybe either because I was a girl or because I was learning everything so quickly. But I came into this already having many years of camping and outdoor skill experience through my Girl Scout troop and my family's outdoor camping experiences with Boy Scouts and on our own.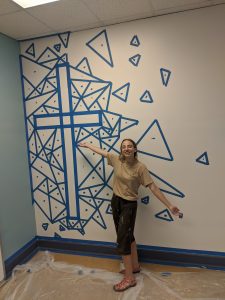 WHAT ARE SOME THINGS YOU HAVE PARTICIPATED IN WITH YOUR TROOP?
Lena Towne: One of the most memorable camping experiences was when we all went to West Point Military Academy in New York. The cadets there plan a very challenging — and muddy — weekend camping experience for Scouts from across the country. Although we didn't have the best weather, we had an experience of a lifetime. Some girls in our troop went snow camping last year in Minnesota. I chose instead to go on a high adventure outing, where we are living aboard a sailing ship for a week and learning all of the skills necessary to crew it around the Florida Keys.
YOU WERE ALSO DIAGNOSED WITH SCOLIOSIS RIGHT BEFORE TROOP 5109 WAS CHARTERED. HOW DID THAT AFFECT THE PROCESS?
Lena Towne: Oh my gosh! I was really upset when I learned I would be wearing a full torso brace 23 hours a day, just one month before our troop started officially camping and meeting. At first I was afraid I would not be able to even attend any of the outings or our weeklong summer camp. Hiking was the hardest part, because we would have to carry backpacks with all of our gear, and it really hurt sometimes to sleep on the ground. But my friends in the troop were really supportive and sometimes they helped carry my gear or helped me set up my tent. No one ever made fun of me and I always felt very welcomed and supported.
WHAT IS YOUR FAVORITE THING ABOUT THE EAGLE SCOUT PROGRAM?
Lena Towne: I really like advancing through the program and the achievements that scouting offers. I am happiest when I have worked hard to earn a badge or award!
DO YOU HAVE ANY PLANS WITH THE EAGLE SCOUTS AFTER HIGH SCHOOL?
Lena Towne: The BSA program is only for kids under age 18, but there is a co-ed Venturing program and also Sea Scouts that you can be a member of up to age 21. I might consider joining one of those groups.
WHAT ADVICE DO YOU HAVE TO OTHER GIRLS WHO MIGHT WANT TO BECOME AN EAGLE SCOUT?
Lena Towne: It is a lot of hard work! I recommend that Scouts tackle the hardest badges first, especially the ones that require several weeks of tracking your activities such as physical fitness or household chores and such.