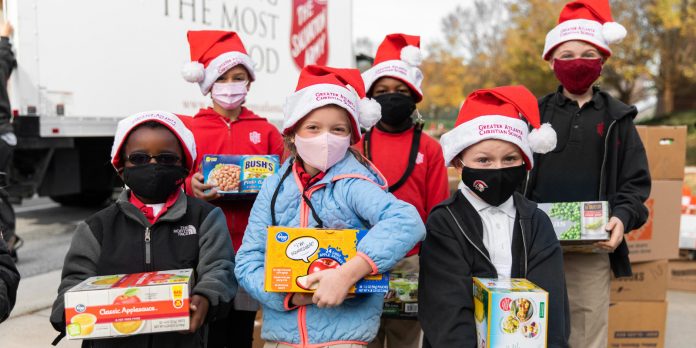 Greater Atlanta Christian School is already a community leader in the Salvation Army's annual Can-A-Thon, but this past December the school outdid themselves, rising to the challenge of providing non- perishable food items in a more significant way than ever before. Throughout the end of 2020 the school collected a record 27,000 cans, surpassing the previous year's record of 20,000 cans.
Captain Paul Ryerson of the Gwinnett County Salvation Army came and spoke to GAC students and shared how the pandemic has created food insecurity for many families globally and locally. In response, the parents, students and faculty/staff rolled up their sleeves with determination to make their collections an even more meaningful impact during this difficult year.
GAC President Dr. Scott Harsh was on hand to help students load the more than 1,200 large boxes into two box trucks, and he noted the significance of the day. "It's incredible to see what our families have done and to see the leadership of our students. In a year when many are focused on what we can't do, I love seeing our community focused on what we can do. Our students really latched on to the reasons why this help is needed. It's been such great joy in coming together to give this donation."
GAC strives to instill a heart for serving in each of its students throughout the year. The annual Can-a-Thon food drive is unique since it includes the efforts of the school's entire student body, from GAC's very youngest to its oldest Spartans. The annual Can-A-Thon is sponsored in the Atlanta Area by Publix and 11Alive. To learn more about its impact on the community visit: SalvationArmyAtlanta.org.