George Pierce Park unveils a new playground and other renovations that allow children with disabilities access to active play with their peers.
By Alicia Carter | Photos by Karl Lamb
Back in June 2020, Gwinnett County announced it had approved $2.55 million in improvements to Suwanee's George Pierce Park, including a new playground designed to be accessible for children with disabilities. The playground's list of accessible features includes a solid rubber tile surface that allows children who use a wheelchair or other mobility devices easier access to play, along with ADA-compliant swings, a whirl spinner with straps, and a play tower designed so that a child in a wheelchair, by means of a paved ramp and bridge, can access the highest point of the tower to overlook the playground below.
"It's important that our parks be accessible to everyone," said District 1 Commissioner Jace Brooks. "This allows kids with disabilities to play with other kids, have fun, and be included."
In addition to the new playground, George Pierce Park's woodland trail system, which is also considered part of the play experience, is entirely accessible to wheelchairs as well as adults with other mobility needs. The trail, which ventures deep into the woods then loops back to the playground, has slopes with less than a 5% grade, allowing a wheelchair-user or any person with mobility issues to be able to enjoy the park more comfortably.
In a combined statement, Glenn Boorman, Deputy Division Director of Project Administration, and Rex Schuder, Project Manager, addressed how the changes to George Pierce Park will benefit the community at large, stating, "Children and adults will have an easier time walking or wheeling through the trail. We hope the combination of play activities and trail access will provide parents with children using wheelchairs a good destination for their activity."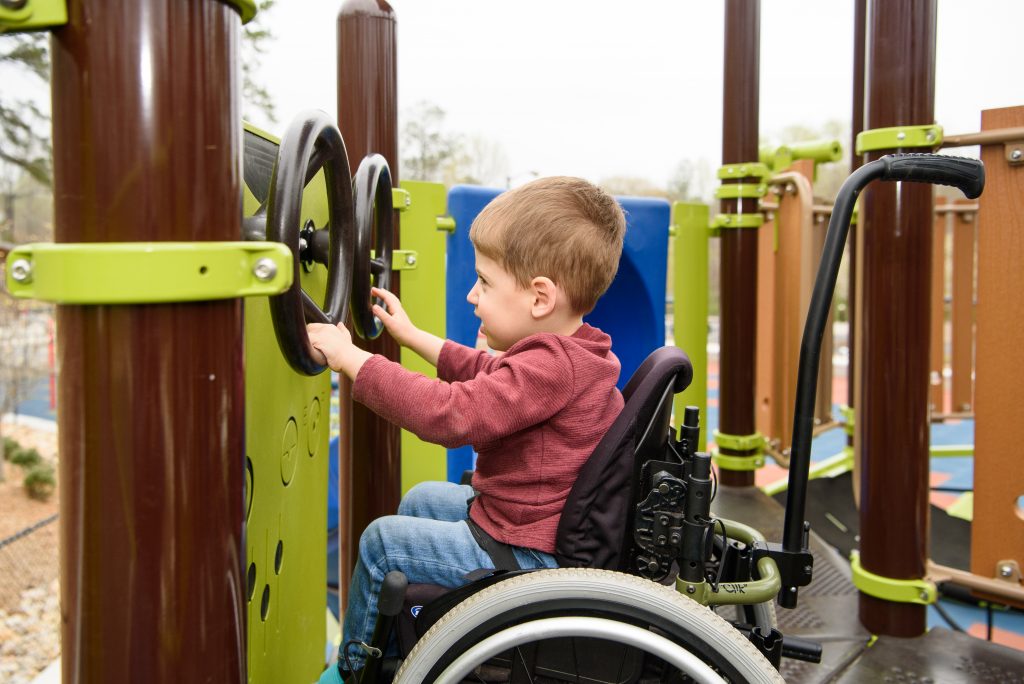 Why is accessible play important?
Accessible playgrounds and other play spaces do not solely benefit children with disabilities — they benefit all kids. All children deserve access to free and active play with their peers. No child should be forced to sit on the sidelines because public spaces are created without them in mind. In fact, access to active play offers many physical, emotional, cognitive, and social benefits for our children. These benefits include motor skills, problem-solving skills, social interaction, emotional regulation, and many more.
"Play is a child's way of communicating and expressing themselves to the people around them," says Jennifer Wilmoth, Founder of Thrive Forward Therapy in Suwanee. "When play is accessible to children regardless of their abilities it gives children the opportunity to communicate, learn, and develop friendships with all of their peers. It is a way for children to experiment with the positive and negative outcomes of their behavior in a safe context and gives them the opportunity to explore interactions with peers and learn about the world around them."
When children are denied this access to play and socialize with their peers, it can lead to loneliness, feelings of rejection, and a negative self-image. "It can be especially difficult for a child when they know and can see other peers playing and developing friendships together but they are not able to join," Wilmoth says.
Without these accessible public play spaces, not only are children with disabilities missing out on opportunities to socialize with their peers and make friends, but typically- developing children also miss out on the opportunity to play and interact with disabled children. Accessible playgrounds foster understanding and reduce prejudices, which creates inclusive environments where all are invited to play no matter their abilities.
It has been reported that 53% of children with disabilities lack friendships, which is a disheartening statistic. Part of the reason for such a high percentage is that many of our public spaces exclude them from certain activities. Wood chips may seem like a harmless choice for a playground flooring, but to a child who uses a wheelchair, it can be a determining factor as to whether they are able to participate or watch from the sidelines.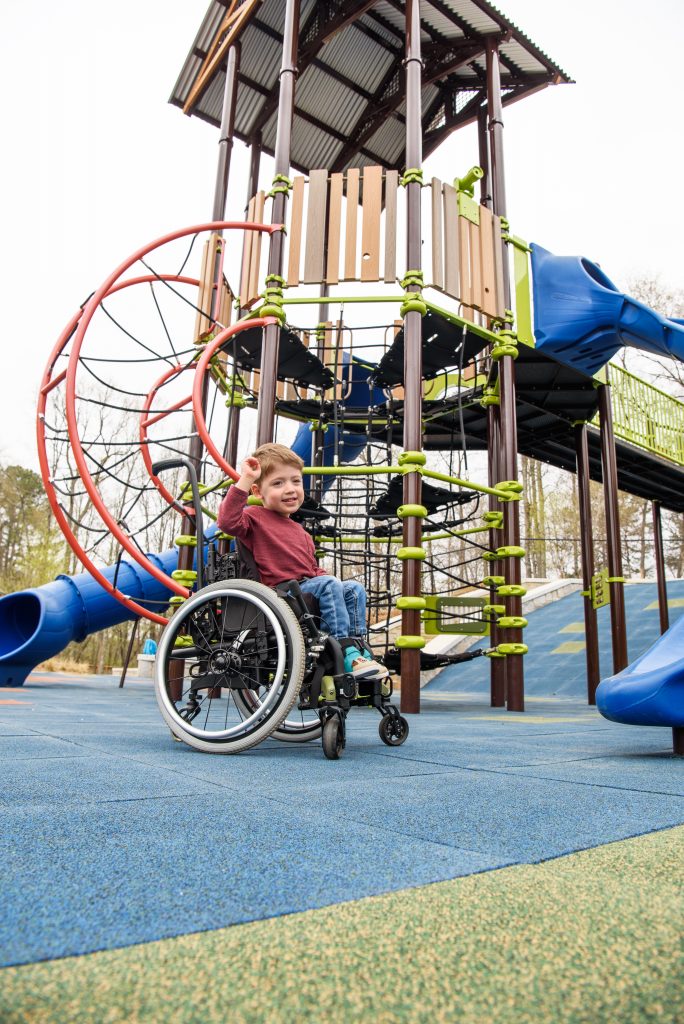 "Children benefit from an inclusive community by feeling they belong and are valued," Willmoth says. "When play areas are accessible, this provides a rich opportunity for children to learn and develop friendships with peers who have similar and different abilities than them. Even beyond offering more diversity in peer relationships, this helps to model honor and respect for diversity in the community as a whole."
These accessible spaces are also invaluable to adults, especially those with children with disabilities, because they allow a child to experience independence. A parent or caregiver who would normally have to help maneuver their child throughout the playground in order for them to participate, can now watch their child enjoy playing with fewer limitations.
When playgrounds and parks like George Pierce Park are designed to be accessible to all, it benefits the entire community. Welcoming children of all ages and abilities to explore, learn and grow together builds stronger, more inclusive communities where everyone is invited to play.
George Pierce Park is located at 55 Buford Hwy. N.E. in Suwanee. For more information, visit GwinnettCounty.com.