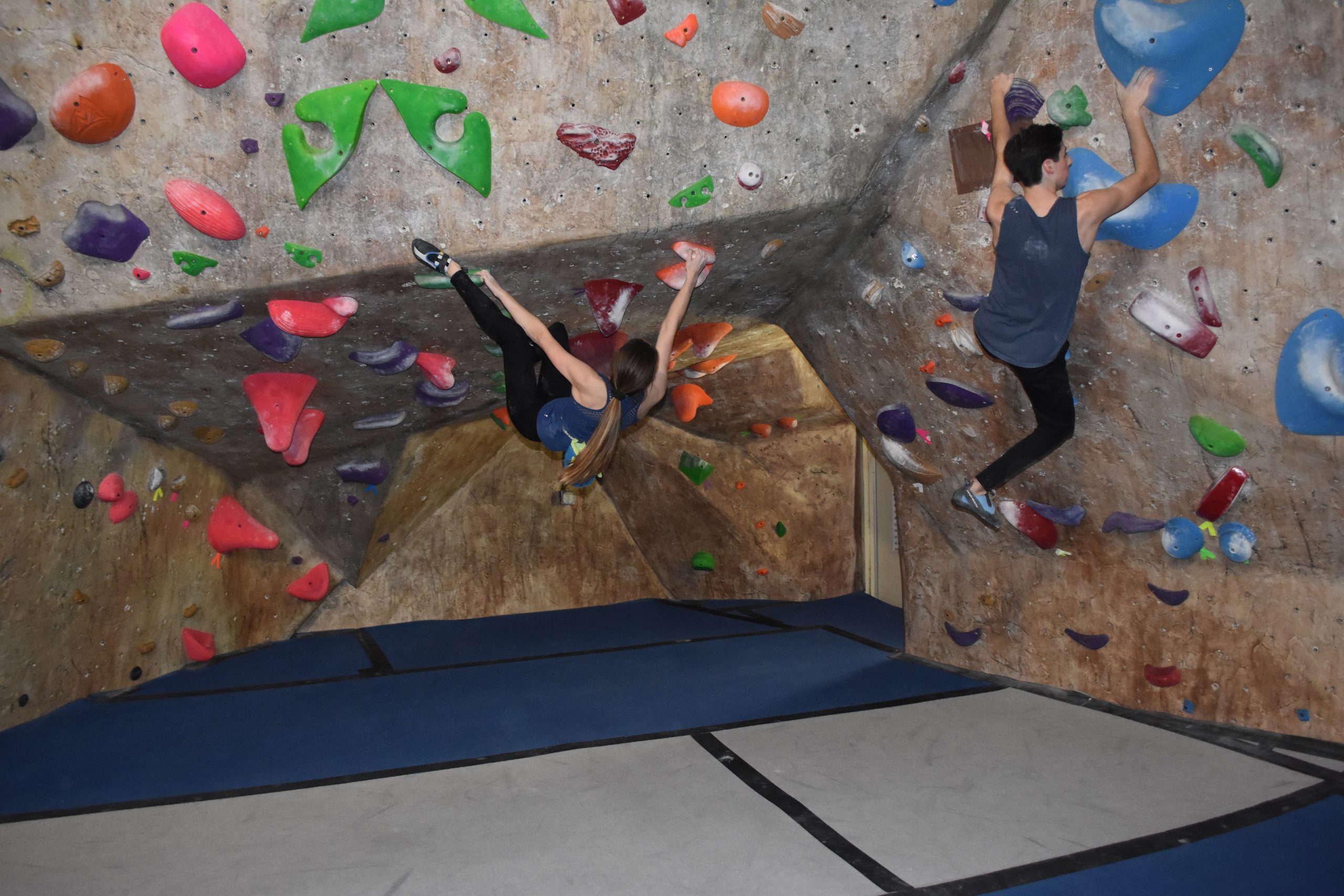 The sport of rock climbing has been growing in popularity and will make its debut in the Olympics in the 2020 games. The sport is a great full-body workout, and a mental challenge as well as a physical one. It works your core, arms, legs, glutes and back and also improves flexibility and grip strength. According to Nathan Steele, owner of Adrenaline Climbing located off of Brogdon Road in Suwanee, "Any age is a great time to start climbing. We have members from 2 to 82. If you think you might like rock climbing, are tired of the same old gym routine, or are looking for a way to spend an afternoon, this is for you."
Adrenaline Climbing has instruction available on a walk-in basis. If you are new to climbing, stop by on a Saturday to try it out, or come for guided services or family night on Friday from 6 p.m.-8 p.m. Indoor climbing equipment needed includes climbing shoes and a harness which are available to rent and chalk which is for sale at the gym. They also offer youth clubs, camps, birthday parties and cosmic climbing from 8 p.m.-10 p.m. There are always new challenges. Everything in the gym rotates out to give climbers a different puzzle to solve while getting their workout in.
The sport has become much more diverse, which Adrenaline Climbing can attest to. According to Steele, "the biggest thing with climbing we have seen over the years is the diversity in the sport has changed completely. Now it is everyone, we see a broad array of our community. We see a representation of who lives in this area at our gym. We see women at the level you would expect. The populous is about 50/50 and that is what we now see in our gym. It is so refreshing to see that represented in your business."
Although climbing is an individual sport, Adrenaline Climbing has a very encouraging atmosphere. "They do so well together, the comradery of these people is they are family, not just to us but to each other. The life lessons, especially for these kids but even for adults that they learn through this (is amazing). This is the way to live, is to be supportive. It is a huge lesson in life they are learning through this," shared Steele.
When asked about success stories, Steele shared, "At Adrenaline Climbing, we have trained a national champion; we have seen individuals lose over 100 pounds in a year. Coming in overweight can be intimidating, but we've seen folks drop weight and keep it off. One of the biggest barriers in gym culture is the desire to go to the gym and keeping on track. We find our regulars are motivated to keep coming back whether to try and get a climb they couldn't complete or to try the new climbs that go up weekly."
Adrenaline Climbing is located at 460 Brogdon Rd #100 in Suwanee. 770-271-1390. AdrenalineClimbing.com