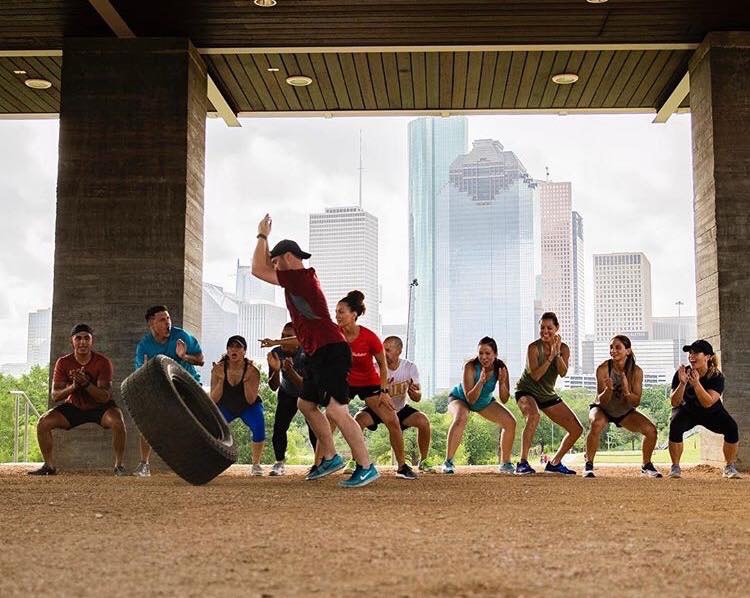 Camp Gladiator is an outdoor adult fitness program based in Austin, Texas, whose mission is to "impact the physical fitness and ultimately the lives of as many people as possible." For the past three years, Brian Lamb and his wife, McKenzie, were trainers at Camp Gladiator in Houston where they gained a huge following. Following their success, the corporate office recruited the duo to bring Camp Gladiator to the metro Atlanta area, which officially launches this January. Brian and McKenzie are now the directors of Camp Gladiator's Gwinnett region. Since Camp Gladiator is an outdoor fitness class, they partner with local churches, schools, and parks to host their workouts. Suwanee's Gwinnett Church is the first partner location announced, with locations in Buford, Johns Creek, Lawrenceville and Duluth soon to follow. The goal is to open more than a dozen locations across Gwinnett County by summer.
Camp Gladiator classes consist of an hour-long, full- body workout that changes every day. Brian says they focus on cross-training, which means the workouts hit every single muscle group. "We do a little running, weight training, jump ropes, bodyweight exercises, agility exercises, sand bells and more," Brian says. "The best part is that the workout changes each and every day, so the workout always stays fresh and exciting." Camp Gladiator classes also encourage teamwork and community, and they frequently run team drills that encourage fun and positive competition inside and outside of camp, which helps individuals push themselves more than they normally would at a box gym or at home.
Brian says that their fitness classes are geared toward all fitness levels. "We have everyone from college athletes to 80-year-old grandmothers at camp," he says. "We all support and encourage each other both inside and outside of camp. Not only do we work hard and laugh hard at camp, we also seek out ways to give back to the community. Whether that's hosting food drives, building homes for the homeless, going on mission trips, we do it all!"
So how are Brian and McKenzie settling in their new home of Suwanee? "My mother, Barbara, grew up in Atlanta. Her side of the family still resides all across Atlanta. So growing up, Atlanta was always my home away from home," Brian says. "When we visited this past summer, we immediately fell in love with the city of Suwanee. Not only are the people extremely kind, but the community here is very passionate about health and wellness."
Camp Gladiator launches in Gwinnett this January. Visit CampGladiator.com/atlanta and use code "GETFITATL" to register for a free month trial beginning in January as well as access all the upcoming times and locations in the Atlanta region.