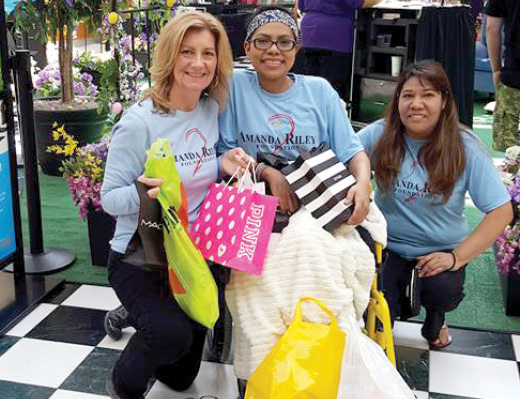 The Amanda Riley Foundation, a 501(c)(3), was established in September of 2010 to lend support to children and the families of children battling cancer. Founders Steve and Barbara Riley started the foundation to honor the memory of their daughter Amanda, who lost her life to cancer in April of 2010.
At the young age of 16, Amanda had a contagious smile and vibrant personality. She had a passion for running and basketball, leading by example and giving 100% to everything she did. She had a huge heart and great faith in God.
In 2009, at the age of 16, Amanda was diagnosed with stage IV Rhabdomyosarcoma. Amanda fought hard, staying positive and still attending school and church whenever possible. 405 days after being diagnosed, after numerous chemo and radiation treatments, blood transfusions and surgery, Amanda lost her battle to cancer.
When asked what led the Rileys to starting the foundation, Barbara shared, "Before Amanda was diagnosed, we spent all of our time with her. She played travel basketball as well as other sports. That was our life. When she became sick, we spent all of our time at the hospital or in the clinic; that become our life. We got to know the families. That's very common in the cancer world. We became a family. Once Amanda passed away, I was like 'What do I do with my life?' I can remember the sick kids sitting in the chair with siblings running around. That's where my heart is – it is at the hospital. I know that's what Amanda would have wanted."
The goal of the Amanda Riley Foundation is to brighten the lives of children battling cancer, doing everything possible to put a smile on a child's face while they are in the midst of their battle. They also lend support to family members. Barbara shared, "I remember when we were there, the things that were important to us. Food was a big deal, everyone gets tired of eating hospital food." The foundation provides meals every Monday at the AFLAC Cancer Center at Scottish Rite. They also provide  snack baskets for the children and their families, so they don't have to leave their room, give goody bags to inpatient children and toiletry care packages for parents to use in emergency overnight hospital stays. At Christmas time they sponsor around 100 children, providing gifts for the entire family. They also lend direct support to families assigned by Children's Healthcare of Atlanta such as periodic gifts, gift cards and financial assistance.
In 2015, the foundation worked with 53 families and has worked with close to 300 since their inception. All of the children they work with are diagnosed with solid tumor cancer, which on average has about a 30% chance of survival. When asked how she handles getting close to so many families and children, many of whom lose their battle to cancer, Barbara shared, "My faith. Some days are tough. I just lost my favorite little boy two weeks ago Monday. We are very close with his family. We have some survivor stories too. One girl attends all of our events and has been cancer free for several years."
This year, the foundation added a new initiative called "1,000 Reasons to Smile." Their goal is to grant a minimum of one "smile" or wish per month valued up to $1,000. They also recently funded their first Rhabdomyasarcoma research grant.
The Amanda Riley Foundation's 6th annual Miles 4 Smiles includes a 10k, 5k and fun run and will take place on June 11th at Tribble Mill Park in Lawrenceville. The event has continued to grow each year and includes a festival area for kids as well as a balloon release.
To learn more about the foundation, read Riley Warrior stories, or for more information on Miles 4 Smiles and other events or ways to help, visit amandarileyfoundation.org.
1000 reasons  to smile
LOCAL GROUP'S GOAL IS TO GRANT
A MINIMUM OF ONE "SMILE"
OR WISH PER MONTH
VALUED UP TO $1,000.