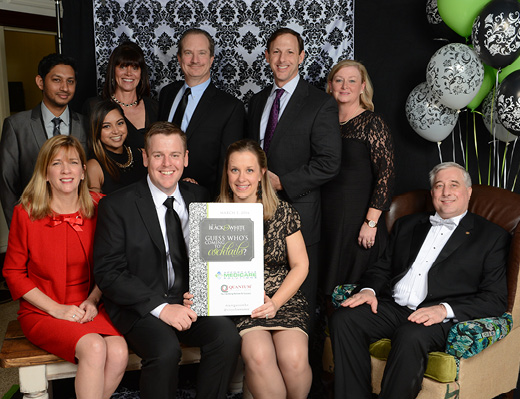 Suwanee Cocktail pARTy
Celebrated Public Art Initiative
BY: ABBY WILKERSON
CITY OF SUWANEE PUBLIC INFORMATION OFFICER
Swanky, well-dressed art lovers descended upon Suwanee City Hall Saturday night, March 5, to celebrate the arts in Suwanee. A black-and-white, black-tie optional event, 'Guess Who's Coming to Cocktails,' served as a fund- and awareness-raiser for the City's lauded public arts initiative.
Nearly 300 guests were welcomed to the event by a literal fiddler on the roof: violinist Daniel Butman played on the City Hall awning, to the delight of attendees as well as patrons of Town Center Park. Horse-drawn carriage rides around the park showed off several pieces of public art, both permanent and temporary, as part of the 2015-2017 SculpTour program.
Upon entering City Hall, guests mingled with multiple artists, including Phil Proctor – creator of the popular goat herd at the corner of Buford Highway and Lawrenceville-Suwanee Road – former NFL player and sculptor George Nock, actor Zane Stephens, filmmakers Scott and Sharon Sowers and Bruce Downs, glass artist Hans Fräbel, authors Lee Martin and Harmon Snipes, and Aurora Theatre artistic director Anthony Rodriguez.
Pop-up performances were given by violinist Roland Huthmaker, ballerina Christina Leamon, performing artists Patty Etherton and Bernie Davis, and the Royal Dance Academy. The event also featured an Iron Chef-style cooking competition that included former "Hell's Kitchen" contestant Chef T Gregoire.
Guests could follow a painted path down the street to tour the North Gwinnett Arts Association's new gallery and Suwanee Welcome Center and enjoy desserts, music, and observe artists at work in their new space. The culmination of the evening was the unveiling of Su
wanee's newest piece of art: a piece of the former infamous 'Success Lives Here' water tower. The LIVES portion of the tower is a 7-foot tall, 19-footlong piece of steel weighing just under 2,000 pounds.
"This was just such a great event, and we are so honored to have been a part of it," said Keith Nabb, Lead Educator at Affordable Medicare Solutions, a sponsor of the event. "One of the things that makes the City of Suwanee so unique is that it is a welcome center for creativity and diversity. Being a long-time resident of Suwanee has allowed me to witness that firsthand. I'm thrilled to help support this initiative, as well as the great work that the North Gwinnett Arts Association is doing for our community. The past president of the NGAA is Vickie Johnson, a prominent art educator. Her decade-long vision has been achieved and her enthusiasm and leadership is a main inspiration for our involvement."
Suwanee created its Public Arts Commission in 2008 with the goal of encouraging developers to incorporate artwork into their projects. At the same time, the city began its own public arts programs, including commissioned pieces for city hall and city parks. Suwanee's first Public Art Master Plan, adopted by City Council in the August 2015 meeting, calls not for placing public arteverywhere, but rather for putting art where it matters most. The plan suggests that Suwanee focus its efforts on public
art that is "engaging, fun, memorable, and distinctive;" helps strengthen community connections; and that, in many cases, is temporary.
"There are numerous events, art festivals, and talent here that need to be not only celebrated, but supported and preserved. Making the decision to become a patron of the public art initiative is going to do great things for our company's area and foundation. I am a raving fan and cannot wait to see what the next ten years hold," said Nabb.
One of the things that makes the City of Suwanee so unique is that it is a welcome center for creativity and diversity
Sponsor Keith Nabb, Lead Educator at Affordable Medicare Solutions.