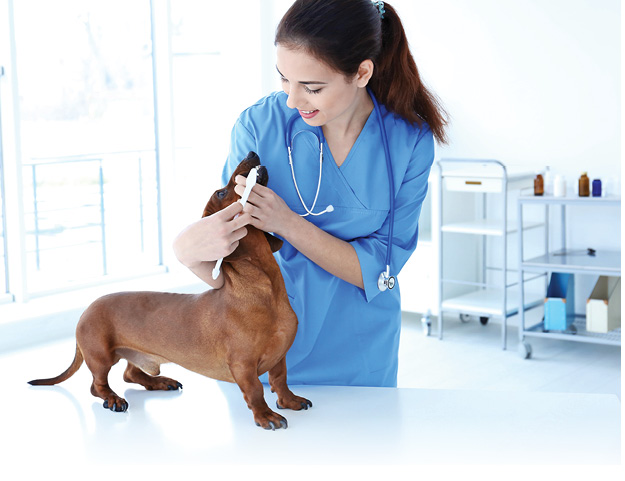 Q: Do I really need to brush my dog's teeth? Are the dental chewables sufficient?
A: Yes! When a dog consumes a meal, the food material and contents of his/ her saliva mix, forming a film (plaque) on his/her teeth. If not removed within 24 hours, plaque continues to accumulate and forms a hard substance, known as tartar. This tartar can trap bacteria. If bacteria enter the bloodstream, this can create problems for organs such as the heart, lungs, liver and kidneys. The good news is that pet owners can help our furry family members maintain oral health!
There are two methods to keep your dog's teeth healthy at home – teeth brushing and dental chews. Like people, brushing your dog's teeth DAILY is the best way to limit or reduce plaque and stimulate your pet's gums. In addition, the toothbrush bristles will help remove plaque a short distance beneath the gum surface. You should never use human toothpaste, as it can contain ingredients toxic to pets. However, there are toothbrushes and toothpaste specifically designed for dogs – ask your veterinarian which is their favorite!
Dental chews are also helpful, as they are designed to encourage chewing so that the teeth can be mechanically scrubbed. However, dental chews will only help reduce plaque and tartar on the teeth at the back of the mouth, which is why it is important to brush as well. It is also important to pick a chew product verified by the Veterinary Oral Health Council (VOHC). Stay away from hard chew toys, such as antlers, cow hooves, nylon bones, ice cubes, etc., as they can result in fractured teeth.
Pet owners should know that home care is prevention and not treatment. If your pet already has gingivitis, visible tartar accumulation, or fractured/broken teeth, at home care is not a substitute for a professional dental cleaning. Have your pet's teeth cleaned before starting routine teeth brushing and dental chews to achieve the maximum benefit.
Q: My pet has bad breath. Are bad teeth and gums the cause?
A: Most likely, yes! Bad breath can be due to plaque and gingivitis, or something more serious like periodontal disease, where bacteria have destroyed the attachment fibers and supporting bones that hold the teeth in the mouth. A professional dental cleaning is recommended to best evaluate your pet's mouth. At this time, your pet will be placed under general anesthesia and his or her teeth will be scaled and polished (similar to when people visit the dentist).
Then, full mouth dental x-rays are taken to evaluate the health of each and every tooth. If it is found that any tooth is fractured, broken, abscessed, or loose, removal is recommended to alleviate pain and future complications. Please be advised that periodontal disease can happen in any dog but is most often seen in small and toy breed dogs, due to decreased space in their mouth, decreased chewing behavior, and an increased lifespan.
Schedule a visit with your veterinarian to see if it is time for your dog to have a professional dental cleaning!
Dr. Layne Doggett is the newest veterinarian to join the SHAH team! Dr. Doggett's lifelong passion for animal welfare inspired her to become a veterinarian, so that she may help our furry family members live their healthiest, longest lives. Dr. Doggett is a Gwinnett County native, grew up in Suwanee, and attended the University of Georgia for both her Bachelor of Science and Doctorate of Veterinary Medicine degrees. She is a member of the AVMA and GVMA. ¢Her professional interests include dermatology, neurology, pain management, and wellness. While not working, Dr. Doggett enjoys spending time with her husband, Colby, 3 dogs and 2 cats, attending UGA football games, traveling, and reading. Dr. Doggett looks forward to building long lasting relationships with clients and their pets at Sugar Hill!
Ask Henry at sugarhillanimalhospital.com.