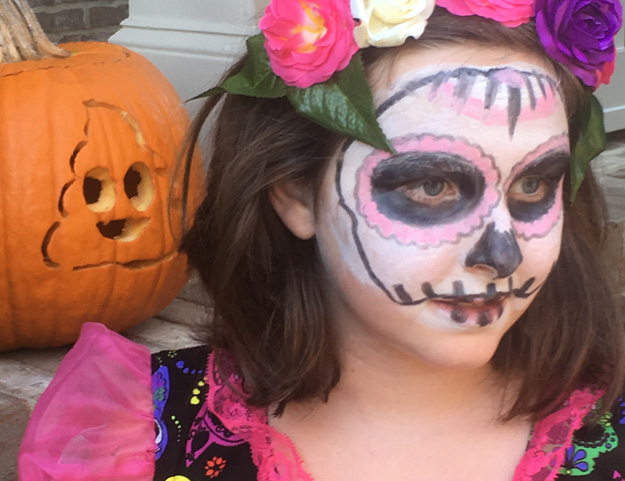 Here at Suwanee Magazine, we love encouraging students of all ages to write about things they are passionate about. Our team asked local students to tell a story about their favorite Halloween Memory or Costume.
We loved all of the submissions we received, but these four students stole the show! Read the submissions from our student authors for this issue:
"Iron Man"
By: Eric Dirius, age 7, Ivy Creek Elementary
I was part of the team
We had a big theme.
My Halloween costume made me real
It was a big deal.
If I wanted to be cool
It was important to play by the superhero rule.
I was part of the team
We had a big theme.
My three lights
Helped me to win the fights.
With my powerful weapons
I was able to teach many lessons.
I was part of the team
We had a big theme.
We are not mean
But we always have a scheme.
Ironman engineering the plan
Yes, I was that man.
I was part of the team
We had a big theme.
---

"First Halloween in my New Neighborhood"
By: Elena Wirshing, age 11, North Gwinnett Middle School
Halloween is one of the best holidays to celebrate. I like it because I get to go trick-or-treating with my friends and family. 201 4 was different since we moved to a new neighborhood with new people, and houses. My family invited some friends to come trick-or-treating with us. I invited my friend, Ava, and a few other friends from my old neighborhood. We finished trick-or-treating at 11:30 pm.
After eating a ton of candy, we were thinking of things to do when my Mom said, "What about a haunted house?" My Mom had found a haunted house only a few blocks away from us. When we got there, the haunted house looked like a normal neighborhood house. Although, it took the idea of haunted house to the next level. Inside, we were told, there were people dressed up like monsters. We stood to wait in line for our turn when all of a sudden we heard a scream from behind us. It was my friend, Ava, with blood oozing from her nose like a river.
So, we left her. Ava didn't go into the house of horror, but my other friends and I did. When you first walk in there was a coffin covered by cobwebs. Then, "POP", out comes a vampire with blood pouring out of his mouth. Then the scariest of them all… Pennywise! Pennywise, the dancing clown, carrying an ax is right behind you! He chases us past the zombies, sitting on the couch, all the way to the exit. Where we discovered Ava's nose had finally quit bleeding.
This is my favorite Halloween memory
---

"Teddy Bear Killer"
By: Scarlett Leach, age 10, Level Creek Elementary
It was Wednesday, October 31 at school. Everyone was wiggling in their seats anxious for the bell to ring. Finally, the bell rung and woke the students from their stillness. Kids tripped over each other's chairs to get to the hallway. Me and some other small kids were caught in the stampede for the exits. After I was safely on the bus I plopped down next to my sister Macy and her friend Charlotte. We discussed our costumes and the candies we would like to get. We could barely hear ourselves though because other kids were all like chattering squirrels. After the bus got to our stop we said bye to Charlotte and galloped home to change into costumes. Macy was goth girl, my youngest sister was Mel from Descendants, and I was a Teddy bear killer.
After eating our dinner of a meatloaf Frankenstein foot, we got into our costumes and drove to the neighborhood park where the costume contest is held. I ended up winning the scariest costume medal. That's when the collecting began! We met up with Charlotte and her younger sister, Amelia. We decided to trick-or-treat together. We got loads of candy and I was extremely tired. When we got to the house that gave away full-size candy bars, my sisters ran up to the house and got the last big Hershey bars, I was a little upset about that. But my legs were more tired than my heart, so we trekked back home. We did the annual eating of the candy when we got back home. After I had filled my tired body with candy I was actually ready for bed. The last thing I remember is turning off the light and whispering, "Happy Halloween everyone!"
---

"Captain America"
By: Claire Kim, age 8, Parsons Elementary
Captain America was my favorite Super Hero Halloween Costume. I like Captain America because he is a soldier and helps his country to be safe. I have watched a lot of Marvel movies, and when I put on the Captain America Costume, it made me feel like fighting for my country. But I just ended up fighting for Halloween candy.