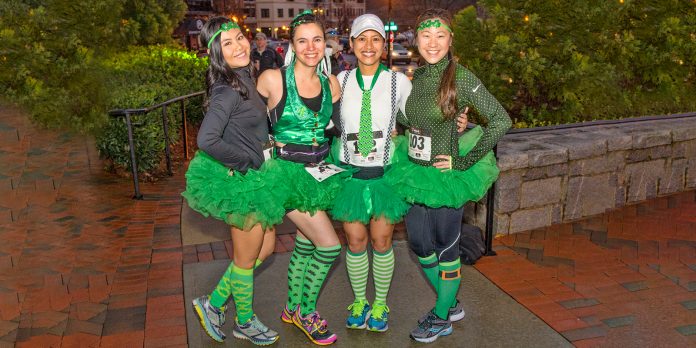 Suwanee Beer Fest announces a new socially distant beer event coming to Town Center Park on March 20.
Earlier this year, the organizers of Suwanee's beloved annual craft beer festival, Suwanee Beer Fest, announced the 2021 event would be postponed until June 26 due to concerns over COVID-19. In order to keep Suwanee's St. Patrick's Day tradition alive, Suwanee Beer Fest teamed up with presenting sponsor Taco Mac to announce the Beer Chaser 5K, a new socially distant beer event coming to Town Center Park on March 20, 2021. The first annual Suwanee Beer Fest Beer Chaser 5K offers a "choose your own adventure" twist on the traditional 5K with options for elite runners and novices alike. A Peachtree Road Race-qualifier, the Beer Chaser 5K has two sign-up options: The first is for more serious runners who can run for their best time with a tasty 16-ounce beer waiting for them at the finish line. The second is best for those looking for the most fun and includes five beer stops along the route. Partakers of the second option will be able to sip and stroll (or jog or run) as they pick up 4-ounce pours from five "refueling" stations featuring beer from Six Bridges Brewing, Monkey Wrench Brewing, Slow Pour Brewing, Southern Brewing Co., and Tantrum Brewing Company. Suwanee's own StillFire Brewing will be at the finish line handing out a final 16-ounce beer.
The 5K will feature a staggered start (beginning at 11 a.m.) to encourage social distancing. To mark the occasion, runners will receive an official Beer Chaser 5K T-shirt, medal, and pint glass to show off their well-deserved accomplishment.
Beer Chaser 5K organizers encourage attendees to keep the St. Paddy's festivities alive by arriving decked out in all things green! Prizes will be awarded for Best Individual Costume, Best Group Costume, and Best Running Kilt. Feeling extra festive? Keep the party going by heading across the street to StillFire Brewing after the race for an after party with live music, a food truck and 25 beers on tap.
RUNNING FOR A CAUSE
A portion of proceeds from the Suwanee Beer Chaser 5k will be donated to Suwanee Kiwanis Club in order to support HomeFirst Gwinnett, in honor and memory of Adam Edge. Adam was known for his huge smile and amazing laugh. He served as Suwanee's downtown development manager, and built relationships with so many in and around our community. He loved life and was one of the most genuine, kind, and encouraging human beings who had a positive impact on all those who knew him. Adam passed away on March 25, 2020 at the young age of 37 after a hard fought battle with mouth cancer. Adam's best friend, Matt Elder started HomeFirst Gwinnett due to the county having one of the largest homeless populations without any operating homeless facilities. Adam was passionate about this organization dedicated to developing innovative and coordinated solutions to ending homelessness in Gwinnett County by better connecting services for those who need them most. For more information on HomeFirst Gwinnett visit unitedwayatlanta.org/program/homefirst-gwinnett.
For more information and to register for the race, visit SuwaneeBeerFest.com/beer-chaser-5k.