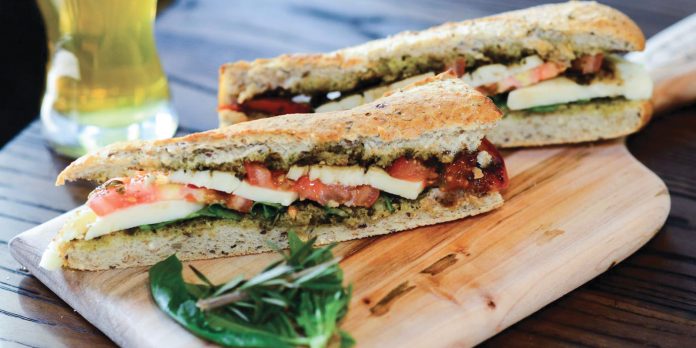 Sugar Hill's favorite brunch spot is run by a mother-daughter team who pride themselves on their coffee, charcuterie boards and giving back to the community.
By: Lizzy James | Photos by Mattie Rushing
Rushing Trading Co. may appear as an ordinary coffee shop in downtown Sugar Hill, but its wide range of menu items goes far beyond coffee. Upon entry, guests are greeted with the strong and satisfying smell of fresh espresso, deliciously sweet hints of French toast and savory sights of bacon. The atmosphere and decor radiates a rustic Alpine-meets-modern look with wooden floors, multi-toned wood paneling on the walls and shiny ceramic tiles spread throughout the dining area. On any given day, you'll find guests who live nearby ordering a coffee to-go, sitting on one of the barstools enjoying a quick (but delicious!) buttermilk biscuit, or with friends and family at one of the tables sipping a cocktail or mimosa with their brunch.
Owned by mother-daughter duo Amber and Mattie Rushing, the Sugar Hill location has been open since January 2019. Mattie, however, is no stranger to the coffee world and has run the wildly popular Chilly Bean coffee truck since 2017. "I started serving when I was 16 and have been a barista since I was 19," Mattie says. "I eventually went on to start a coffee truck in 2017 and would travel to different cities and events to serve our coffee."
The Chilly Bean truck ultimately caught the eye of the City of Sugar Hill, and when it came time to revamp the downtown area, they knew they wanted the Rushing family to open a brick-and-mortar location. "I originally was against the idea since I was still in school at the time," Mattie says. "But after meeting with the city and seeing the possibilities, I eventually gave in and even decided to add a full kitchen and obtain our liquor license so we could serve so much more than just coffee."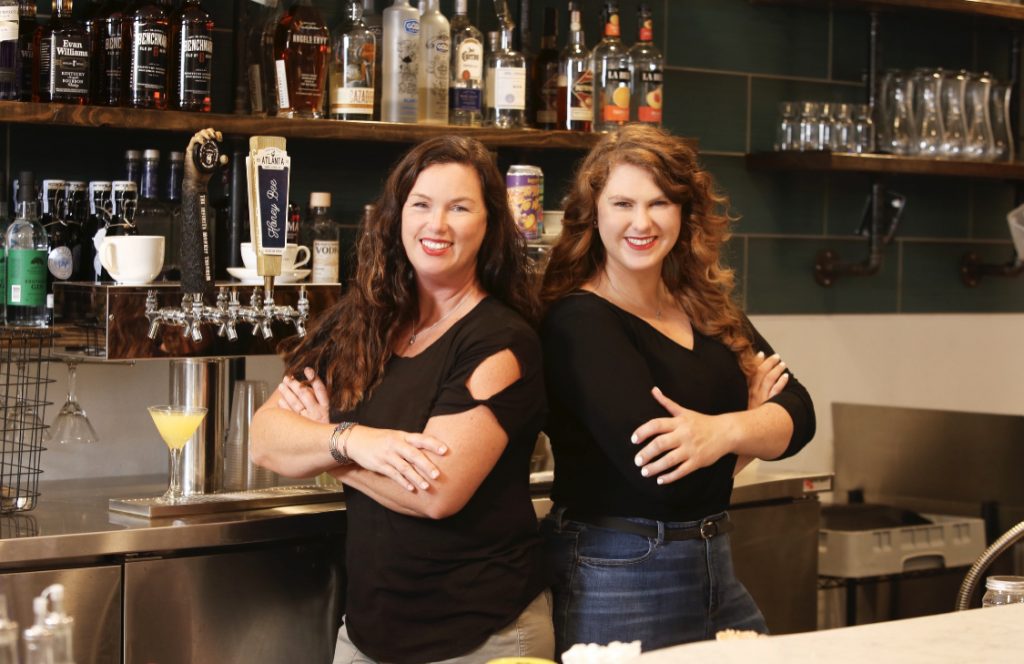 Let's do brunch
Open weekdays from 9am-2pm and weekends from 9am-3pm, the restaurant features pretty much any brunch dish you can imagine, including stuffed French toast, buttermilk biscuits, a variety of brunch plates and açaí bowls, as well as lunch items such as wraps, sandwiches, salads and frittatas. All of their menu items are sourced locally, refrain from using any artificial mixes or ingredients whatsoever, and also feature a wide range of vegan and gluten-free options. But perhaps the thing that sets Rushing Trading Co. apart the most is its full espresso and alcohol bar.
"As far as brunch goes, no other brunch location near us has an official espresso bar like we do," Mattie says. "We handcraft each of our beverages and provide our own personal touch on them. We also have a full service bar where we serve cocktails, local craft beer, and even bottomless mimosas and Bloody Marys."
Although her favorites change on a regular basis, Mattie highly recommends guests try their new Le Chateau sandwich. Served on a warm baguette, the sandwich features sliced apples, prosciutto, brie cheese, and is topped with a cranberry aioli. Other menu standouts include an Instagram- worthy breakfast charcuterie board with Irish cheddar, smoked gouda, two eggs, fresh fruit, country ham, bacon, sausage, two buttermilk biscuits, apple butter, roasted potatoes and breakfast trail mix. For those looking for a lighter brunch option, the restaurant offers two different açaí bowl options and a wide variety of "brunch" toast.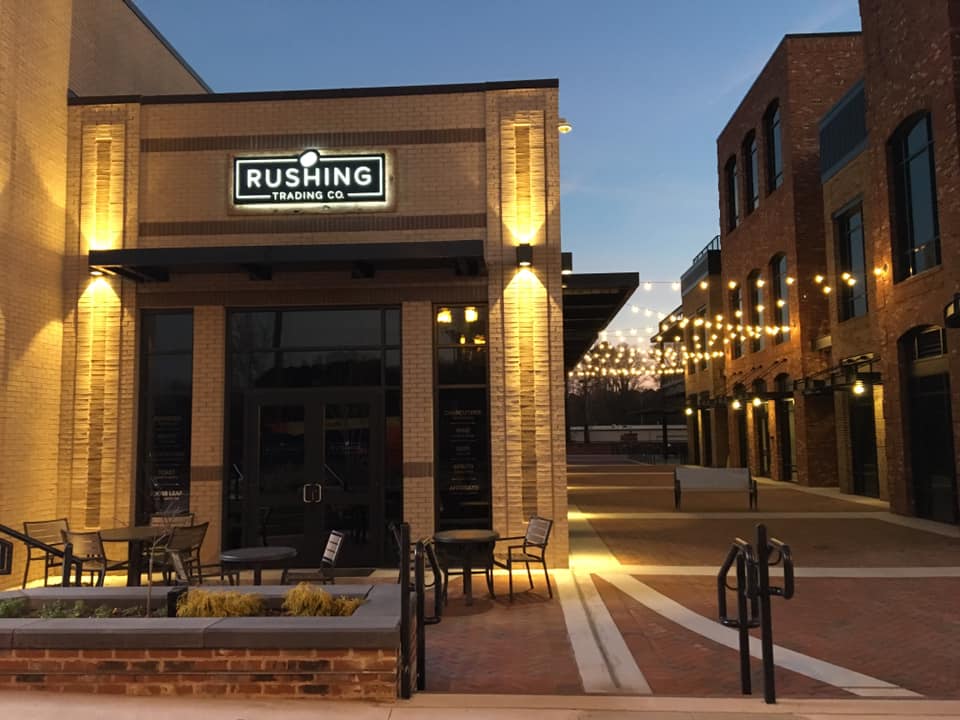 A "Truly" worthy cause
If you can't decide on what to order, we highly recommend trying their Truly's stuffed French toast. Not only is it stuffed with a delicious filling of your choice, but the proceeds of each dish have benefitted the family of 13-year-old Truly Worthy. Truly and her family were some of Rushing Trading's very first customers, and became regulars in the restaurant. About three months after opening, Truly became very sick with a rare autoimmune disease and ended up having to go through several hospital stays.
"After Truly became sick, she stopped by the restaurant and asked me to try her new French toast recipe," Mattie says. "We loved it and decided to add it to our menu permanently! It is one of our best sellers and all of the proceeds went back to Truly and her family to help with her medical expenses."
Unfortunately, Truly passed away on February 6th of this year, but Truly's French toast remains a permanent menu item. The entree features Rushing Trading's signature French toast dipped in brown sugar and stuffed with delectable sweetened cream cheese. The best part? Patrons can choose to stuff it with strawberries, bananas, blueberries and more for a really incredible variety!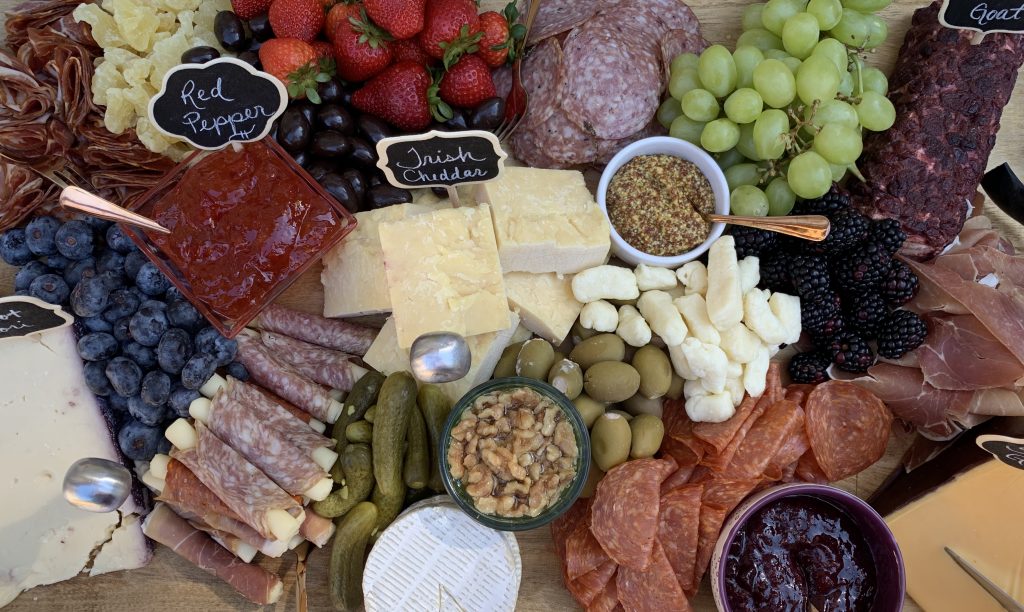 Extensive catering menu
Aside from a delicious in-restaurant menu, Rushing Trading Co. also offers an extensive catering menu for those looking to add a bit of brunch flair to their next event. "Catering and our charcuterie boards are something we really pride ourselves on," Mattie says. "We really go all out on our boards, and can help make our clients' visions come to life. We've even begun offering dessert charcuterie boards!"
Rushing Trading also offers breakfast catering, pre-boxed lunches, build-your-own-sandwich trays, and premade pasta dishes. From weddings and bridal showers to corporate events and office meetings, Rushing Trading's catering team allows you to sit back, enjoy your event, and even helps to tailor a menu specifically to you. All orders must be placed four days in advance, and can be sent to Mattie@rushingtradingco.com.
Building community
Giving back to the community that has embraced them is a high priority for the Rushing family. They love to support local vendors and only source their ingredients from small and local folks in the surrounding areas. But the community support doesn't stop there. During the height of the Coronavirus pandemic, the family made pre-boxed lunches to take to local police stations, firefighters, and first responders as a thank you for their service. They also put up an Angel Tree at the restaurant over the holidays with the names of local families in need. They collected donations and were able to provide Christmas presents to children and adults in the area who otherwise would've been unable to afford it. Aside from community outreach, the restaurant also hosts regular events such as trivia nights, wine tastings, and aspiring baristas can sign up online to take a barista class with Mattie herself where she will teach you how to craft the perfect beverage as well as how to perform espresso and latte art.
Rushing Trading Co. prides itself on being a family-oriented business, and when you are a guest at the restaurant, you feel as if you are a part of that family. "At Rushing Trading, we are more than just your average coffee shop," Mattie says. "We invite our guests to come in and enjoy their experience with us. We aren't one of those eat and leave type places. Although our name may be Rushing, we want you to come in and stay a while!" So next time you are strolling through downtown Sugar Hill, stop in Rushing Trading Co. to grab your caffeine fix at their espresso bar or indulge in a delicious brunch with friends!
Rushing Trading Co. is located at 5029 W. Broad St. in Sugar Hill. View their brunch menu, sign up for barista classes, and learn more about catering at RushingTradingCo.com.