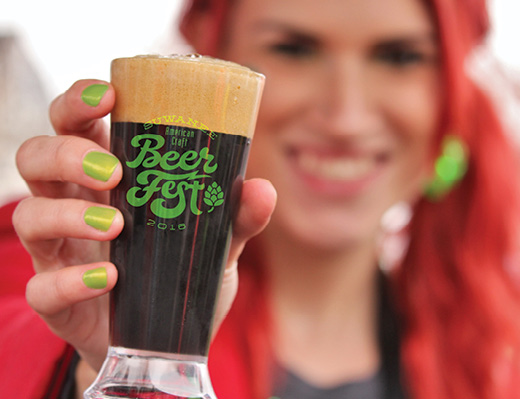 BY: MICHELLE FASIG
"
"…the festival experience is going to be even bigger & better with more Beers more restrooms, & overall space for less lines…"

On March 19th, thousands of people will descend upon Suwanee Town Center Park dressed in their St. Paddy's day finest for the 6th Annual Suwanee Beer Fest. Each year this award-winning festival attracts people from all over the country to claim their share of unlimited tastings of over 300 craft beers! Truly not an event to be missed, this festival has been named "Best Festival in Gwinnett" by the Gwinnett Daily Post Reader's Choice Awards for the past two years, and this year they plan on earning that title for year number three. From live music, to local food vendors, cornhole competitions, Irish dancers, a bagpipe player, and all the craft beer you can drink, it is easy to see why this festival is recognized as one of the biggest and best craft beer festivals in the Southeast.
In an effort to increase the variety of beers available as well as provide festival attendees with the best overall experience, Suwanee Beer Fest is taking up even more of Town Center Park in its 6th year. This means more bathrooms, less lines, easier entry, and more overall space. As you wander through the festival grounds, you might notice several changes such as the large entry, digital signs, and a completely redone VIP tent. These additions were made possible thanks to VIP sponsor, Dimensional Design, who is dedicated to helping create a truly one-of-a-kind look and experience for this festival!
Over 100 breweries will be in attendance at the 2016 Suwanee Beer Fest, with over a dozen of them being newer names on the Georgia craft beer scene. From Wicked Weed Brewing traveling from Asheville, North Carolina to Abbey of the Holy Goats from Roswell, Georgia, this year's fest is guaranteed to have a large amount of "coveted, hard-to-find" craft brews. For those of you who ask each year for ciders, malts and even wine, good news, they have you covered too! Suwanee Beer Fest is offering a larger selection of ciders and malts and for the first time ever, a sampling of wines from local Georgia wineries, like Sweet Acre Farms and Tilford Winery. Mikes Hard Lemonade will be on-site again this year with the Mikes Hard Lemonade girls serving refreshing flavors of their hard lemonade for festival attendees.
As you explore the park, be sure to check out the local vendors. Angelina's Psychic Shop will be on-site to tell you your past, present and future as well as give advice on your business and love life. Vapornauts will be out in full force again this year demonstrating and sampling the highest quality e-juice for their e-cigs in a variety of flavors. For a more "unique" flavor, check out the Jerky Outlet tent for the opportunity to buy ostrich, gator and elk jerky; but if flavors like Sriracha-Bacon jerky are more your speed, check out Savage Jerky. For those of you who like to drink and shop, Mistura Timepieces will be at the fest with their handcrafted watches, as well as GG's Fashion Forward: a trendy, mobile boutique on four wheels.
The VIP Experience
VIP tickets are highly sought after every year and this year was no exception. The limted tickets sold out in under three minutes! The VIP tent offers a unique experience for the true beer connoisseur. With a selection of nearly 30 beers, the VIP tent plays host to one-offs, special brews, exclusive beers, and beers brewed specifically for the festival. For those of you lucky enough to have purchased VIP tickets before the experience sold out this year, Dimensional Design has partnered with festival organizers to bring a one-of-a-kind experience to the VIP Tent. From portable bars, carpeted lounges, and high-end finishings, the VIP tent has it all. Festival organizers are also excited to announce that well-known restaurant, Rico's World Kitchen will be coming up with a unique and creative menu to serve alongside the exclusive, specialty beer options. Rico's World Kitchen has won numerous awards throughout the Atlanta Metro area including the number 10 spot for Top 50 Restaurants in Metro Atlanta voted by Yelp in 2015.
Just A Sample of the New Breweries at The Festival This Year
COPPER CREEK BREWING COMPANY, Athens, GA
Rotating 39 different styles of freshly brewed beer annually, Copper Creek uses a wide variety of malted barleys, hops and yeast strains to give craft beer drinkers something new and different each time.
PRAIRIE ARTISIAN ALES, Tulsa, OK
Their tagline reads, "Made by People Who Care," and with Prairie Artisan Ales Imperial Stout "Bomb!" having won the title of one of the Top 100 Beers in the World for the third year in a row, it is easy to believe the truth behind that statement.
LEFT NUT BREWING COMPANY, Gainesville, GA
This brand new brewery is ready to make their mark on the craft beer scene, and is the first brewery in Gainesville! Fans have been eagerly waiting, and Left Nut Brewing Company is excited to open their doors and serve their delicious beers.
THE CANNON BREWPUB, Columbus, GA
Open since 1999, and for the past decade it has become a go-to location to grab some amazing beer. From American Stouts to Imperial Reds, this brewery is guaranteed to have something to impress even the biggest beer aficionado.
THE SOUTHERN BREWING COMPANY, Athens, GA
SBC is run by people who are passionate about craft beer. The primary source of their brewing yeast comes from the air, in a process known as "wild fermentation", creating truly unique and delicious beers.
STRAIGHT TO ALE BREWERY, Huntsville, AL
Known for their crazy, creative artwork and their bold, big and delicious flavors, Straight to Ale serves great beer made by insanely talented brewers.
ABBEY OF THE HOLY GOATS, Roswell, GA
Abbey of the Holy Goats opened their doors in Roswell at the start of 2016 and is already being recognized for having some of the most delicious Belgian beers around.
WICKED WEED BREWING, Asheville, NC
An absolute, can't miss, craft beer destination located in Asheville, North Carolina. In a city filled with tons of competition, Wicked Weed Brewing is coming out on top. Specializing in west-coast style hoppy ales, barrel aged sours and Belgian beers, this brewery is always pushing to come out with something new and exciting, and so far they haven't missed the mark.
The Music Stage
The 6th Annual Suwanee Beer Fest is excited to announce this year's musical lineup includes Atlanta's kings of rockabilly: Rodeo Twister! Three friends who have known and played with one another in various bands over the last 20 years recently came back together to form a band based around their shared love for Rockabilly and Honky-Tonk music. Members Chad Proctor, Jay Murphree and Matt Spaugh have played with a number of legends of the roots music scene like: Zac Brown, Dale Watson, Link Wray, Webb Wilder, Brave Combo, to name a few, and are excited to be making their personal mark on the scene. This band is sure to wrap you up in a musical twister with their high-energy performance, outstanding vocals, and their fun, electric vibe!
Back for their fifth year, all the way from Chicago, Fulkinetic is ready to take the stage yet again! Be prepared to be blown away by the musical styling of this blues and funk inspired rock n' roll band. Festival attendees are always excited to hear their new original material each year. So, put on your dancing shoes and head to Suwanee Beer Fest because this is a show you do not want to miss!
The Charities
Event organizers are dedicated to giving back and supporting the community, and as tradition holds, will donate a large portion of proceeds to local charities. This year's benefiting organizations are Kingdom Kids and Cooper's Crew. Kingdom Kids grants wishes in Gwinnett and Forsyth Counties to children with terminal illnesses. Cooper's Crew is a Suwanee-based organization that raises college scholarship funds for North Gwinnett High School students who have overcome unique hardships, as well as funds for Clear Cell Sarcoma and childhood cancer research. Volunteers from Coopers Crew have generously donated their time to volunteer at the festival and are excited to be giving back to a cause they hold dear to their hearts.

SupportKingdomKids.com
CoopersCrew.org
The Food Court
Don't miss the Food Court this year! With a wide variety of food trucks like Bust n' Butts BBQ to "As Seen on Shark Tank" favorite, Cousins Maine Lobster, your food and beer pairing options will not be limited. And, for all the sweeter beers, why not pair it with a delicious dessert from Piece of Cake or sweet and salty popcorn from the Georgia Popcorn Company!
WOODSTOCK PRETZELS
Woodstock Pretzels sells gourmet soft pretzels in 5 flavors: Butter, Salt, Cinnamon Sugar, Powdered Sugar and Garlic Parmesan. Each pretzel comes with a free dip!
770-714-6293 Facebook.com/WoodstockPretzels
DUNWOODY CAFE
Duwoody Cafe will be serving their famous gyros, phillies, sausages, hamburgers, hot dogs & beverages.
770-378-2646
FRONTERA MEX-MEX GRILL
With 14 locations throughout Atlanta, Frontera Mex-Mex Grill serves dishes with authentic Mexican flavors. Having been awarded Atlanta's coveted Consumers' Choice Award for 13 years in a row, "everyone leaves happy" is a motto they live by!
678-878-2513 MyFrontera.com
PIECE OF CAKE
Piece of Cake provides made from scratch, custom baked cakes using fresh and wholesome ingredients. Their slices of cake-to-go are famous locally and nationwide. You can expect the very best from Piece of Cake!
404-351-2253 PieceOfCakeInc.com
BUFFALO'S
Buffalo's is committed to serving the highest quality wings and southern style cuisine. Their passion is food and family because that's what their customers care about most!
770-945-7100 Buffalos.com/locations/Suwanee
TWISTED TACO
As the name implies, Twisted Taco fuses American and bold Mexican flavors to form a unique "Twist" on Mexican cuisine. They are obsessed with using only the freshest and best quality ingredients inspiring them to specialize in made to order burritos, fajitas, homemade salsas and their famous "Twisted Tacos."
678-541-6675 TwistedTaco.com
THE PICKLE FOOD TRUCK
The Pickle Food Truck is Atlanta's original and best gourmet food truck. Since 2004 they have been preparing their own "chef-driven" menu of Southwestern and Cajun specialties.
404-421-9080 I ThePickleATL.com
SUWANEE PIZZA TAVERN
Your neighborhood pizza tavern with the best wood fired pizza, wings, salads, pastas and subs. Awesome weekly specials including BOGO Tuesday's, Discounted Specialty Burger Wednesday's, and Happy Hour everyday from 4-6 pm $2 beers & $5 Margaritas!
678-546-0823 SPTavern.com
BUST'N BUTTS BBQ
Bust'n Butts BBQ is a locally owned small catering business. They pride themselves in smoking succulent meats with their homemade rubs and BBQ sauces. They offer a variety of delicious sides. Their motto is, "We're Bust'n Butts so you don't have to!"
770-289-4667  Facebook.com/BustnButtsBBQ
COUSINS MAIN LOBSTER
Voted Best Lobster Roll on the West Coast by the Tasting Table in 2013 and 2014, Cousins Maine Lobster (As seen on Shark Tank, CNN, Master Chef and more!) serves the freshest and most authentic Maine lobster right from the truck. Cousins Maine Lobster is thrilled to bring a taste of the North to the heart of the South!
770-212-2117  CousinsMaineLobster.com
Being Safe
The festival organizers are committed to everyone having a great time and being safe. To encourage safe rides they have partnered with UBER and Designated Driver Alternative. Designated Driver Alternative, sponsored by Eagle Rock Distributing, will be near the main entrance of the festival. Stop by their booth to set up a ride, and they will drive you in your car to your next destination for just a few bucks! All you have to do is call or text DDA at 404-713-1780 to arrange a ride at anytime. UBER is offering $20 off a ride for first time users with the promo code: rideSBF16. Just download the app on your phone and enter the promo code along with your information.
For those of you who want to keep the party going all night long, catch one of the free shuttles back to Tannery Row Ale House located at 554 West Main St. in Buford for their blowout St. Paddy's Party with live music, Irish dancers, delicious food, drink specials, giveaways and more! When the night finally does wind down, head over to Comfort Inn & Suites for an exclusive discounted rate for festival attendees just $89.99! Be sure to mention Suwanee Beer Fest when booking.
SPONSOR SPOTLIGHT:
Tilted Kilt Pub and Eatery
Tilted Kilt Pub and Eatery Suwanee is excited to announce that they are under new ownership and management! Open since 2012, the Suwanee location has become a well-known staple within the community by offering guests a truly one-of-a kind sports bar experience with their unique Celtic theme, beautiful servers and entertaining atmosphere.
Sean Cahill, Owner and Ray Pridgen, General Manager, recently joined the Tilted Kilt Suwanee team with over 25 years of combined restaurant experience. Cahill is the current owner of 11 Tilted Kilt locations and is looking forward to elevating the level of service the guests have come to know at the Suwanee location. Between his knowledge of company standards and passion for the industry, Cahill knows this is a transformative opportunity for the Tilted Kilt Suwanee.
"Our guests influence us daily," explains Cahill, there is "nothing better than bringing a smile to a guests face after dining with us." With favorites like the Wicked Boston Burger and fresh fish tacos, it is no surprise that CNBC named the Tilted Kilt as one of America's top 10 Fastest Growing Restaurants in 2015.
From their delicious Scottish, Irish and American fare, to the 55 flat screen TV's, to the 48 rotating monthly beers served by the World Famous Tilted Kilt girls, it is easy to see why this restaurant has met with such success and how the Suwanee location is now set to serve as a model of service and standard that Tilted Kilt has become nationally recognized for.
In the continuing effort to be an integral part of the Suwanee community, Tilted Kilt is announcing their Sponsorship for the first time at the Sixth Annual Suwanee Beer Fest on March 19th. Stop by the Tilted Kilt tent at the festival to taste a selection of exclusive craft and high-end domestic beers poured by the Tilted Kilt girls because as the motto states, "a cold beer never looked so good!"