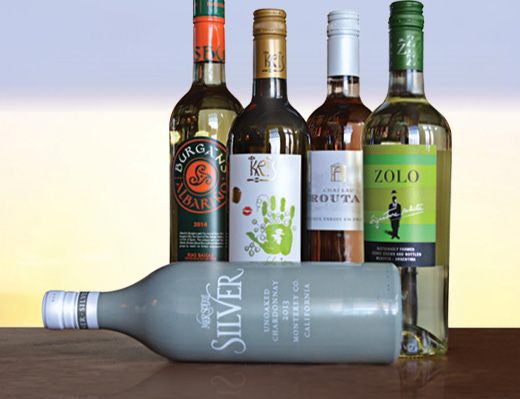 Lighter Wines
BY: Karl Furem WINE MANAGER, BEVERAGE SUPERSTORE
Spring is upon us. The days start to get longer, the weather gets warmer and pollen coats everything like a blanket of yellow sawdust. As meals become lighter, with fruits and vegetables battling the entrées for prominence on our plates, many of us start to transition away from the heavy red wines, whiskeys, and dark beers (yes, these are enjoyable year round, but without switching it up now and then they can get old). Now the question becomes, "what to turn to?"
Mer Soleil Silver
I find unoaked Chardonnays to be some of my favorite whites. Without the oak finish the true taste of the Chardonnay grape really gets to shine through. Mer Soleil Silver, out of Santa Lucia Highlands in California, is probably my favorite. Its citrus notes carry through from start to finish, with honeysuckle and pineapple making appearances about halfway through. The finish is acidic and crisp. It's a delightful choice at just $19.99 a bottle.
Bodegas Albarino
Spanish Albarino wines are a springtime favorite of mine. I enjoy the Martin Codax Bodegas Albarino. Lemon, peach, and tropical flavors are layered throughout ending in a nice crisp finish. At $11.49 a bottle, you should definitely give it a try.
Kris Pinot Grigio
Pale yellow in color, this Italian wine has a floral aroma upfront that flows into a lemon and tangerine taste. The finish is crisp with a nice minerality. Just $10.99 a bottle, it's a great choice when company stops by.
Chateau Routas Rosé
Hailing from the Provence region of France, this pale pink offering is a blend of Cinsault, Grenache, and Syrah. The first aromas to hit you are watermelon and a floral bouquet, with a hint of peach. That is followed by strawberries and flinty mineral notes leading to a crisp acidic finish. At only $14.99 a bottle, this would be a nice accompaniment to a light dinner.
Zolo Signature White Blend
Made in the foothills of the Andes Mountains in Argentina, this is a refreshing blend of Torrontés, Sauvignon Blanc, and Chardonnay. Upfront are aromas of tropical fruit, followed by grapefruit and finished with just a hint of jasmine. At only 9% alcohol this slightly effervescent bottle is a great picnic or pool choice at just $12.99.
Orin Swift Locations series F4
Nothing says spring is here to me like a nice glass of Rosé. Orin Swift Locations series F4 uses a blend of Syrah, Grenache, and Carignan grapes. The color is a deep pink. Flavors of raspberries and strawberries lead you to a finish that has a pleasant blend of minerality and citric acidity. At $21.99, this would be an excellent choice for Mother's Day brunch or Easter dinner.
I hope that these selections give you some choices to enhance your spring wine adventures, and if you need some other ideas, Beverage SuperStore would love the opportunity to assist you.
-Karl