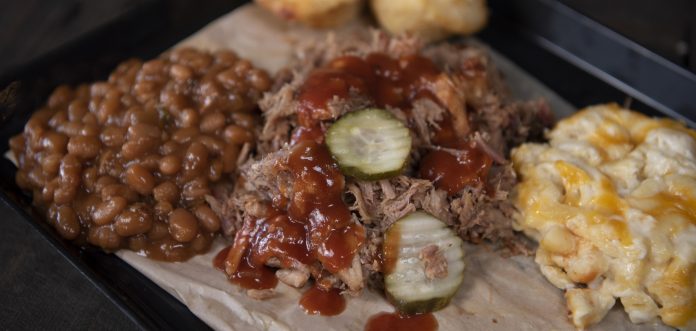 At Suwanee Magazine we are always up for a little friendly competition, especially when it comes to food. In past Food Issues we've crowned the best pizza, burger, taco and wings in Suwanee. This year, we were on a mission to find the best barbecue!
Photos by Karl Lamb
We're talking pulled pork piled high on the plate or sandwiched between two buns then smothered in a thick, tangy sauce. This year we opened up our annual "Best" competition beyond Suwanee and invited restaurants from across our distribution area, including Lawrenceville, Buford and Cumming, to put their best pulled pork plate forward and participate in a "blind" judging. In addition, we asked our readers to vote on their favorite local barbecue joint for our first ever READER'S CHOICE WINNER. In the end we consumed a lot of tasty barbecue — a tough job, but someone had to do it. We're lucky to have so many great barbecue joints around town, but only one could be crowned BEST BBQ.
OUR JUDGES: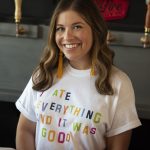 Skye Estroff
Skye is the owner of Skye Estroff LLC, a company built to forge relationships through food. She works in TV, podcasts and radio, while helping clients with social media and marketing. She is a regular contributor on "Fox 5 Good Day Atlanta" where she Skypes-in and talks through Atlanta's food trends. Skye also hosts "The Georgia Foodcast" podcast by Georgia Organics and is the Host and Executive Producer of "Foodie Road Trip."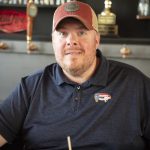 Craig Tabor
Craig is the owner of Suwanee's go-to store for all things barbecue, Playing With Fire BBQ Emporium. Craig and his wife, Elise, are experts on all of the products they offer because they have been using the items they sell for years. In fact, Craig wrote a book on the subject, Mastering the Big Green Egg, in which he lays out everything you need to know to conquer and perfect cooking with your Big Green Egg.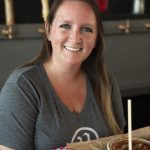 Natalie Garrett
Natalie Garrett is a contributing writer for Suwanee Magazine who is known around the office as the resident foodie. In addition to treating the magazine staff to baked goodies and tasty dishes, she is also a wealth of knowledge on hosting, cooking, organizing and making the most out of special moments and events. She is also part of the marketing team for Suwanee Beer Fest and Suwanee Wine Fest.
---
Judging Criteria:
Each BBQ dish was judged based on four categories:
• Appearance
• Taste
• Sides
• Overall Impression
---
City Barbeque – Suwanee
Dish: Lolo's Pulled Pork
City Barbeque's pulled pork was served with an array of sides, including mac 'n' cheese, corn pudding, green beans, baked beans, creamy coleslaw and banana pudding. The dish was also served with City Barbeque's house sauces including Low Co, Swine Wine, Brush Fire Barbeque, Original, and Sweet City Barbeque.
Judges' comments:
"Banana pudding — oh my! What a sweet surprise."

"Excellent overall."
---
Sonny's BBQ – Buford
Dish: Smoked Pulled Pork
Known as one of Sonny's guest favorites, the smoked pork plate was served alongside classic mac 'n' cheese, baked beans and a buttery biscuit.
Judges' comments:
"Yummy – the sauce was delish!"
"The sauce paired very nicely with the pork — a duo that will please most palates."
---
The Black Pig – Buford
Dish: Pulled Pork Sandwich
The team behind The Black Pig has worked hard to recreate the barbecue they grew up on and served their standard pulled pork sandwich alongside a house-made barbecue sauce, green beans and Gouda bacon mac 'n' cheese.
Judges' Comments:
"The pork is super tender."
"I like that I can taste the smokey flavor! The sides are a classy take on your traditional BBQ meal."
---
Socks' Love Barbecue – Cumming
**READER'S CHOICE RUNNER-UP!**
Dish: Hickory Smoked Pulled Pork
Known for their wood-fired barbecue, Socks' served their hickory smoked pulled pork with their "OMG" mac 'n' cheese, collard greens, pickled red onions and cucumbers, along with a red and yellow sauce — all made in house.
Judges' Comments:
"Love the addition of the pickles!"
"Greens are next level — perfect vinegar broth and spice component!"
Readers' Comments:
"Best BBQ! Mac and cheese, cowboy beans…"
"The brisket is amazing! The Hartsock's even
better. They showed up during the pandemic with meals for first responders, support for other local businesses, and huge hearts FOR community. Socks is hands-down the best."
"Creative menu and outstanding flavor!"
"Great food and great people — a winning combination."
"Always consistent, amazing BBQ with a great welcoming staff."
---
Foggy Bottom BBQ – Lawrenceville
**READER'S CHOICE WINNER!!**
Dish: "Money Muscle" Pork Plate
Foggy Bottom BBQ's specialty pork plate, featuring competition-style pulled pork shoulder, was served with a side of homemade mac 'n' cheese, classic Cajun red beans and rice, pickles and a side of Texas toast.
Judges' Comments:
"I like the pairing of rice and beans! I appreciate the creativity on a change to your classic BBQ meal."
"Enjoyed the sausage in the beans!"
Readers' Comments:
"Great place to enjoy lunch inside or out while working at the Gwinnett courthouse. Love the fried okra and the servers always have a smile!"
"Love their food, delicious potato salad. Also love their partnership with the bakery working with special needs folks [Special Kneads and Treats]."
"We love the food! Their brisket, ribs and sausage are amazing.
"Great family experience."
---
THE RESULTS! 
---

RUNNER-UP: Tannery Row Ale House – Buford
Dish: Pulled Pork Plate
Hand-rubbed with house seasonings and smoked for 16 hours over cherry and hickory woods, Tannery Row Ale House's Pulled Pork Plate was chosen runner-up in this year's competition by our judges. For the competition, the pork was piled extra high and served with Texas Toast, mac 'n' cheese and baked beans.
Judges' Comments:
"Juicy! And plentiful! The mac 'n' cheese was awesome!"
"Nice bark! Very good overall."
"There is a nice tang and spice to the sauce, and the meat has a nice smoke ring!"
---

THE WINNER: Jim 'N Nick's Community BBQ – Suwanee
Dish: Classic Pulled Pork
Jim 'N Nick's won over the judges with their "one of a kind" slow-smoked pulled pork served over their original BBQ sauce alongside extra cheesy mac 'n' cheese, baked beans and their famous mini cheese biscuits.
Judges' Comments:
"Tender, flavorful pork. Very good!"
"Ideal balance of texture with a flavor mastered so well that sauce is optional!"