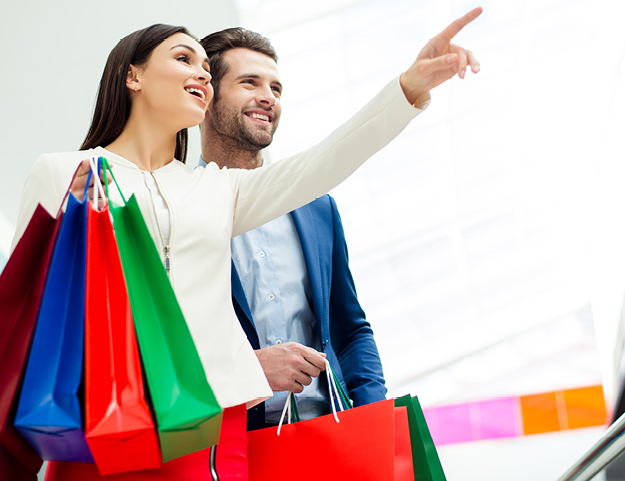 Even in the age of Amazon, it's still possible for brick-and-mortar stores to compete with online retailers.
By: ALICIA CARTER, Content Marketing Manager, Veugeler Design Group

With the right marketing game plan, businesses can increase foot traffic to their stores with online engagement and incentives, and then provide a personalized shopping experience that e-commerce sites simply can't compete with. And as we enter the season of giving, the holidays can provide even more ways to attract potential customers.
1.Make it Easy for People to Find Your Business

In order to compete in today's competitive marketplace, consumers need to be able to easily locate your business. If they don't know you're there, they can't purchase from you. Because of this, it's essential your website is optimized with good, geo-targeted SEO to drive traffic. The content on the site should contain localized information so search engines are able to quickly find your site and display it when people search for businesses in their immediate area. Just think of all the times you've used the "near me" function on a search engine: "post office near me," "restaurants near me," etc. According to a recent Google study, 4 out of 5 consumers use search engines to find local information, and 50% of consumers who conducted a local search on their smartphone visited a store within a day.
While the majority of consumers utilize local searches, many small businesses are missing out on that traffic because they're not using the best practices to dominate local search. According to Search Engine Land, many small businesses have not claimed a single local business listing online. It's important that your business shows up in directories like Yelp, Merchant Circle, Citysearch and others. Seek out these sites and make sure your information is correct and up to date. Also take advantage of Google My Business, which will help your business show up in the top of local searches made through Google.
2. Give People a Reason to Visit Your Store
Now that people can easily find your business, give them a reason to visit. What can you provide to your customers that they can't get behind a computer screen? Hold an exclusive event such as a fashion show or hands-on demonstrations that give customers the opportunity to interact with your merchandise. According to a recent Big Commerce report, 49% of online shoppers cite not being able to touch, feel or try a product as one of their least favorite aspects of online shopping.
In addition, offer exclusive in-store coupons or a special selection of goods that can only be purchased at the store. But don't ignore your online customers. An easy way to encourage online shoppers to visit your physical location is to offer free same-day pickup with online purchases. Even Amazon Prime's two-day shipping can't compete with that.
3. Capitalize on Buyer Urgency During the Holiday Season
But what if some customers aren't swayed by in-store events? Take advantage of the holiday buying season now that people are in the mindset to spend money. After all, Santa isn't the only one checking off a long list. Now is the time to capitalize on that buyer urgency. Offer limited-time offers like discounts, gift sets or even gift-wrapping. If you're able to offer customers something in return for their business, especially during a time when the majority of shoppers are feeling rushed and overwhelmed, you're more likely to attract foot traffic to your store.
4. Be a Competitive Digital Marketer
According to RetailNext, 72% of young shoppers research online before purchasing in a store. Your website and social media channels are your digital front door and the way many customers make first impressions about your business. Make sure your website has detailed information about the company as a whole as well as the merchandise you carry. As for social media, engage with your audience and post relevant and timely content frequently. Upload images of your store, interact with user comments, post deals and give them a reason to connect with you. It's also important to highlight positive reviews and address those dreaded negative reviews immediately with a positive response to build trust and let customers know that you're committed to creating the best buyer experience possible. The point of social media is to be social, so engage with your customers and provide them with something of value – whether it's content, incentives or a chance to sign up for your e-blasts. Speaking of which, email campaigns enable you to reward customers with in-store coupons and up-todate information about your business delivered straight to their inbox.
Building your online presence and offering customers something of value are the first steps to increasing traffic to your brick-and-mortar store. Take advantage of the holiday rush by concentrating on the buyer experience, and you're likely to maintain customers long after the season of giving
For more information about improving your marketing, contact Veugeler Design Group at 678-482-2270 or VDGatl.com.