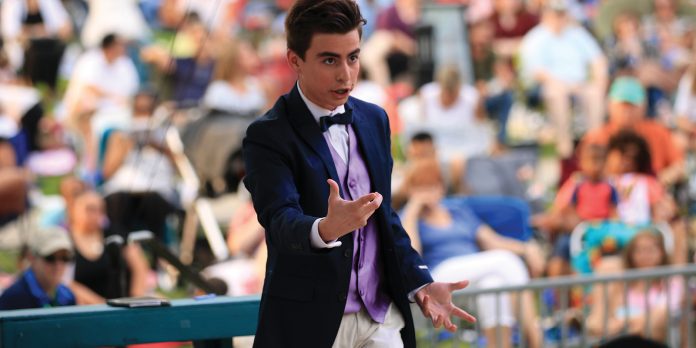 Suwanee Performing Arts sets sail with performances of The Pirates of Penzance JR. and Moana JR. at Suwanee Town Center Park.
Suwanee Performing Arts' Broadway in the Park returns to Suwanee's Town Center Park on July 30 and 31. SPA's mission is to ignite a passion for the arts and nurture the creative leaders of tomorrow. By turning the outdoor amphitheater into a Broadway-style stage with professional lighting, sound, costumes and sets, our community's talented high school, middle school and home schooled students can experience local stardom as they perform for the masses. This year, the family-friendly performance brings the high seas to the stage with Gilbert & Sullivan's The Pirates of Penzance JR. followed by Disney's Moana JR. To ensure safety for all attendees, capacity will be limited so advanced reservations are highly recommended.
Based on the 1980 Tony award-winning Broadway production, The Pirates of Penzance JR. remains one of Gilbert and Sullivan's most beloved musicals and includes the famous "I am the Very Model of a Modern Major-General" patter song.
Disney's Moana JR. is based on the 2016 Disney film with music by Lin-Manuel Miranda. It's a thrilling and heartwarming stage adaptation of this coming-of-age tale in which Moana sets sail across the Pacific to save her village and discover the truth about her heritage. She and the demigod Maui embark on an epic journey of self-discovery as she learns to harness the power that lies within.
In addition to the performances, Broadway in the Park fundraisers include a Virtual 5K and Fun Run (with a Pirate theme), an online auction, 50/50 raffle (drawing on July 31), Spirit Day at Daddy O'Brien's (July 20), as well as pictures with the cast, Star-grams and more during the Broadway in the Park event.
Broadway in the Park performances are scheduled to begin at 7 p.m. for one weekend only, July 30 and 31. General admission reservations open on July 12. General admission patrons will be seated on a first-come, first- served basis starting at 5 p.m. For more information about Broadway in the Park and SPA's other fundraising events, visit SuwaneePerforms.org.