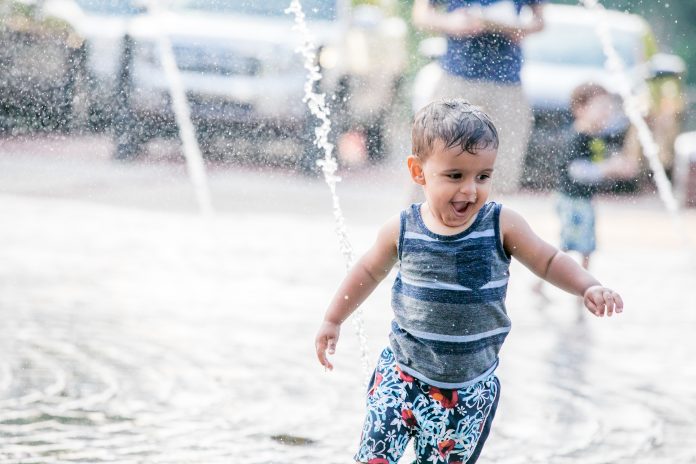 Area splash pads and water fountains are a fun and free way for families to cool off this summer.
By Alicia Carter | Photos courtesy respective cities
It's officially summertime in Georgia, which means it's getting h-o-t, hot! Families are on the hunt for ways to keep the kids entertained and cool. Luckily, there are plenty of ways to cool off this summer around town, from nearby Lake Lanier and Margaritaville at Lanier Islands to community pools and more. Sometimes, however, there's simply nothing better than watching your kids dart through jets of water at the local splash pad. One of the simplest ways to cool off, community splash pads and water fountains are a fun and free way to enjoy local parks and downtown areas.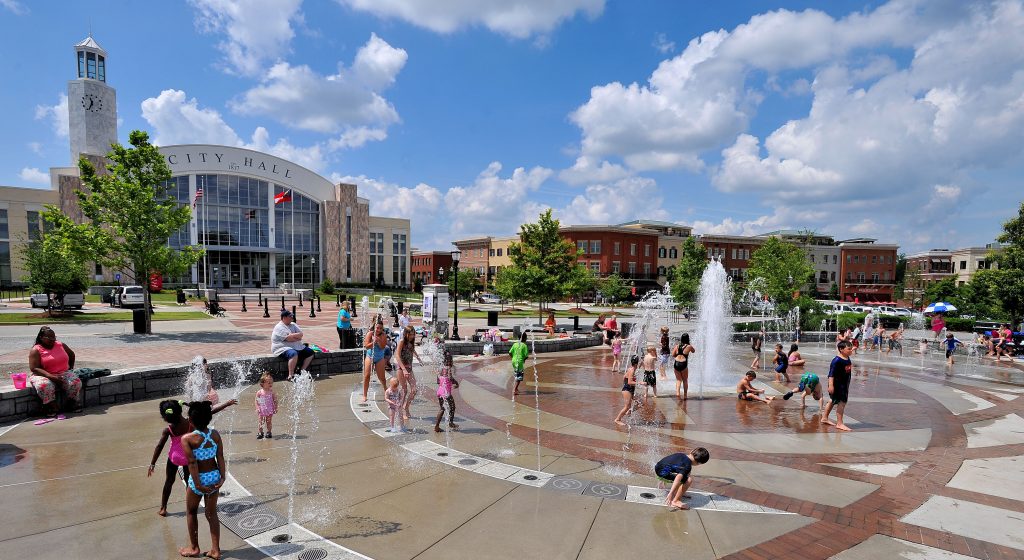 Suwanee's Big Splash Fountain
Celebrating 15 years of operation this year, Suwanee's Big Splash Fountain is one
of Gwinnett County's largest interactive fountains and features 43 jets using 1,400 gallons of (recycled) water every minute. While kiddos are encouraged to enjoy the fountain, there are important rules in place to ensure the safety of all of the splashers, as well as keep the fountain in tip-top shape. Rules include no food or beverages, no glass containers, no pets in the water and more. "One of our biggest jobs is maintaining the fountain," said Luis Lopez from the Suwanee public works department. "Every day we test the chlorine, change the filters, blow off the top, and clean the grates. Every two weeks, we drain the entire fountain and replace it with 1,400 gallons of fresh, clean water!" Big Splash fountain is open 10 a.m.-9 p.m.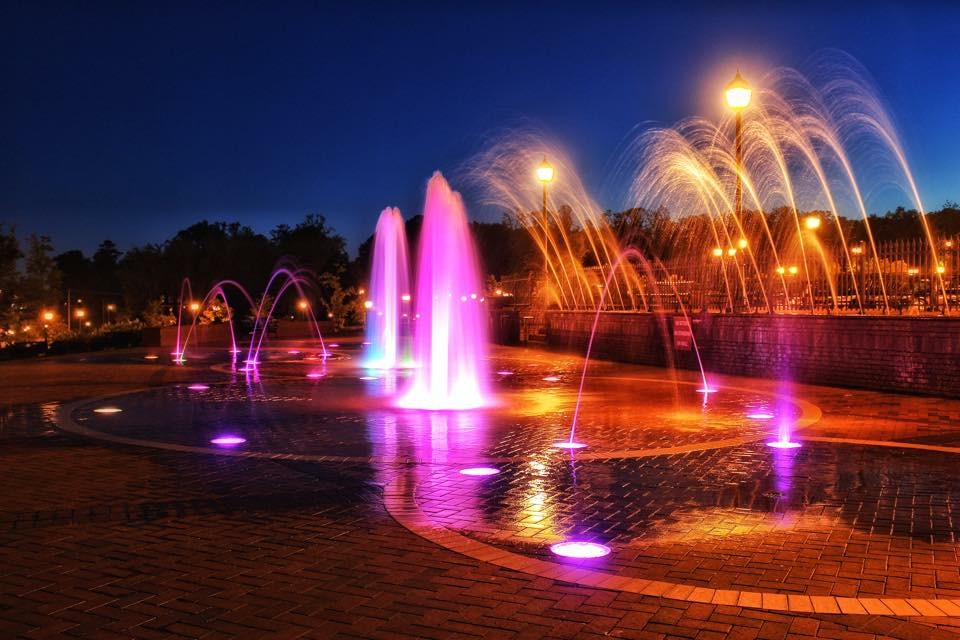 Buford Community Center
The Buford Community Center is a state-of-the-art facility that hosts a number of events, including weddings, seminars, large corporate meetings and live arts performances. It houses a 274-seat stage theater and an outdoor amphitheater that can seat up to 1,800. In addition to being one of the area's go-to destinations for events, the Buford Community Center is also home to a popular splash pad for families to cool off in during the summer months. The splash pad is open 10 a.m.-7 p.m. weekly.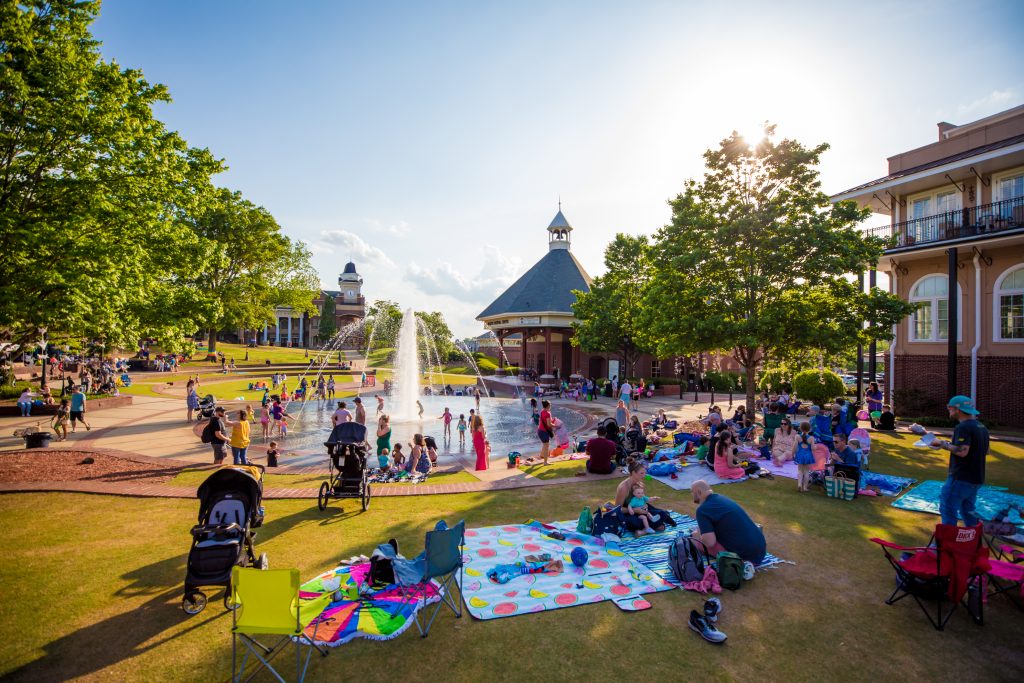 Duluth Town Green Fountain
Downtown Duluth is an attractive downtown area filled with restaurants, shops and entertainment. Duluth's Town Green is home to a Victorian-style performance stage and community center, and each year hosts free festivals, concerts, movies and other entertainment provided by the City. On hot summer days you can find kids cooling off in the central interactive fountain. The fountain's multi-jets shoot water 20 feet into the air before falling back to the surface with groups of happy kiddos racing between the jets. The fountain is open seven days a week from 9 a.m.- 9 p.m. Learn more about Duluth's fountain at DuluthGA.net.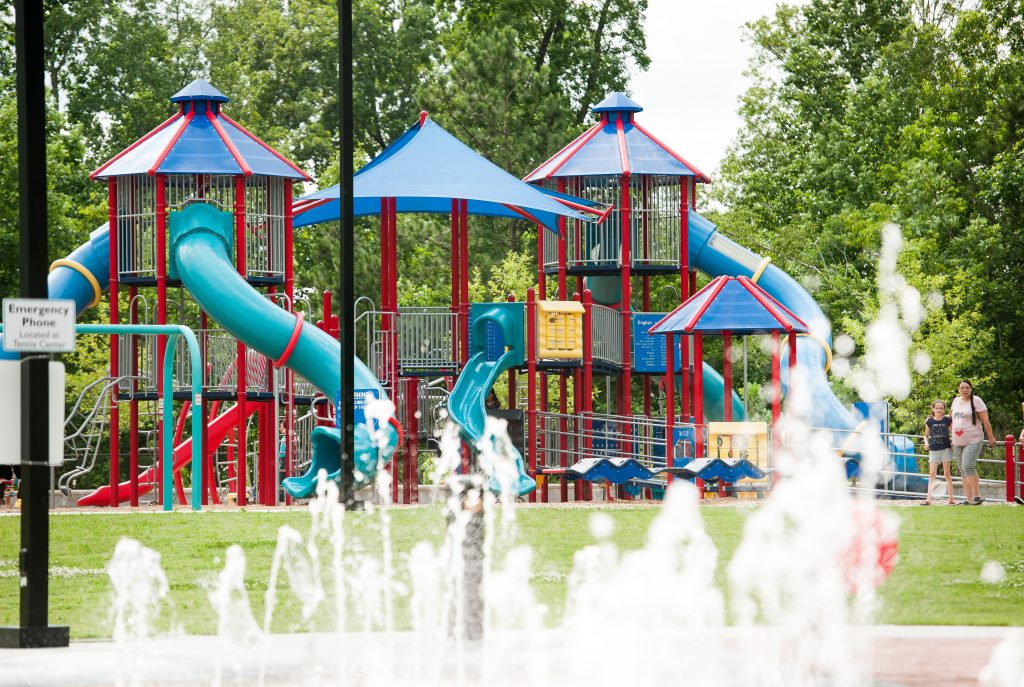 E.E. Robinson Park
A local favorite for its spacious multi-purpose turf field, tennis courts, playground and walking trails connected to the Sugar Hill Greenway, E. E. Robinson Park's Interactive Fountain hours are Thursday-Tuesday, 10 a.m.-8 p.m. and Wednesday, noon-8 p.m. Make a day out of it by walking the trails, playing on the playground, and then cool off in the fountain! Fountain rules include that children must be dressed in appropriate swimsuits, groups of 10 or larger should make reservations (contact EEFountain@GwinnettCounty.com), children must be supervised by an accompanying adult, no pets, no glass, and no running or rough-housing.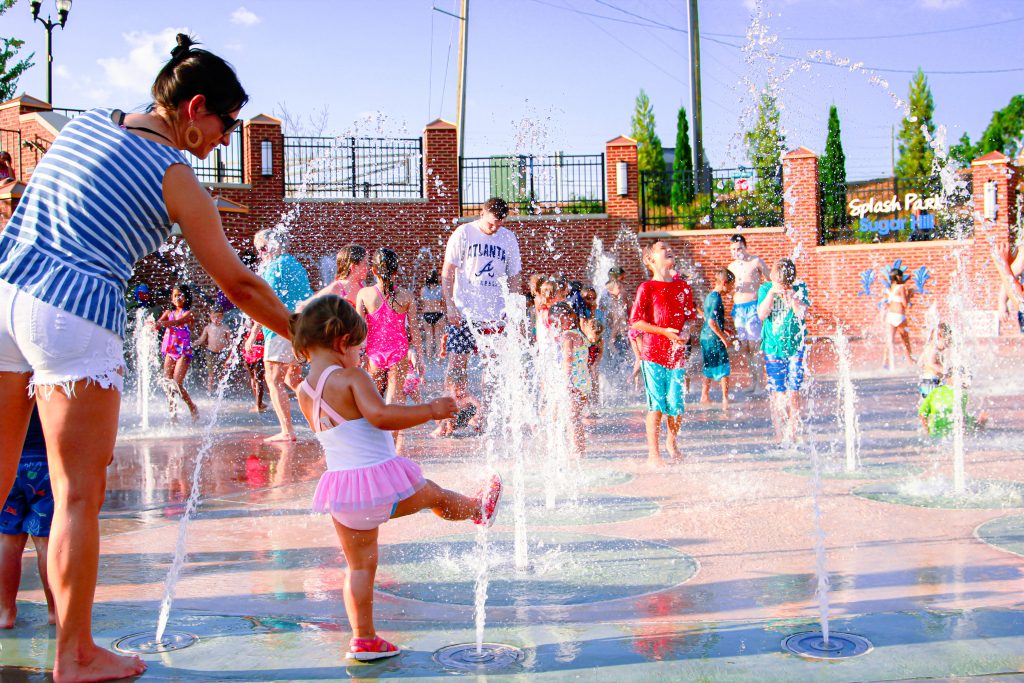 Sugar Hill Splash Park
Downtown Sugar Hill's Splash Park is one of the newest fountains in the area. Not only can you enjoy the Splash Park during its daytime hours (10 a.m.-8 p.m.), they also host Splash Nights. The free monthly themed Splash Nights take place on Friday evenings and are fun for the whole family. Upcoming Splash Nights include Friday, July 30, and Friday, August 27, and will feature food trucks and live music. While in downtown Sugar Hill, families can also visit E Center restaurants and vendors as well as enjoy the summertime weather at The Promenade's expansive patio. See a full list of Splash Park rules at CityofSugarHill.com.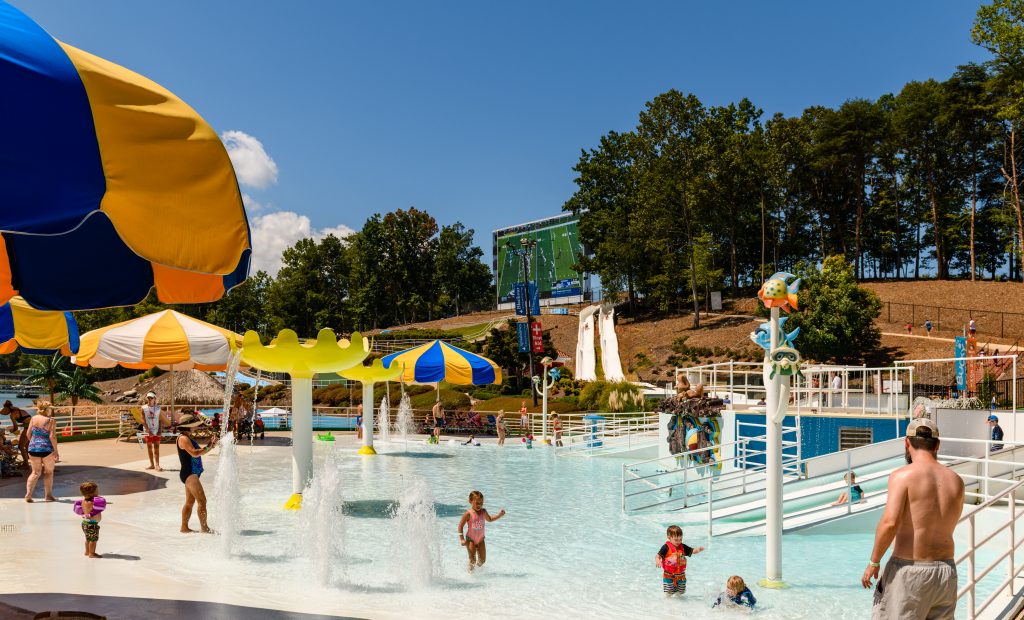 BONUS: Margaritaville at Lanier Islands Water Park
The Water Park at Margaritaville at Lanier Islands has something for everyone, from toddlers to teens and adults. The park features exciting water slides, a wave pool, zip lines and more. It's the Fun Zone, however, that lands the park on our list of splash pads. Located in Paradise Beach, the Family Fun Zone is what Lanier Islands calls "water-play central." The little ones will have a blast in the Wiggle Waves, a junior version of the park's Wild Waves wave pool, along with mini water slides, sprinkler features and a sandy beach where they can build epic sand castles. While the other water fountains and splash pads on our list are free for the public to enjoy, the Water Park at Margaritaville at Lanier Islands does have admission rates, but it's worth it for a fun day out for the family. Tickets range from $24.99 to $49.99. Children age 2 and younger get in free. For more information visit MargaritavilleResorts.com