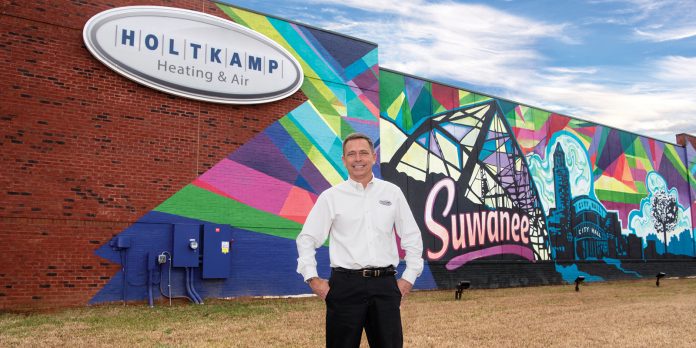 We had a chance to sit down with Matthew Holtkamp to learn how his entrepreneurial spirit led to one of Suwanee's most well respected and charitable businesses.
By: Alicia Carter | Photos by Karl Lamb
Suwanee's Holtkamp Heating and Air was founded on CEO and President Matthew Holtkamp's deep desire to not only continue his family's tradition of entrepreneurship, but also on a newfound interest discovered during his time at a vocational school in his home state of Iowa. Having grown up surrounded by the farming industry, Matthew had always been drawn to hard work and fixing things with his hands. After graduating from high school in 1984, he briefly ventured into computer repair. "The new thing at the time was computers and I knew I liked to fix things with my hands, so I went to our local vocational school for computer repair," he says. Like many of us during that time in our life, Matthew focused more on the social aspect of school over his studies, and was advised by his guidance counselor to take a class that would help him improve his GPA. On a whim, he enrolled in an appliance repair course that included air conditioning in its studies. While it was originally meant to be a one-off course, Matthew ended up falling in love with it.
"In computers, I hadn't gotten to fix anything in those classes; it was all theory at that point," Matthew says. "It was high-level math. We didn't call it coding back then, it was basically computer programming. So even though I wanted to learn how to fix computers, I wasn't going to get to do that for many more semesters down the road. I was a tactile learner and here I was trying to learn something out of books — it just wasn't going well."
Likening it to a kind of divine intervention, Matthew honed in on appliance repair for the remainder of school. After graduating, he took a chance and moved to Georgia following the promise of more job opportunities. His home state of Iowa was in the middle of a farming crisis, with many farmers out of work. After settling in DeKalb County, Matthew received a direct mail piece from Emory University advertising an Evening at Emory course titled "How to Start and Manage Your Own Successful Small Business." Matthew took the class and from there created a 10-year plan on how he was going to start his own company. While the Emory course awarded Matthew the knowledge he needed to start his own business, he credits a large portion of his drive and desire to be self-employed to the farming industry where he grew up.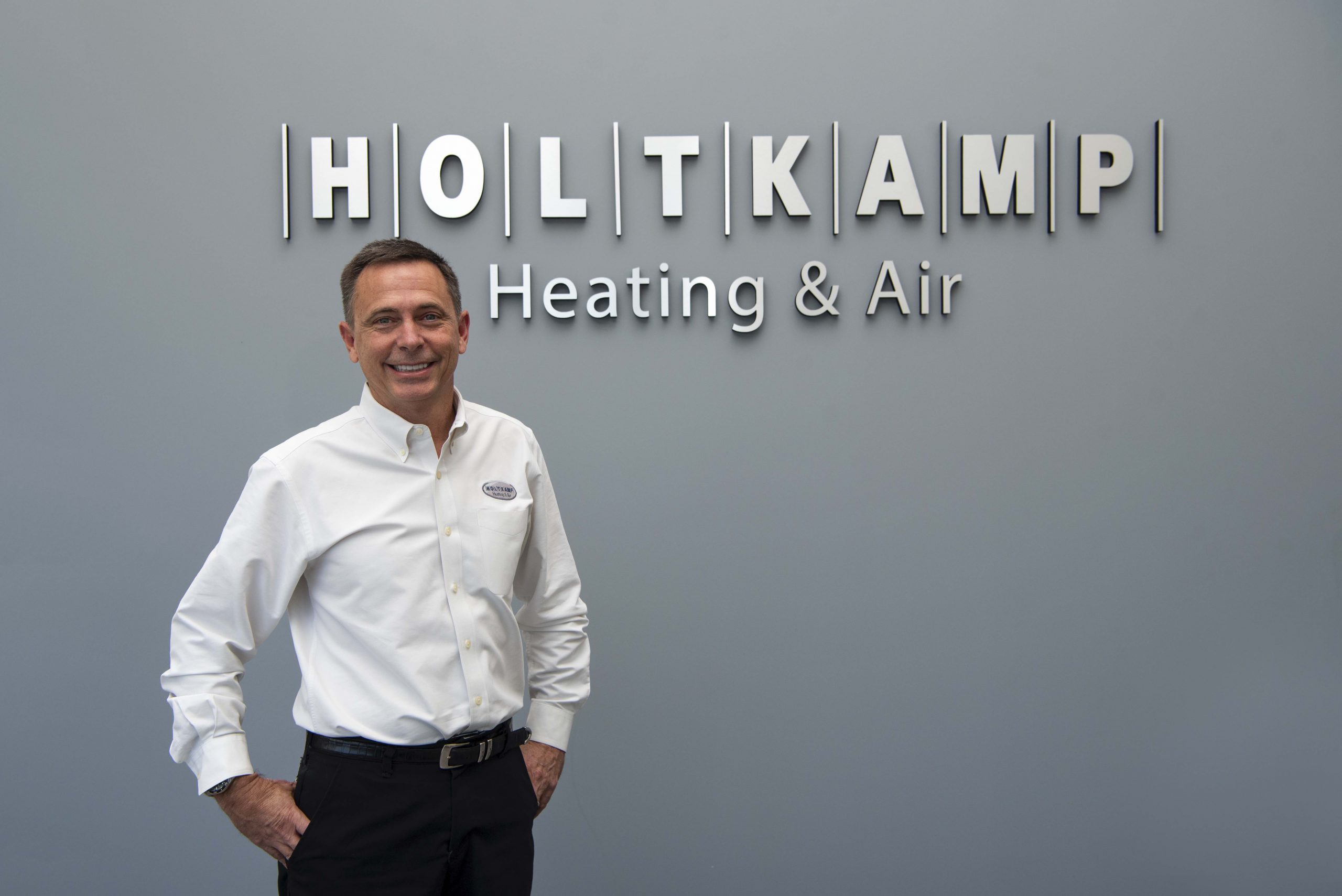 "It wasn't all just Evening at Emory, it's growing up on a farm and everybody in this farming community — you're getting all this influence because farming is basically a small business. They're all entrepreneurs," he says. "You've got that circle of influence and I always knew I wanted to be self-employed. In computers I saw that it would be much more difficult to be self-employed. It would be a lot less difficult to do appliances and HVAC. So even in my 19-year-old mind, these gears were turning." After a decade of working in the industry and acquiring all of the knowledge he could, Matthew opened Holtkamp Heating and Air with his wife, Suzanne, shortly after they married in 1995. In 2019, they celebrated 25 years in business.
A WHOLE-HOUSE APPROACH TO HEATING AND AIR
As opposed to just any run-of-the-mill heating and air company, what sets Holtkamp apart is that they take a whole-house approach to their business. "A lot of people don't understand that their air conditioning and heating is really just adding heat or removing heat that's been caused by your house in some way, shape or form," Matthew says. "So it's going to be the windows, insulation, doors — how leaky is your house?" Matthew says there are two approaches to finding a solution. You can put in a bigger air conditioner to overcome all of the deficiencies of your house or you can fix the problems of your house and put in a smaller air conditioner.
"Your solution isn't just the box," he says. "A lot of companies say, 'Well, we will put in a bigger box.' I educate my guys on being able to look at the house as part of the system. Don't just look at, 'Is the air conditioner broken?' We train our guys to be able to look at your structure as a whole and ask questions like, 'Do you have any uncomfortable rooms?' or 'What challenges are you facing?' The solution to those challenges will a lot of the time solve the air conditioning problems." It's clear when talking to Matthew he truly loves what he does. He takes pride in growing a business that not only takes care of its customers, but also its community. "I love this business; I want to be around for the long haul and the only way I can be successful is to help my customers," he says. "It's not about making money, although that obviously comes with it. But if you approach your business relationships and your customer relationships with mutual respect and long-term thinking, it benefits everybody. It's not all about making money today off this one transaction. It's about building customer loyalty through mutual respect."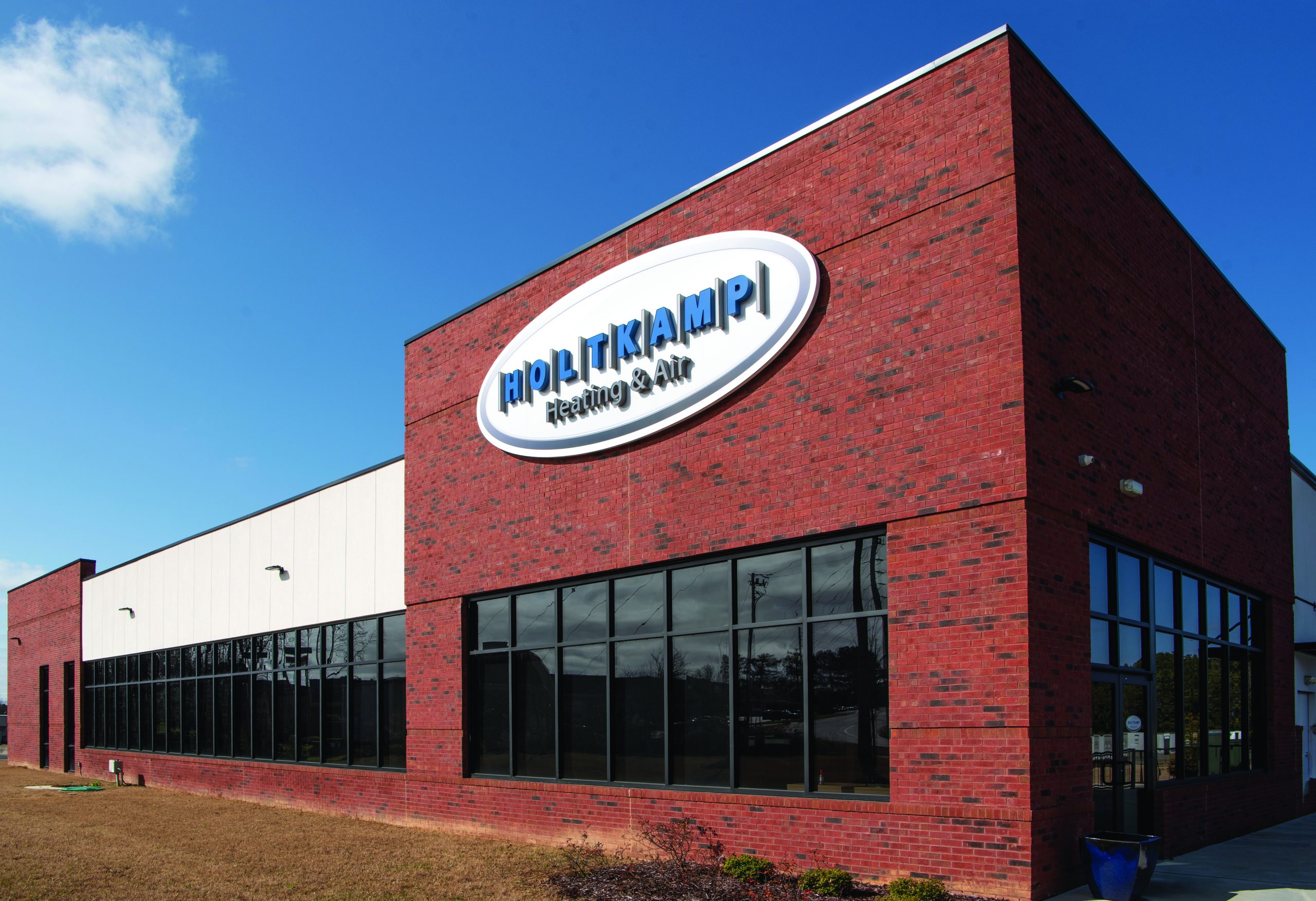 GIVING BACK TO THE COMMUNITY
Over time, Matthew's role with the company has shifted to focus more on community engagement. With an Operations Manager in place to focus on the day-to-day operations of the business, Matthew is free to build professional and personal relationships while engaging with the community. As a member of Rotary of Gwinnett, he takes part in what he calls "high-level networking" that enables him to meet with like-minded business owners who work together to identify and address community needs. Matthew has taken part in numerous volunteer opportunities, including Leadership Gwinnett, collecting food for local food banks, and has been actively involved with Special Kneads, a local bakery employed by adults with special needs.
The Holtkamps also actively support the local arts, inspired in part by their oldest daughter, a recent graduate with a musical theater degree. Their love of the arts is most notable by the large mural that adorns the side of their headquarters in Suwanee, ever present while traveling north or south on I-85.
In addition to overseeing Holtkamp's philanthropic endeavors, Matthew is also responsible for training all of their employees. "I am solely in charge of all onboarding and training to make sure that every new employee is fulfilling the customer expectation that Holtkamp has come to be known for, which is a high level of customer service and high level of technical expertise," he says.
Matthew credits the success of Holtkamp Heating and Air to the reputation he and his team have built after more than 25 years in business. "For 25 years, word of mouth has been the No. 1 source of new customers for us," he says. "Our company was built one day at a time, and one customer at a time."