Duluth clinic offers a full scope of pain management options for chronic and acute pain.
By: Alicia Carter | Photos by Karl Lamb
According to the Center for Disease Control, chronic pain is one of the most common reasons adults seek medical care and is linked to a number of issues, including decreased mobility, restrictions in daily activities, anxiety, depression and a reduced quality of life. It's been reported that 20.4% of the U.S. population (or 1 in 5 adults) lives with some degree of chronic pain. For many people, chronic pain is a very real condition that affects all aspects of their life. Thankfully, there are treatment options available to not only manage chronic pain, but to also effectively treat the root of the problem.
Since 2017, North of Atlanta Pain Clinic has been serving as Gwinnett and Forsyth counties' go-to resource for pain management. The team is overseen by Dr. Jae Yoo, who graduated from the Catholic University College of Medicine, where he earned his medical degree. Dr. Yoo went on to complete an internship at Nassau University Medical Center and a residency at the Albert Einstein College of Medicine of Yeshiva University, both in New York, as well as pain fellowship training at The Medical College of Georgia before landing at North of Atlanta Pain Clinic in Duluth. To help oversee patients, Dr. Yoo enlisted the help of Olga Colac, a certified nurse practitioner who has years of experience in patient care at Scottish Rite Hospital, Northside Hospital and Piedmont Healthcare.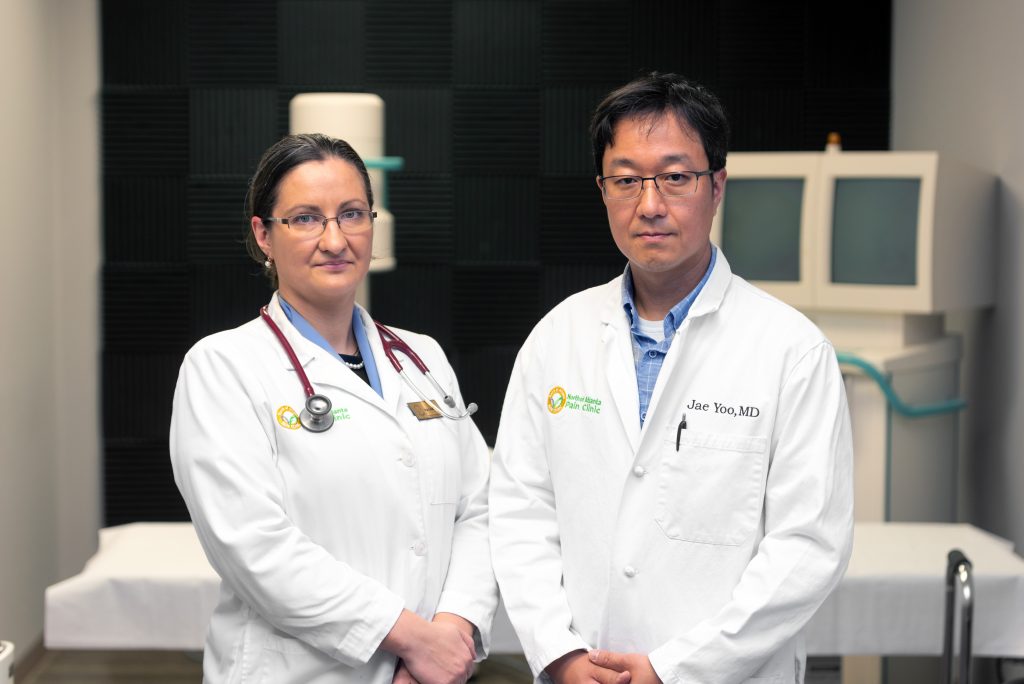 Improving Patients' Quality of Life
Dr. Yoo and his team are focused on not only helping to manage their patients' pain, but they work hard to improve their overall quality of life. Dr. Yoo doesn't want his patients to simply survive; he wants them to thrive. "What matters most is our patients' quality of life," he says. "If they have pain, they can't enjoy their life. That's the reason I went into this specialty — to help them achieve that quality of life."
North of Atlanta Pain Clinic treats a number of conditions, including back and neck pain, arthritis, neuropathic pain, spine issues, migraines, work-related injuries, fibromyalgia and more. In order to best help his patients, Dr. Yoo says they try to figure out the etiology of the pain. "We try to fix the problem," he says. "There are many ways of managing the pain, including physical therapy or occupational therapy, and also counseling, education and home exercise programs. We also offer medication management to help control the pain. Sometimes we do interventional pain management, which is an injection treatment."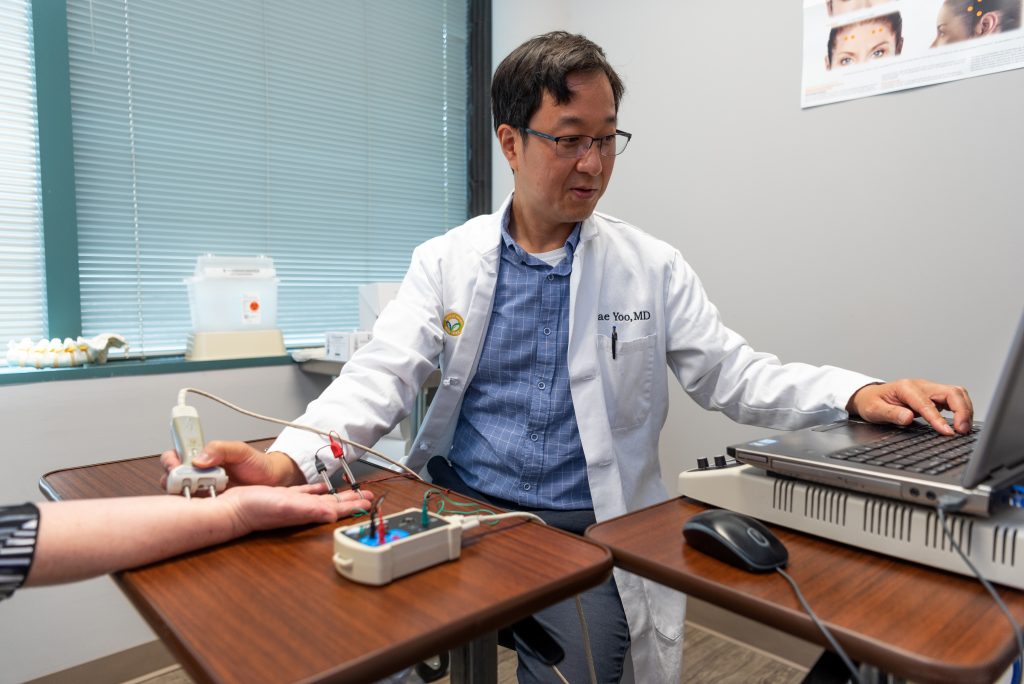 Injection Treatments
Regenerative therapy utilizes stem cells, the body's natural healing mechanism, to treat various conditions, such as degenerative conditions of the shoulder, knees, hips and spine, as well as various soft tissue and bone-related injuries. For this type of treatment, stem cells are collected by aspirating bone marrow from the back of the patient's pelvis. The bone marrow aspirate contains mesenchymal stem cells, platelets and other types of growth factors. The bone marrow is then placed into a machine called a centrifuge, which spins at a fast speed causing the stem cells and platelets to separate from the rest of the blood products. This concentration of stem cells is then injected back into the injured area. Patients generally feel improvement within weeks.
A second regenerative treatment offered at North of Atlanta Pain Clinic is Platelet Rich Plasma (PRP), a non-operative treatment option that relieves pain by naturally promoting long- lasting healing of musculoskeletal conditions by incorporating platelets, which contain hundreds of proteins called growth factors that promote the healing of injuries. PRP therapy involves separating platelets from other blood cells to form a concentrated platelet mixture that is then injected into the injured area. PRP therapy is especially good for athletic injuries, and many patients say it has helped them return to their regular activities and sports with little to no discomfort.
North of Atlanta Pain Clinic offers patients more opportunities outside of their primary care physician when it comes to comprehensive and interventional pain management. Serving a diverse clientele, the clinic offers easy booking, a wide range of experience and knowledge, flexible schedules and state-of-the- art equipment to provide the best care possible and, ultimately, to get to the root of their patients' problem.
"Nowadays, people are more interested in fixing the problem rather than just patching it up," Dr. Yoo says. "This is why we offer regenerative therapy, including stem cell therapy and PRP, at our clinic in addition to our other services." This assortment of treatment options sets North of Atlanta Pain Clinic apart, and provides much needed relief so patients can get their lives back once and for all.
North of Atlanta Pain Clinic is located inside the Crescent Building at 3473 Satellite Blvd., Suite 120N, in Duluth. The clinic is open Monday-Friday, 9 a.m.-6 p.m. For more information, call 770-559-8385 or visit NOAPainClinic.com.