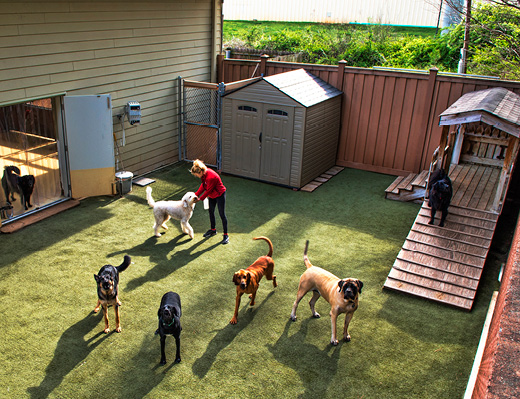 Dogs are a part of the family and with many people working 8-10 hour workdays it's important to make sure these family members are not neglected as we tend to our busy schedules. Just as working parents would find an after-school program or sitter for their children, they should also find assistance in caring for their "fur-kids" too, if needed…
With over 130 locations in the United States and Canada, Camp Bow Wow has become recognized as a national brand in pet care and dog boarding. Jeff Hahn, Owner and Founder of the Duluth location, opened the doors in November of 2006, knowing there was a great need for this service in Gwinnett and surrounding areas.
With a background in IT sales, this business venture came as an unlikely turn of events for Hahn. With three dogs at home, he was a definite dog-lover, but hadn't considered anything pet-related as a career until he saw an ad for the Camp Bow Wow franchise in a Delta Sky magazine. "It sounded like an interesting concept…I had three dogs and thought it would be fun to do something with dogs, but didn't know what – and had no experience. I decided to just check it out to see if it was something viable." And, indeed it was. Camp Bow Wow Duluth is now the largest location in the state. The larger location means that they are able to accommodate more dogs, as well as offer additional services such as full-service grooming and "Behavior Buddies" – Camp Bow Wow's certified dog-training program. Claire Welmering is their Professional Dog Trainer and Certified Behavior Modification Specialist, with the highest level of obedience training from the American Kennel Club. But, everyone on staff is also dog CPR and First Aid certified.
Camp Bow Wow boasts large indoor and outdoor play yards that are divided by dog size. Dogs have freedom throughout the day to roaminside or out, and customers can rest assured knowing their dogs are carefully monitored by staff at a 1:15 ratio, in a safe environment. While many competitors in the industry use pea gravel in the play yards, Camp Bow Wow prides itself on using canine grass
– made specifically to be safe, comfortable, non-toxic, climate-friendly and padded for dog's fragile paws. "Dog safety is our first priority," said Hahn. All dogs must be updated on their shots to be able to attend daycare or boarding, and each dog must go through an "interview process" and free trial, in order to enroll. "Last summer when canine influenza broke out in the area, I spent extra money and time on cleaning, and we never had an outbreak here," he continued. "We pride ourselves on being very face value and transparent," said Welmering. "We will always offer tours and one of our customers' favorite features is the Camper Cams," she explained. The Camper Cams give pet owners the ability to watch their dogs playing in the play yard at any time of day,
 from their desktop computer or a mobile app on their phone.
Camp Bow Wow is also dedicated to giving back to the community – on a corporate and local level. The national organizations they support are the Bow Wow Buddies Foundation and Scout's Angels. According to the website, The Bow Wow Buddies Foundation provides urgent medical care funds to dogs who are either homeless or whose parents cannot afford to pay their veterinary bills." Scout's Angels provides healing and therapy services for people, through the use of registered therapy dogs and Canine Good Citizens across North America. Local organizations supported by Camp Bow Wow in Duluth include the Georgia SPCA in Suwanee and Atlanta Weimaraner Club Rescue. Weimaraners hold a special place in Hahn's heart, as he owns four that he rescued and that now get to come to work everyday with him. Acting as a foster home for the SPCA, they often house a couple dogs from the rescue that need extra attention, training and exercise before they are fit for adoption.
As we sat in the lobby during the interview, it was evident how much their "campers" love coming to Camp Bow Wow.
Customers could barely get a foot through the door without their dogs barreling in and pulling them excitedly inside. Camp Bow Wow also works to make the experience enjoyable for pet owners as well by incorporating special events throughout the year, such as "Yappy Hour" where people are invited to bring their pets for an evening of fun, light refreshments, beer and wine, special raffles and games – all to benefit charity.
The overall environment of Camp Bow Wow is exceedingly friendly and fun.
"Everyone here is an animal lover and many on our staff are training to become Veterinary Technicians," said Hahn. "This is so different from my previous job. Coming from an IT sales position, there was no emotional investment in that product. Now I know that when someone walks through that door, they're an animal lover, and I get the chance to build relationships with them and their dogs."
For more information about Camp Bow Wow, visit campbowwow.com/duluth