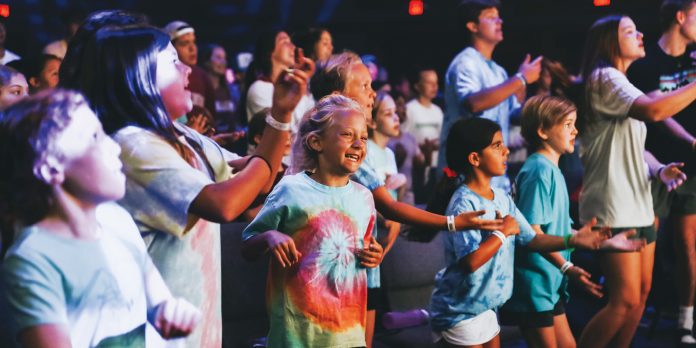 We spoke with Woodlands Camp and Retreat Center's longtime camper Jack Swift about his experience and transition into summer staff member.
By Angela Veugeler, Photos Courtesy Woodlands Camp and Retreat Center
Located in the foothills of the Blue Ridge Mountains in Cleveland, Georgia, Woodlands Camp and Retreat Center was founded in 1997 and welcomes more than 10,000 campers annually in four different programs.
The mission of the nondenominational Christian camp is to inspire and equip this generation to do justly, love mercy, and walk humbly with God (Micah 6:8). The 131-acre campus is home to beautiful forests and a spring-fed lake. Woodlands Camp invites campers to build lifelong friendships, develop unforgettable memories, and get to know the God who created it all. During their stay, campers will take part in games, swimming, zip-lining, giant swinging, rock wall climbing, intentional relationships, Bible studies and more. In addition to their exciting overnight camps, Woodlands also offers day camps at local churches throughout Georgia. We asked longtime camper Jack Swift, a Sugar Hill resident and current University of Georgia student, to share about his experience at Woodlands.
How many years have you been attending Woodlands summer camp and what age did you start going there?
I attended Woodlands summer camp for seven years and started when I was 12 years old.
What is the format?
The format varies by age group. 6-8 year olds stay three days and two nights, 8-11 year olds stay five days and four nights, and both the 11-13 and 13- 18 age groups stay six days and five nights.
How many campers are there each week? What about in each cabin or per counselor?
During the weeks that I attended from 12-18 years old, there were approximately 290-300 campers each week (boys and girls). Each counselor had about 12-13 campers per week.
What were some of your favorite activities at camp?
Some of my favorite activities at camp were playing basketball or hanging out in the lake during free time, memorizing Bible verses, and having great conversations with friends and counselors. There are rocking chairs in front of every cabin that are awesome!
Can you share some of your experiences or favorite memories from Woodlands?
The meals and games were favorites of mine, but my favorite part of camp is Porch Talks. Porch Talks are a time for the counselor (and his/her "booster," a support staffer who also hangs out with the cabin) to sit on the porch after lights out and take questions from campers. I had some really great conversations with amazing counselors over the years that helped me in my faith.
What would you tell a parent looking at sending their child to overnight camp for the first time?
If you're teetering on the decision of sending your child to overnight camp for the first time, definitely do it! The counselors and boosters are so well prepared by Woodlands, and they are going to go above and beyond to make your child comfortable. On top of being able to meet your child's counselor at drop-off, you can also send them emails and "care- packages" throughout the week to remind them you're thinking of them.
What are some of the things you learned being away at camp?
Over seven summers at Woodlands, I learned how to be a better friend, a better family member and a better leader.
Do you remember if you were nervous or scared the first summer you went away to camp?
I may have been a bit nervous at first, but those feelings instantly vanished the moment I met my first counselor and got to experience all that Woodlands has to offer. You're going to have the most epic, incredible, dare I say UNFORGETTABLE week of your life!
I have heard Woodlands fills up very quickly, is that right?
Yes, that is correct. Oftentimes in less than 10 minutes.
I understand you are going to work at Woodlands this summer, is that right?
Yes, I will be on the foodservice team. My secondary position is being a cabin's booster.
What is the process to become a summer staff member at Woodlands?
The process for any summer staffer starts with filling out an application online, completing a one-way video interview, and then completing a phone interview with a full-time staffer at Woodlands. Then, after completing those steps, you'll be notified whether or not you received a contract!
For more information on Woodlands visit WoodlandsCamp.org.