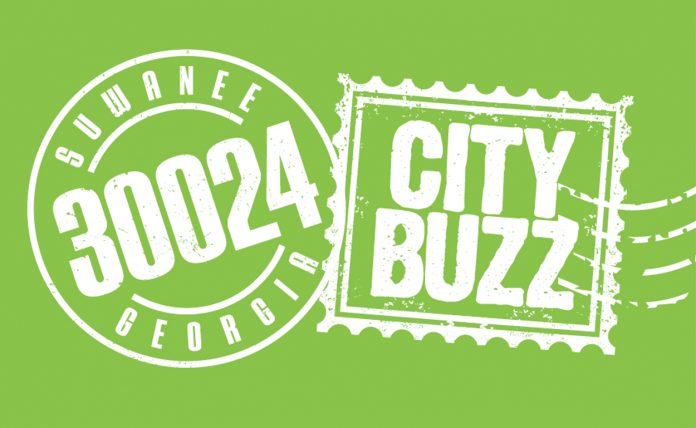 Suwanee Events Win Awards!
The City of Suwanee's events are not only fun, they're also award-winning. The City received six Kaliedoscope Awards from the Southeast Festival and Events Association (SEFA) during its annual conference in Auburn, Alabama, earlier this week.
Suwanee's Super Incredible Race, a mind-bending, heart-racing team scavenger hunt/race through downtown Suwanee, was named Best New Event. The inaugural Super Incredible Race was held last spring. This year's event will take place April 20; applications, available a www.suwanee.com, are due April 5.
The 2013 Suwanee Day festival, which is the 30th celebration of the community event, has received recognition from the Southeast Tourism Society as a Top 20 event for the fall. Suwanee Day will be celebrated on September 21. Find more information as well as exhibitor/vendor applications beginning in mid-March at www.suwaneeday.com.

The City's Suwanee Day festival won five awards, including:
■ Best Sponsor (gold) – Lewis Expo and Logistics
■ Best Event Photo (silver)
■ Best T-shirt (bronze)
■ Best Creative Idea (bronze) for the festival
volunteer pocket guide
■ Best Vendor/Supplier – FunFare
Tell Us Why Your Mother is The Best Mother in Suwanee

Submit a 100-200 word essay and tell us why your mother, daughter, sister, wife, grandmother, friend is the best mother in Suwanee! Please include your email address, phone number and city where the mother resides. To be eligible, mothers do not necessarily have to live within the city limits of Suwanee to win, but she must live in the vicinity of Suwanee or in a surrounding area. All or a portion of your essay may be printed in the May/June issue of Suwanee Magazine. To enter, please submit your essay to angela@suwaneemagazine.com. Deadline for submissions is 5 p.m. April 12.
Suwanee Magazine staff will judge the essays. The most deserving mothers will be chosen based on the content of the essay that tells why your nominee/mother should be selected.
Three local mothers will win a complete makeover from Salon Greco, the European Day Spa in Suwanee, including hair color, European cut, make up, manicure and pedicure. The first and second place winners will also receive a $50 gift certificate to Sugo restaurant to be used within one year.
The winner will be notified via email/phone call after April 12 and announced in the May/June issue of Suwanee Magazine.

Suwanee Design Firm Awarded 'Best of Remodeling' by Houzz
Georgian Landscape Design was awarded "Best of Remodeling" 2013 by Houzz, the leading online platform for residential remodeling and design. The 10 year old landscape design/build firm was chosen by the more than 11 million monthly users that comprise the Houzz community.
The Houzz "Best of Remodeling" award for 2013 is given in two categories: Customer Satisfaction and Design. GLD is owned by Suwanee resident Ed Szczesniak. Congratulations Ed!
Wanted: Farmers, Butchers, Bakers, Even Soap and Candle Makers
The Suwanee Farmers Market is gearing up for its ninth year! Farmers offering fresh produce and vendors with other items such as jams, bread, honey, meat products, eggs, flowers, and more are invited to apply to participate in 2013. Applications are due March 18, which is the date of the Suwanee Farmers Market Annual Meeting that starts at 7:00 p.m. at Suwanee City Hall. To learn more about the guidelines or to apply, visit the city's website at www.suwanee.com. All products sold at the Suwanee Farmers Market must be grown or made by the applicant; no reselling of goods is permitted. In addition, vendors whose products require state licenses must possess current licenses issued by the appropriate agencies.
The 2013 Suwanee Farmers Market will be held from 8:00 a.m. to noon on Saturdays between May 4 and October 5, and on Tuesdays from 4:00 p.m. to 7:00
p.m. between May 7 and August 6 at Town Center Park.
Suwanee named Hot Atlanta Neighborhood in by Redfin
According to a news report on Yahoo.com recent results from a survey of Redfin agents named Suwanee as one of the top three neighborhoods in Atlanta following Roswell and Smyrna. The article states that Suwanee, which was ranked third, was chosen for easy access to freeways leading to Atlanta, the number of high-tech jobs in the area, the Town Center area and the move-in ready homes that generally sell within a week.
Settlement reached in Settles Bridge Farm and Notre Dame School Case
The Georgia Supreme Court ruled in favor of the city of Suwanee in a suit brought forward by Settles Bridge Farm landowners, vacating a Gwinnett Superior Court award. The court determined that the city did not act inappropriately in 2008 when it implemented a 90-day development moratorium and subsequently a special-use process for large-scale projects.
In a unanimous decision, the Supreme Court overturned a January 2012 Gwinnett County Superior Court decision by Judge Warren Davis to award approximately $1.8 million to Settles Bridge Farm, who had contended that the City's actions devalued its 36.5-acre property near the intersection of Moore and Settles Bridge roads. The development company had entered into a contract with a private school that had planned to build a multi-grade campus in the established residential area.
The special use permit process for large-scale projects that was implemented by the city of Suwanee in 2008 still remains in place today. This process does not prohibit such development, but rather allows the city to evaluate such projects closely. At the time the school project was being proposed, the city was in the final stages of drafting its 2030 comprehensive plan, which calls for the preservation of established residential neighborhoods.
First Robotics Peachtree Regional
On March 15-16, 60 high school robotics teams from around the southeast will compete in an Ultimate Frisbee challenge for a chance to go to the World Championship. From Suwanee, the new Collins Hill Robotics team will be competing in the event. The event takes place at the Gwinnett Civic Center from 8:30am-6pm and is open to the public. For more information, visit www.gafirst.org.
Suwanee Police Department Earns State Re-Certification
The city of Suwanee Police Department has once again received statewide certification from the Georgia Association of Chiefs of Police. State certification, which the Suwanee law enforcement agency first earned in 2000, confirms that agency practices are consistent with progressive professional standards. State certification is valid for three years.
In 2010, the Suwanee Police Department was nationally certified for the first time by the Commission on Accreditation for Law Enforcement Agencies (CALEA). Suwanee is scheduled to be reviewed by CALEA for re-accreditation later this year.
National certification is based on an agency's ability to meet more than 450 standards. State certification encompasses more than 100 standards, 21 of which are unique to the state and not included in national standards.
Fourth Annual Miss Suwanee Blue Jean & White T-Shirt Pageant
North Gwinnett High School will present the Fourth Annual Miss Suwanee Blue Jean & White T-shirt Pageant March 30 where contestants of all ages will compete in a series of categories for the coveted crown and title of "Miss Heart of Suwanee," "Miss Suwanee," or even "Mr. Suwanee," all while raising money for the American Cancer Society's Relay for
Life. Contestants will also compete for division titles decided by Miss America-certified judges.
Last year, North Gwinnett High School was number one in the country for raising the most money for Relay for Life with the help of the pageant, and so far, it has contributed over $41,000 to Relay for Life and titleholders have served over 4,300 collective hours. Fourteen Presidential Gold Medals have been awarded to participants, and this year the pageant expects to hand out more.
The pageant will be held in the auditorium at North Gwinnett High School, located at 20 Level Creek Road in Suwanee. For more information, visit the pageant website at www.misssuwanee.com.

Suwanee Business Alliance holds State of the City Address
Jan. 9 the Suwanee Business Alliance held the State of the City Address. The speech was highlighted by the city's recent video entitled, "What's Your Big Idea? Suwanee's 20/20 Vision Strategic Plan" which cited the city's parks program and Town Center as things that have helped build a vibrant community. The city officials and staff members will continue to engage community members to move forward with a clear vision for the future guided by the 20/20 Strategic Vision Plan.
Team 126.2 Raises $6,400 for Talk About Curing Autism
A group of runners wanting to make a difference in treating autism started out running in Atlanta at 4am on January 18th and finished their run with The Museum of Aviation Marathon on January 19th in Warner Robins, for a total of 126.2 miles. Runners from the Gwinnett Running Club joined for shorter distances (from 10 to 31 miles) throughout the day and night(s). The crew volunteers were all members of the Gwinnett Running Club.
The runners raised $6,400 for Talk About Curing Autism (TACA). For more information on TACA, visit: www.tacanow.org