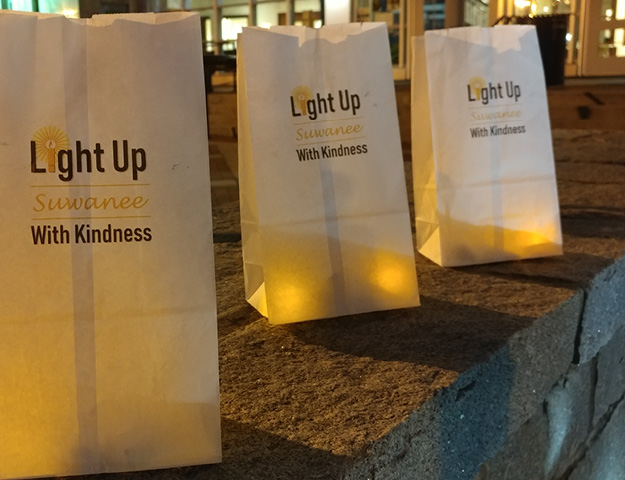 This December, Light Up Gwinnett With Kindness hopes to instill a new tradition that strengthens local communities through a visual representation of kindness. The initiative encourages local individuals, families, organizations and businesses to be more intentional when performing acts of kindness during the time period of Dec. 1-24.
"I was inspired by the YouTube song 'Wishes and Candles' that shows how our lives are interwoven with each other and how one person's act of kindness created a natural pay it forward that eventually came full circle back to the originator," says Suwanee resident and Light Up organizer Cindi Pickett. "It triggered the idea of creating a formal community Light Up With Kindness initiative which I hope becomes an annual tradition."
The community participation portion of Light Up Gwinnett With Kindness is inspired by Pickett's childhood tradition of driving through neighborhoods on Christmas Eve to see decorations and streets lined with lit-up white bags lining the path for Santa. At 5 p.m. on Dec. 24, participants are asked to create a luminary showcase with white lunch- size bags lit up with two small electric candles and filled with sand, placed two feet apart across the front of their driveways, lawns and businesses near the street. Suwanee- area participants are also encouraged to post about their participation on their social media feeds, as well as on the Facebook page LightUpSuwaneeWithKindness. Residents are then encouraged to go out in the community to see the lighted path of human kindness.
"I am excited to once again see neighborhoods lined with glowing white bags knowing that this time, it will be a lit pathway created by kindness," says Pickett. "My ultimate hope is to one day see the Light Up With Kindness luminaries extend well beyond Suwanee and Gwinnett County, connecting city-to-city throughout our entire state."
For more info, visit LightUpGeorgiaWithKindness.com.