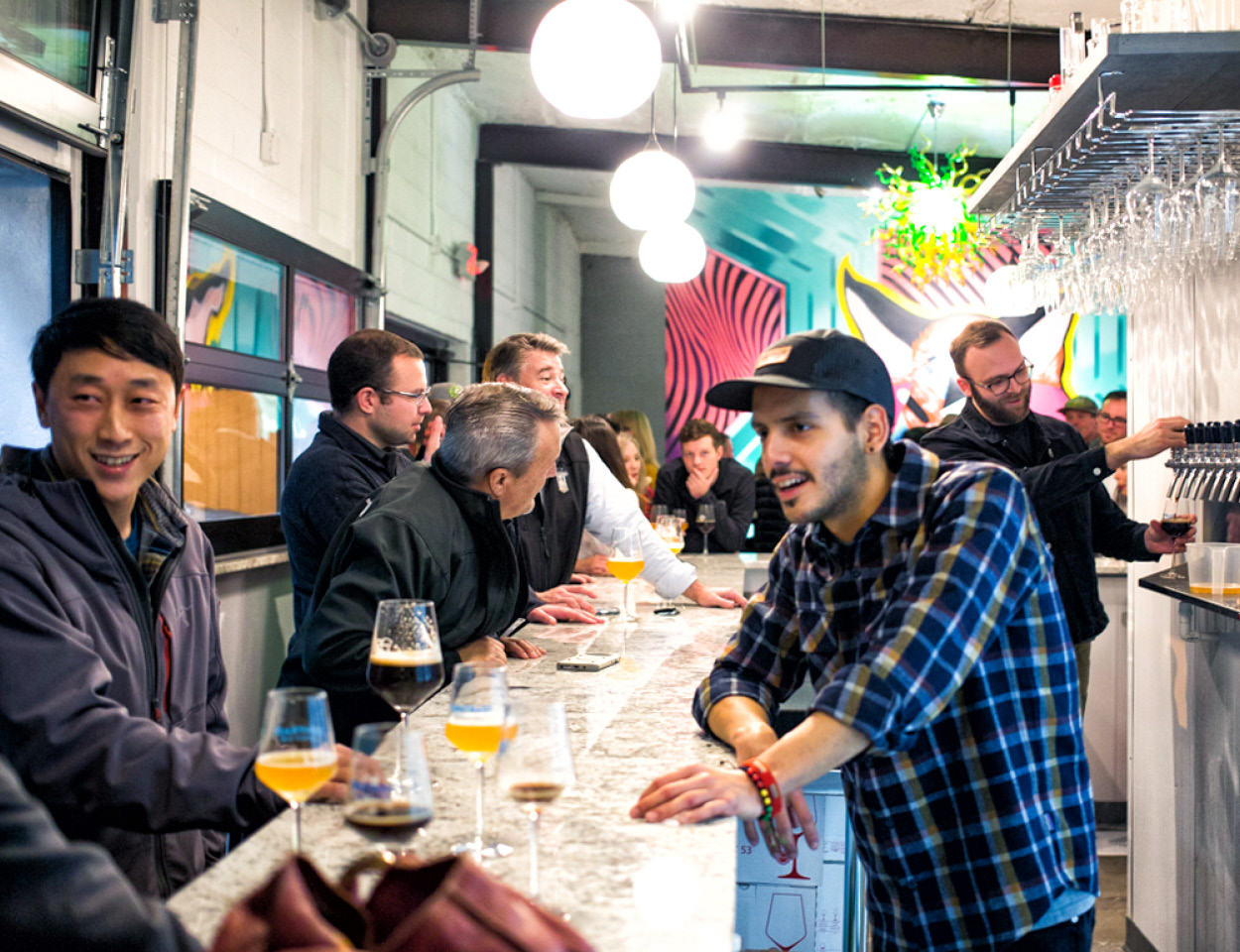 Chamblee's new brewery brings contrast to the Georgia craft beer scene.
By: Lizzy Kidney | Photos by Chase Medlin
Before opening Contrast Artisan Ales in Chamblee, founder and Suwanee native Chase Medlin had already made waves in the Georgia craft beer scene. He got his start brewing at the popular Twain's Brewpub & Billiards in Decatur, working under head brewer Jordan Fleetwood and then later in his career, Medlin worked alongside Creature Comforts' David Stein. Eventually becoming head brewmaster himself, Medlin went on to brew more than 250 beer varieties at Twain's during the seven years he worked there. Over time he developed a strong passion for brewing and soon began looking into opening his own brewery. After a few false starts, Medlin's dream became a reality when Contrast Artisan Ales opened its doors in December of 2018. From the delicious high-gravity beers and wine-shaped beer glasses to the modern white and grayscale taproom and vibrant standout fox mural, Medlin's passion is evident in every aspect of Contrast. We recently had the chance to sit down with Medlin to learn more about the unique craft beer experience he is bringing to the Atlanta area.
Suwanee Magazine: How did you get into the craft beer industry?
Chase Medlin: I went to college and became a home brewer in the Pacific Northwest. At that time the state of Oregon was about 10 years ahead of Georgia craft beer-wise. To give you an idea, there were six breweries in my small college town of Eugene, Oregon, but when I came back and began brewing in Georgia there were only 11 breweries in the entire state. I came back and met brewmasters Jordan Fleetwood and David Stein at Twain's Brewpub & Billiards in Decatur. They both took me under their wings and when they left I took on the role of head brewmaster at Twain's. After I moved on from that project, I was put in contact with some brewers starting a brewery in Lawrenceville, and sure enough, I went out and visited the guys at Slow Pour and ended up working for them as a consulting brewmaster for about a year and eight months. Towards the tail end of that, with their full support, I got the stuff together to go out on my own and open Contrast Artisan Ales.
SM: What made you want to start your own brewery?
CM: I had been in the industry for a long time, and I felt like I had a lot of ideas and concepts that I wanted to bring to the Georgia brewery scene. It was something I was really passionate about doing on my own.
SM: Can you explain the story behind the name?
CM: Opening the brewery, I wanted to show my creative side that I haven't been able to express in a way that I've seen fit until now. The idea of "Contrast" takes inspiration from all forms of art, including visual, music, culinary, and conceptual. It also has a secondary meaning in terms of us being different from most of the other Georgia breweries. We are direct sales focused in contrast to most breweries in Georgia being distribution focused.
SM: What made you choose this location?
CM: When I picked Chamblee, I wanted to be inside the Perimeter and also near MARTA so people would be able to come to our location and have it accessible. The city also has plans for a bigger development featuring a town center and residential area that will be located near the brewery in the future. The Chamblee area is really booming, and I wanted to be part of helping to grow the next up-and-coming area.
SM: What makes you unique to other local breweries?
CM: Well, there's a contrast there [laughs]. We offer a more artful and elegant tasting room experience and go by the motto "quality over quantity." I take a lot of pride in Contrast's attention to detail with the things that people don't normally look at. It goes back to my overall passion for art and the craft of brewing beer.
SM: What is your biggest seller in the taproom?
CM: Our IPAs for sure. Our Luminiferous IPA was the first IPA we released and it sold out in the taproom very quickly. It is a slightly hazy 6.8% IPA that features Citra and El Dorado hops and a fruit-forward hop aroma, but I also went a little old-school and kept some of the bitterness in there. Our single-hop Artifice pale ale has also been quite popular and our first batch featured lemon drop hops.
SM: Can you tell us a little bit about Contrast Coffee and other snacks you offer in the taproom?
CM: At the previous breweries I worked at, I brewed coffee beers using coffee beans from a local place out of Decatur. When opening Contrast I decided to reach out to them and have them show me how to roast coffee beans myself. We sell Contrast Coffee beans in light, medium, or dark roast in the taproom, and I have plans to have a nitro cold brew on tap in the near future. We also sell "fancy Lunchables" that feature your choice of meat, cheese, and crackers; as well as chips and Prosciutto for those wanting to enjoy a small snack.
SM: What is the story behind the Fox mural?
CM: I am a huge art fan, and I knew I wanted to commission a unique piece to feature in the brewery. The Fox mural, an 11×15 vivid focal point in our taproom, is a collaboration between Atlanta artists Jagua Martian and Austin Blue. We try to promote and showcase local artists, and I have a free space in our tasting room that we have given these artists to use as a gallery where they can sell their pieces.
SM: How has the response been after opening?
CM: The response from the community has been fantastic. We have gained a great local following, and MARTA is utilized quite often as people have been coming from all over the city.
Contrast Artisan Ales is located at 5504 Peachtree Road in Chamblee. Hours: Thursday, 5-10 p.m. Friday, 5-11 p.m. / Saturday, 2-11 p.m. Sunday 2-8 p.m. learn more at contrastartisanales.com.