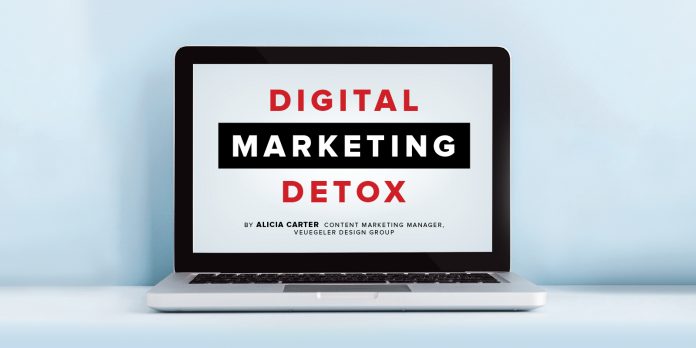 As we enter summer, many of us are taking stock of our overall health. With visions of beaches, lakes and relaxing poolside floating around in our heads, we're doing everything we can to get "summer ready." Hopefully, we took advantage of the unexpected downtime to prioritize our physical and mental health. The same could be said for digital marketers. Did we use this extra time to reevaluate our online presence, assess the strategies we implemented at the beginning of the year, and conduct a digital cleanup?
By: Alicia Carter
As businesses grow so does their digital space, which means things can get a little neglected — our email databases can become outdated if not checked regularly; our website and social media channels can sometimes be overlooked as we shift our focus to other areas; and our overall brand presence can become stagnant as we tread the waters of growing client needs. Here are tips to get back on track:
Clean Up Email Lists
Most marketers and business owners acquire multiple email lists over time, which can include active customers, potential leads and other contacts. Without regular maintenance, however, these lists can quickly become outdated as people change jobs, emails go unopened, or worse, your emails find their way into spam folders.
This is why it's so important to check your email lists regularly, especially since it's been reported that email lists decline by 20%–30% every year. The best way to do this is through email scrubbing, which includes removing unengaged subscribers from your email list so that you can market only to people who want to receive your emails.
The basic steps to email scrubbing include removing or fixing bad email addresses, which include bad formats (does the email address omit a period, contain a misspelling, or include other incorrect information?); incorrect domains (has the domain name changed?); or outdated accounts (has this contact left the company?). It's also important to remove generic email addresses, which include any addresses that are not attributed to a specific person, but instead act as a catch-all location and typically begin with info@, admin@, support@ or other generic terms. Finally, it's the perfect time to remove any inactive subscribers, aka, those contacts who aren't opening or interacting with your emails.
Give Your Social Media Profiles a Facelift
Even if you're regularly posting on your social media accounts it's also important not to neglect basic profile information such as profile photos, bios and any links or business information associated with your page. Has your profile photo been the same since 2017? If so, it's time for an update, even if it's simply to resize the photo to fit the updated dimensions for each of your social channels. Even a small change like this can have a big impact.
Take a look at your "about us" section on each platform. Is your bio outdated? Does it reference something from years ago? Chances are it could use a good fact-check and update. Other small details like the business hours, phone number and address should be checked for accuracy. Taking the time to make sure your information is up to date will help ensure prospective customers can easily find the information they're looking for.
Follow Up on Reviews
Reviews are essentially the digital version of "word of mouth," and as it's been said, word of mouth is the single most effective form of marketing. More and more, consumers are considering online reviews — whether on Google, Facebook, Yelp, or elsewhere — when making their purchasing decisions. When is the last time you checked or responded to your online reviews? There are probably reviews out there you didn't even know about that could be affecting your online reputation.
Make sure you respond to negative reviews immediately. Most people who leave a negative review are just looking to be heard, so let them know that you hear their feedback and offer to do everything in your power — within reason — to make it right.
On that note, respond to every review. No matter if the feedback is positive or negative, it's important to take time to respond to each review individually. Engaging with your customers shows other potential customers that you care about their experience.
Consider Updating Your Website
When was the last time you updated your company's website? Three years ago? Five? Possibly more? It's no secret that having a mobile-responsive, modern website is a must for all businesses. After all, your website is your virtual front door and, in many cases, the first impression a potential customer will have with your business.
In order to maintain a competitive edge in today's marketplace, it's imperative that businesses have optimized websites that enhance the user experience. Consider updating your company's website if the images are outdated; the load times are slow; the design isn't mobile-friendly; or the content has remained stagnant over time.
it is important not to neglect our digital presence. Taking time to dust off your digital space will help you present the most up-to-date and best version of your business to customers new and old.