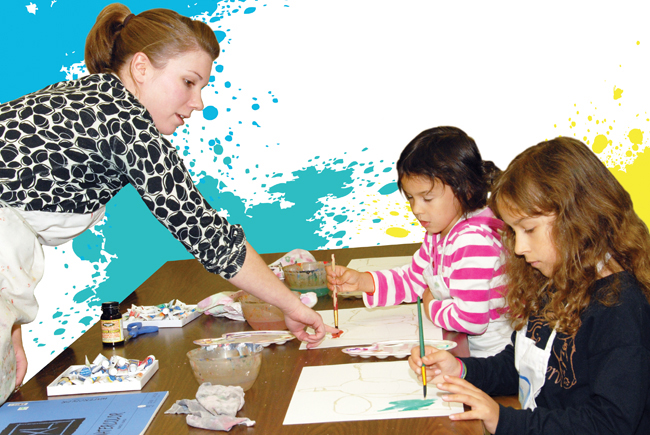 By: Tana Christian Suggs tana@suwaneemagazine.com
Looking to do something creative? Perhaps 2012 is a good time to bring out the inner artist in you.
Wonder Colors Art Studio opened in Suwanee January 2010 and offers a variety of classes, programs and events for all ages.
William Parker and Mary Wall, owners of the art studio, said it doesn't matter whether it's a preschool class or an adult class; each student is encouraged to find his or her unique talent through the lessons taught.
Wall, who graduated in May 2010 from the Savannah College of Art and Design, is the art instructor at the studio. She said in each art class, students always start with a pencil to sketch out their drawing first and then use whatever medium they are working with. In the classes, students learn about art from the basics to techniques like shadings, tones and colors.
"Students have to do the work themselves," Wall said. "We encourage them to take the techniques as far as they want to go with it. I will show them step by step how to do whatever technique we're learning, but it's up to them to put in the creativity and take it the extra step if they want to."
In each class, Wall covers things such as vocabulary, materials, mixing colors and how to apply them. Classes also include different techniques of art, both traditional and nontraditional. Wall added that the classes keep each student challenged and each work of art is unique and one-of-a-kind.
Parker said they have been lucky in that most of the students are returning students.
"Anyone who has tried us has pretty much stayed with us," he said. "The kids are great. Our biggest challenge is just getting people to try it out, but once they do it's no effort because she (Mary) does such a good job and the kids that are already here are fun to be with."
In addition to art classes, the studio offers an after school program that includes an art class and homework help. Parker said it's the student's "home away from home."
"It takes a load off the parents too because the (home) work is getting done," he said adding that when parents come to pick up their child, they don't have to be worried about the homework and everyone can enjoy the evening.
The classes and the after school program are limited to about 10 students. They follow the Gwinnett County School calendar, and in the summer, they offer summer camps.
The studio also welcomes special events such as birthday parties and "Friends night out."