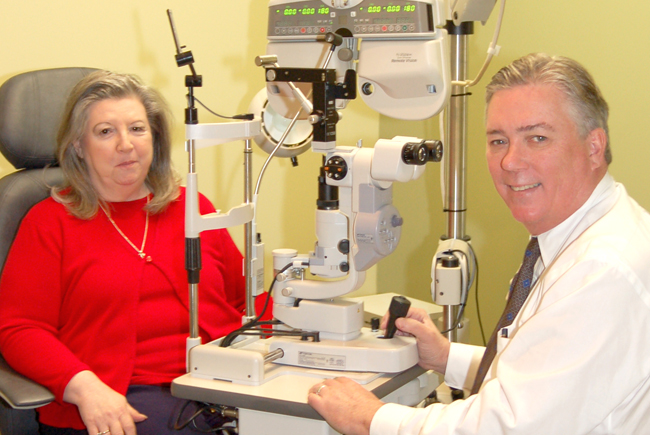 Suwanee Vision Center offers the latest in cutting-edge eyewear
Do you need multiple pairs of glasses just to get through your normal daily activities? The days of switching glasses several times in a day could become a thing of the past thanks to the latest technology and the newest product in exotic eyewear, and Suwanee Vision Center, located on Peachtree Industrial Blvd., is an authorized dealer.
emPower, life-activated eyewear with electronic focusing is the newest product on the market that can help people eliminate the need for multiple pairs of glasses. It is actually a progressive multifocal, the modern bifocal that adjusts the prescription as you go about your daily activities.
Chip Reddy, D.O., owner of Suwanee Vision Center, explained that because they're using electronic lenses, it decreases the amount of blur at the edges of the lens that cause distortion by 50 percent or more.
"So you can cut out any near-blur for things like walking up and down stairs," Reddy said.
The eyewear works using a liquid crystal layer in each lens and can be used in an automatic or manual mode by a simple swipe to the side of the frames or a touch behind the hinge.
Reddy, who is also a Suwanee resident, opened his practice on Peachtree Industrial Blvd. in Feb. 2009 after having several different locations in surrounding areas.
He said he likes being located in Suwanee where he is centrally located with great exposure and good accessibility. And he likes working in the community he calls home.
"I want to give back to the community we're in," Reddy said. "Living here I feel more of a part of the community. I know people and see them everyday – friends and neighbors."
Reddy said he first learned about the new, cutting edge glasses at the Southeastern Conference of Optometry held annually in February or March in Atlanta, and he knew it was definitely something he was interested in offering to his patients.
The eyewear comes complete with a charging station, and the full charge typically lasts two to three days.
Currently there are 39 frames to choose from and most are unisex. They include high index, high optical lens, high quality anti-reflective coating and come in almost all conceivable power ranges.
A normal eye exam is required and it takes about 10 working days to two weeks to get the new eyewear. The cost is $1,495 and because it's a new product not all insurance companies cover them at this time.
For more information about Suwanee Vision Center and to see if emPower is right for you,  visit the website at SuwaneeVision.com.