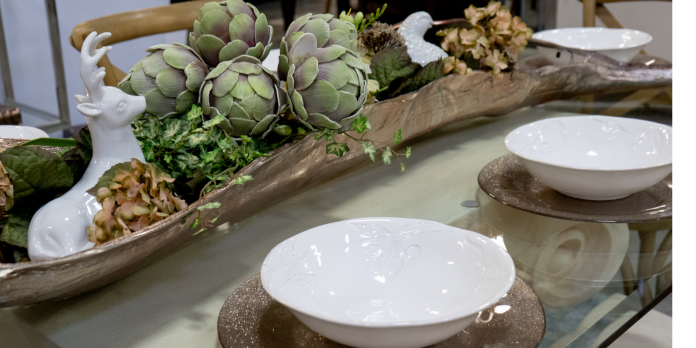 5 home decor ideas that are on trend for fall.
By Kimberly Douglass, Owner, C.C. Liquidations Home Furnishings & More | Photos by CJ Johnson, Periphery Mill
1. Bring nature inside with organic materials and wood pieces.
Take a stroll outside and let nature inspire your decor choices. Gather branches, flowers, or rocks to create a unique centerpiece in your home. Play with different textures and colors, and for a festive touch, consider spray painting tree branches gold or silver for the holidays. Organic shaped bowls and vases are perfect for displaying your finds, while incorporating seasonal blooms like lilies in the fall or pinecones in the winter.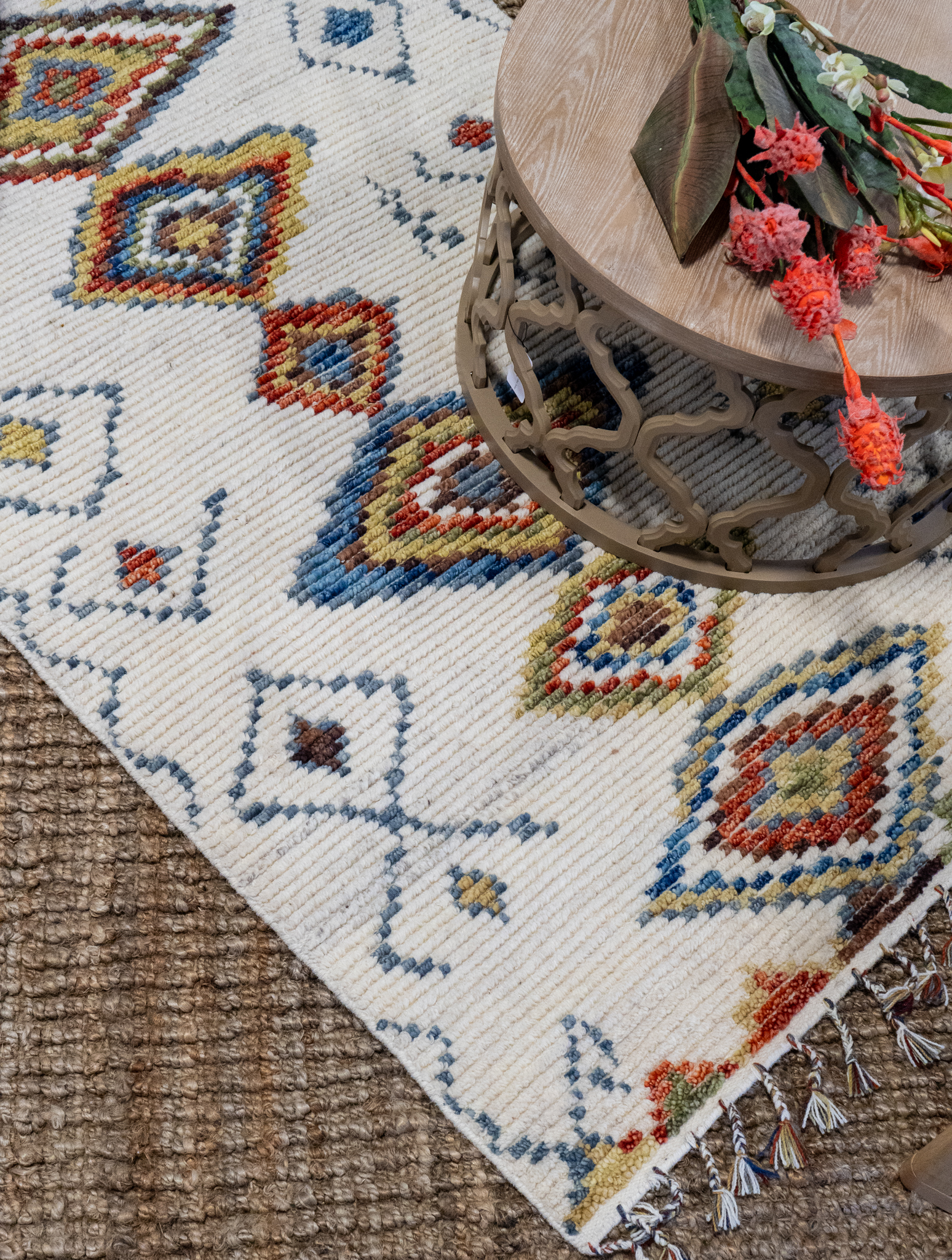 2. Layer rugs for added warmth and style.
Rugs offer a simple and cost-effective way to transform the look and feel of a room. Embrace warm, earthy colors and layer rugs to create visual interest and a cozy atmosphere. Don't limit your creativity to the indoors — extend the charm to your front porch by layering rugs and swapping them out based on the season.
3. Mix and match seasonal themes.
Embrace the freedom of current interior design trends by mixing various styles and aesthetics. Blend the old with the new or add a touch of glamour to rustic elements to craft a unique vibe that reflects your personality. Play around with traditional seasonal themes, such as covering pumpkins with fabric or incorporating whimsical patterns. Tablescapes are another excellent way to change your decor for the seasons. Experiment with combining floral or leaves and fruits and vegetables alongside smaller festive pieces representative of that particular holiday. Intersperse candles of varying heights and widths in between to add some elegance and a soft glow.
4. Refresh with new throw pillows.
Updating your throw pillows can instantly elevate the look of a room and create a curated and comfortable ambiance. Opt for affordable pillow covers that allow you to change things up each season. Experiment with different sizes and textures to add visual intrigue. For a touch of glam, opt for beaded, faux fur, or velvet pillows, perfect for creating a cozy ambiance during the colder months. Boho enthusiasts can explore crocheted or textured pillows with fringe and add vibrant colors for a relaxed yet eclectic vibe.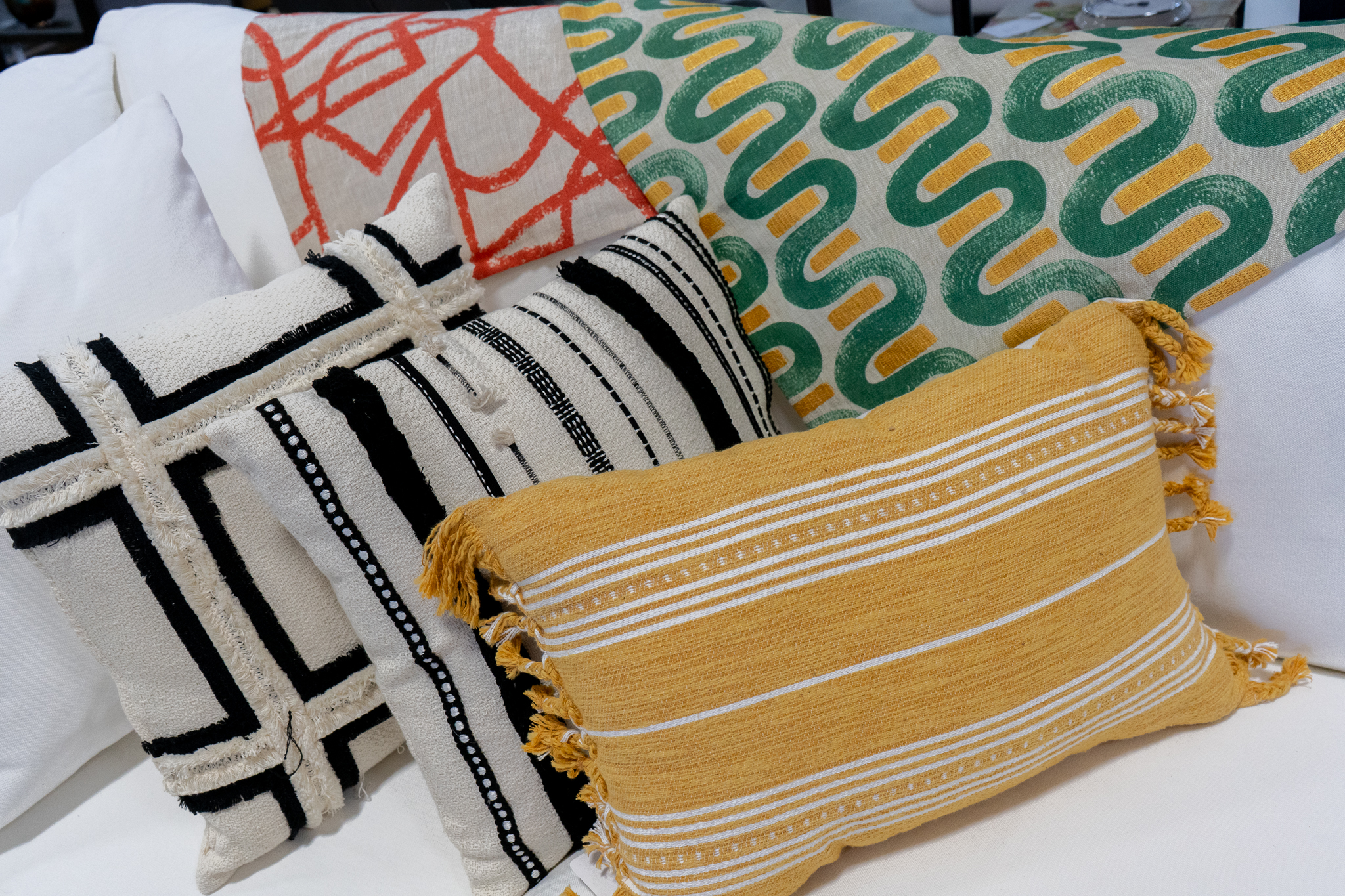 5. Create a small vignette or sitting area.
To embrace a particular design trend without overwhelming your entire home, create a small seating area with a side table. This allows you to incorporate one specific trend while maintaining a cohesive look throughout your space. For example, adding a pop of mid-century modern can infuse a modern touch into any style home.
These are just a few inspiring ideas to help you transition your home from summer to fall. Remember, whether you're bold with colors and textures or enjoy mixing different styles, don't be afraid to experiment and create a look that is uniquely yours!
C.C. Liquidations Home Furnishings & More is located at 105 Satellite Blvd. N.W. in Suwanee. For more information visit CCLiquidations.com.