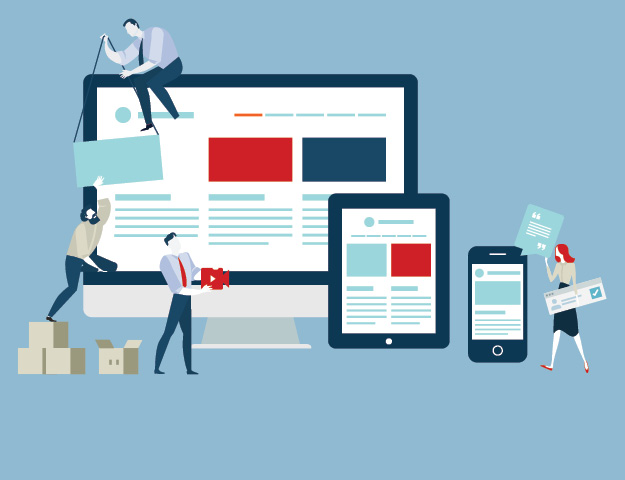 Technology is a fickle thing — one minute you're chugging along on cruise control in the HOV lane, bypassing the poor souls stuck in rush-hour traffic, and the next minute you're failing to merge back into the main lanes after a sudden road closure.
By: Alicia Carter
Even digital marketing professionals can sometimes have trouble keeping up. But as algorithms, design trends and strategies change, there are tried-and-true fundamentals that we can always count on — and come back to when we need to catch our breath.
And as thankful as we are for those fundamentals, it's crucial to make sure you're on the right side of them, and not unintentionally holding on to bygone strategies that can actually hurt your bottom line. While most of our articles focus on what you should do, this one will also focus on what not to do. When speaking with small businesses and evaluating their current digital marketing strategies and web design needs, we come across many of the same mistakes again and again. These mistakes aren't necessarily the fault of those businesses, however, but of their holding on to archaic strategies and design ideas that no longer apply in the current digital landscape.
DO: Incorporate responsive design
A responsive website responds well to all of the different devices a person will use to view your website — mobile, tablet and desktop. These websites are designed to adapt to all screen sizes to ensure a good user experience no matter what device they're using. And since customers are viewing your site on a number of devices and screen resolutions, they need to be able to properly view, use and navigate your website no matter which they choose to use. Your site's design and navigation must flow seamlessly between all devices or else you risk driving customers away. According to Iron Paper, nearly 8 in 10 customers would stop engaging with content that doesn't display well on their device. A few years ago, businesses only had to concentrate on desktop and mobile, meaning they would just build a separate design for each device. These days, that line of thinking doesn't cut it. There are many web-capable devices on the market, and it isn't practical to create a separate design for each of them, which is why having a responsive design is so important.
DON'T: Hide CTAs
What if your website design is good enough to draw people in, but prevents them from staying on the site longer to dig for more information? They've read your content and are interested in the services you offer, but there's no way for them to search deeper into the site. Because of this, they leave your site and you've missed an opportunity to convert the lead. Without clear and effective calls to action (CTAs), a potential customer has no way to gather more information before making the decision whether or not to do business with you. It could be as simple as a "Click For More Information" button, which takes them to a contact form. Or it could be a CTA to download an offer such as a guide, whitepaper, or something else of value to the customer. By submitting their name and contact information, they can receive a content offer that shows them that you're a leader in your industry. Plus, obtaining their contact info will allow you to follow up with them in the future.
DON'T: Fail to link to social media
Outside of your website, it's important to connect with potential (or current) customers where they are spending their time. And these days, that means social media. If a person is interested in a business, he or she is likely to "like" it on Facebook, or follow it on other channels such as Twitter, Instagram and LinkedIn, among others, to keep up to date on the latest information about the company. And in today's social world, it's important to be present and active on the different social platforms, especially considering 92% of marketers say social media is important to their businesses. Knowing this, it would be a rookie mistake to exclude links to your social accounts on your website. Make sure they're prominently displayed not only on the homepage, but also on your "contact us" page.
DO: Incorporate video on your site
While well-written content is extremely effective and an important piece of your website, visual marketing is an increasingly desirable and game-changing marketing tool. It's been reported that marketers who use video grow revenue 49% faster than non-video users. And let's not forget that videos qualify as content, so they can help with your SEO and Google rankings in the same way a blog post can. Incorporating video on your website allows you to showcase your business's personality, help boost your Google ranking, and positively impact your ROI. In fact, 51% of marketing professionals worldwide name video as the type of content with the best ROI.
These do's and don'ts are just a few things to consider when setting out to create a successful website. If you'd like more information about how to ensure your website will work for your business, visit vdgatl.com.