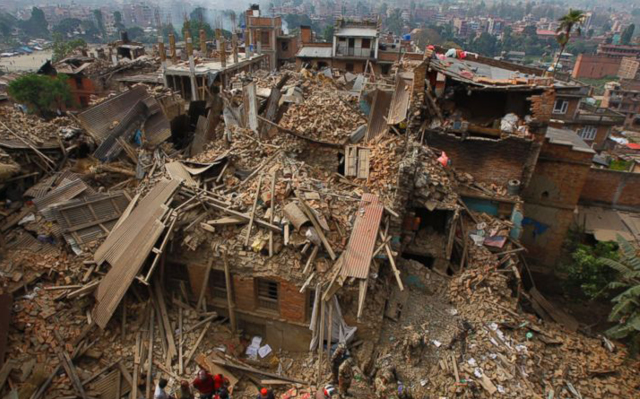 As Americans watch from a safe distance the earthquake damage that occurred in Nepal, students at Georgia Campus – Philadelphia College of Osteopathic Medicine (GA-PCOM) Nepal are taking a medical mission trip to the distraught area this summer and thinking back to their relationship with this country -built through a Nepalese American student and the campus' International Medicine Club (IMC).
Alok Shrestha, a third year medical student currently on rotation in Dothan, Al., traveled to Nepal for the first time in 20 years the year before he started medical school.  Born in Nepal, Shrestha moved with his family to the United States when he was a young child. Most of his extended family still lives in Nepal and are safe, despite the earthquake's devastation. Before his trip to Nepal in 2012, he wondered, "Would I be able to understand my own family? Would they see me as an outsider?" He soon learned that "family is family. I hadn't seen them in 20 years but they welcomed me with open arms as if we grew up together all along." He said, "The first few days were definitely a culture shock for me, but I was amazed by the rich culture and natural beauty Nepal had to offer. I was also saddened by realizing how much help the people of Nepal needed. Although Nepal had been progressing over the past couple of decades, it was doing so at a much slower rate than many of the other Asian countries," he observed. "I could see that much of the infrastructure in Nepal like the roads, telephones, internet, electricity, water supply, sanitation system, and health care had not matured very much."
After his trip, Shrestha thought about how he could give back to his homeland. He decided to coordinate with Dr. Jayahari Pandey of a Lion's Club International chapter in Kathmandu and planned a trip for five GA-PCOM medical students to go to Nepal the next summer. That was the first GA-PCOM IMC medical mission trip to the village of Jhor in Kathmandu, Nepal.  They raised money for the trip throughout the year through school luncheons, web sites, social media, emails, and good, old-fashioned word of mouth.
The group raised about $3,500, and each of the team members paid for their own plane tickets. Through their efforts, they were able to run a health post in Jhor for 11 days. Before their arrival, the health post offered only a handful of supplies so local village volunteers could help treat minor ailments. The money raised by the students was able to provide more extensive medical supplies, pharmaceutical drugs, and operating funds for running the clinic. Students worked together with Nepali doctors, including general practitioners, orthopedic doctors, ENTs, and OB/GYNs, while several young, local volunteers translated and managed patient traffic.
At the end of the trip, the team was surprised to learn that they had provided care and treatment for approximately 650 patients in the village and surrounding areas. "It was a very rewarding experience to have been a part of this journey and I am also really proud of the GA-PCOM students who went on the second trip in 2014 and those who are raising funds for the third much needed trip this summer," Shrestha said.
 Though their experience will be quite different from the trips of their predecessors, this year's group of students headed to Nepal feel a sense of urgency to help now more than ever. "We will be seeing much more widespread and severe cases on the medical side, and will most likely be helping with more laborious tasks like clean-up and rebuilding. The need for help has exceeded our expectations by far, but this gives us all the more reason to go," said Cheryl Moreton, one of the seven IMC club members headed to Nepal this summer.
 Jeffrey Williams, another student who will be joining Moreton and the others, added, "To me, an opportunity like this is what ultimately makes becoming a physician worthwhile."
About GA-PCOM
Georgia Campus – Philadelphia College of Osteopathic Medicine (GA-PCOM) is a private, not-for-profit branch campus of the fully accredited Philadelphia College of Osteopathic Medicine, a multi-program institution with a 116-year tradition of educational excellence. Located in Suwanee, GA-PCOM offers the doctor of osteopathic medicine degree, the doctor of pharmacy degree and a master's degree in biomedical sciences. The campus includes the Georgia Osteopathic Care Center, an osteopathic manipulative medicine clinic, which is open to the public by appointment. For more information, visit www.pcom.edu or call 678-225-7500.