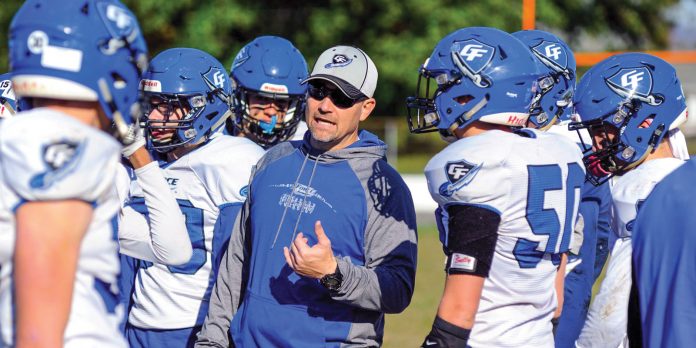 Georgia Force fosters character development, camaraderie, and hard work in a Christian environment.
By: Angela Veugeler
As a parent, considering what is best for your child is always top of mind. If you have a son or daughter in middle or high school who loves sports, Georgia Force Christian Athletics could be an answered prayer. The league is open to students who are homeschooled or attend a private Christian school that does not offer sports, as well as a small percentage of students who attend public school. Georgia Force is committed to fostering athletes in a Christian environment with a mission to encourage, lead, teach and develop young men and women to be Godly leaders within the community.
According to Karyn Artz, whose two sons played Varsity football with the Force, that is exactly what they do. "The Georgia Force High School Athletic Association is here for your high school students seeking sports who are restricted from playing at their local public schools. But we are so much more than sports for homeschool or private education high school students," she says. "On so many levels we offer community, friendship, mentoring, and family. Many families who find the Force often report back how much they are surprised to find a very welcoming set of volunteers who truly want them to be in our community."
Not only does Georgia Force provide students with a traditional Friday night lights experience — including a Homecoming game and dance, Senior Night and more — it does so in a welcoming and Christian environment. But make no mistake, the league is also a force to be reckoned with. Georgia Force won the 2020 National Homeschool Football Championship, held in Panama City Beach, despite facing more than their fair share of challenges during the season.
One parent shared on Facebook before heading to the championship, "This 2020 season has been like none other – pandemic, loss of spring season, loss of our league, loss of our field due to hurricane damage, and injuries just to name a few. BUT GOD. He has walked through all the ups and downs with us and we are better for it. We head to Panama City Beach, FL this week as the #3 team in the National Homeschool Football Association Tournament and we don't take competing for the National Championship lightly. We can do all things through Him who strengthens us and no matter the outcome we are family. GO FORCE!"
Tamara Koval, another Force mom, shared of their experience, "Both of my sons (Nick Koval #30 and Ted Koval #73) played for the Georgia Force football team all four years of high school. The coaches led them and their teams to two national championships. Each of my sons received multiple college football scholarships and made memories that will last a lifetime. Ted is a freshman playing on a football scholarship at Benedictine College in Kansas and Nicholas is considering seven football scholarship offers."
In addition to football, Georgia Force offers basketball, cheerleading and marching band. Winter conditioning for the football team kicks off this spring and is a great way to check out the organization. Conditioning will take place on March 13, March 27, and April 17 followed by the spring season. The regular fall season kicks off in July. The team plans to play at Gary Pirkle Park in Sugar Hill pending the new turf being completed.
For more information about Georgia Force or winter conditioning, contact Karyn Artz at 404-844-9718, karynzartz@gmail.com or check them out at ForceHSFootball.com.