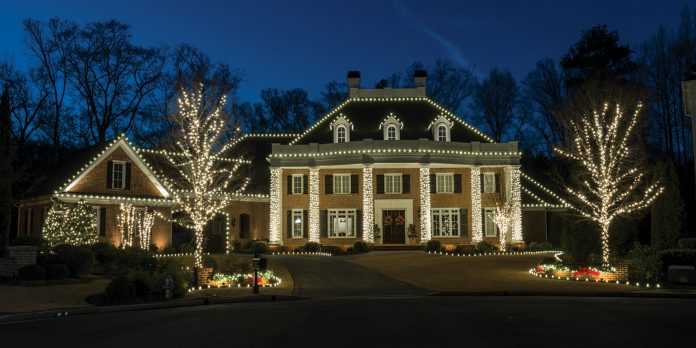 Simply Lit offers light installation services that truly make the Christmas season merry and bright.
By Alicia Carter | Photos by Shawn Solinko
There are a number of Christmas traditions to look forward to each year: family dinners, parties, carols, decorating and so much more. For many, Christmastime is the best time of year — even though in many ways it's also the busiest. Sure, we love the wreaths and tinsel and garland and lights and all of the decorations the season brings, but the work it takes to put it all up? Not so much. There are a few elite among us who are able to do it all, but for those of us who need a little help, there are businesses that offer a number of decoration and light installation services that can help alleviate some of the holiday stress.
One such business is Simply Lit, a decorative lighting company located in Alpharetta. Owner Shawn Solinko worked in Utah and Colorado for The Christmas Light Professionals for a number of years before starting Simply Lit in 2011. Shawn's brothers Scott and Steve, who owned a Christmas lighting business in Utah at the time, joined the Simply Lit team in 2014. Since then, the brothers have worked together to install Christmas lighting for both residential and commercial clients and have even expanded to offer off-season services such as wedding and event lighting, landscape lighting, marquee letter rentals and more.
Combining their 15 years of light installation experience, the Simply Lit team has completed projects across the U.S., including Washington, Oregon, Utah, Colorado, Idaho, Wyoming, Florida, Georgia, Alabama, South Carolina and Pennsylvania. The team not only brings their years of experience to each job, but their dedication and expertise give them an edge over other similar businesses.
In addition to residential Christmas light displays, Simply Lit also decorates for a number of commercial properties, including churches, community entrances, office complexes, dealerships, apartment complexes and more. Using only the highest quality LED Christmas lights, the Simply Lit team decorates the exterior of the buildings, utilizing outdoor trees, artificial frame trees, mega-trees, walls, monuments, lamp posts, bushes and much more to give a whole new meaning to curb appeal.
Not only can Simply Lit make your home or business the talk of the town during the holidays, they can also add some pizzazz to your upcoming event. From weddings and corporate events to birthdays and graduation parties, Simply Lit offers an all-inclusive rental service that includes set up and break down. Let your event stand out with market lights or patio lights that can be installed over large open areas, seating areas or patios. You can also add personality with LED trees in a variety of colors, sizes and leaves, or opt for traditional Christmas lights to decorate existing trees. Simply Lit can also provide popular marquee letters and numbers for the perfect photo op! In fact, one of their most popular items are their marquee numbers for birthday parties. Whether your loved one is turning 6 or 60, make an impact with these free standing, stackable numbers. All of Simply Lit's marquee numbers and letters are made in-house and can be custom built to your specific dimensions, shapes, fonts and colors.
No matter your needs — commercial or residential holiday lighting, event lighting, or even patio stringers to liven up your outdoor living space — Simply Lit is available to do the heavy lifting so you are able to enjoy the season, whatever it may be, with family and friends.
For more information about Simply Lit, call 770-626-0234, visit SimplyLit.com or check them out on Instagram at @SimplyLit.