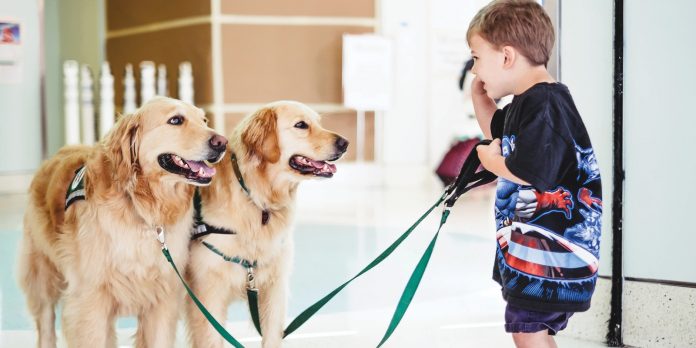 Children's Healthcare of Atlanta's Canines For Kids Bring Joy to Hospital Patients
By Lizzy James | Photos Courtesy Children's Healthcare of Atlanta
There are many reasons dogs are known as man's best friend. They can lead the blind, warm a home, and even help bring joy to children who are hospitalized. For the 14 on-staff therapy dogs at Children's Healthcare of Atlanta, they prefer the latter. While most dogs spend their time finding a spot of shade to nap the day away or jumping in their favorite swimming hole, children's therapy dogs are on duty, visiting more than 300 patients each day. We had the chance to catch up with the Children's Canine's for Kids team to learn more about the incredible canines who provide support to children and their families during challenging times.
What is the Children's Healthcare of Atlanta's Canines for Kids program?
The Canines for Kids initiative at Children's is a special animal- assisted therapy program of Golden Retrievers, Labrador Retrievers and GoldenDoodles who visit patients, along with their human companions, throughout all the hospitals to participate in a variety of activities.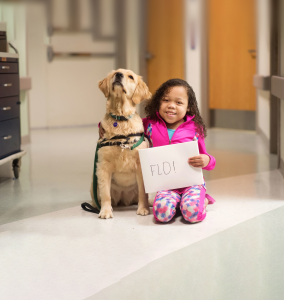 Why was the Canines for Kids program started at Children's Healthcare of Atlanta?
Canines for Kids began in 2009. Each facility dog works with a designated team to help minimize the stress of the hospital environment, reduce anxiety, provide distraction from illness and hospitalization, motivate patients and support their social, physical and emotional needs. Our very first facility dog, Casper, served as the cornerstone of our program up until his retirement in December 2018.
How many therapy dogs are currently on staff?
The Canines for Kids initiative at Children's Healthcare of Atlanta is comprised of 14 full-time facility dogs on staff aiding clinical teams in their daily mission to serve patients.
What are the requirements for a dog to become a therapy dog?
Each dog must go through the Canine Assistant program before "graduating" to become a facility dog. Puppies begin training at one week old at the facility in Milton, Georgia. It takes approximately a year and a half to complete the education, although each dog is different. The facility dogs assist patients in a variety of ways, but perhaps the most impressive gift the dogs provide is helping to eliminate feelings of fear, isolation, and loneliness from being in the hospital.
What are some of the benefits of having patients interact with the dogs?
These specially trained canines help minimize the stress of the hospital environment, reduce anxiety, provide distraction from illness and hospitalization, and motivate and encourage patients to reach treatment goals, while supporting their social, physical, and emotional needs. Activities include laying in bed with a patient who is experiencing pain, taking the dog for a walk around the unit, or even playing fetch with the dog to help increase mobility.
How often do the dogs come and visit the patients?
Our facility dogs are considered an essential staff member, they can go almost everywhere in the hospital with their handler. If their handler is working, so is the dog! Most dogs work up to 40 hours a week, with a few hours built in for playtime and nap time. You can find our dogs in a variety of areas throughout the Children's Healthcare of Atlanta hospital system, including the hospital library, inpatient rehab units, pediatric intensive care units and Heart Center. In the past, our facility dogs visited more than 300 patients each day. With COVID-19, a number of our facility dogs are continuing to provide support to patients, families, and staff during this time, but our first priority is safety. Our facility dogs and their handlers are following proper protocols and practicing extra care to keep both the dogs and our patients and staff safe.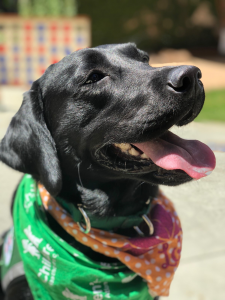 In your experience, what kind of reception do the dogs get from their patients?
I have to say, we are lucky to get to be the ones to walk around with a pup by our side. Everyone is smiling and excited to see us coming. For so many of our patients, this can be a scary time for them, but then they see us walking down the hall and for a minute they get to forget about why they are here and just meet a new friend! (Story provided by Button's handler, Claire Doughtie, Patient Experience Learning Specialist at Children's.)
Tell us a little bit about the Canines for Kids Christmas program.
To protect our patients and staff during the COVID-19 pandemic, we have increased safety measures in place in our hospitals, so the holidays will look very different this year at Children's. In past years, our facility dogs have participated in a variety of holiday activities within our hospital system including visits with Santa, special visits to patient rooms, and one year, a few of our facility dogs helped to drop off presents at patients' rooms. We also participate in the Children's Christmas Parade each year.
Is there a particular therapy dog story that stands out to you?
Well, we all have favorite stories so we could take up days telling you about them all. One of my first memories with Button is taking her to Camp Courage (a camp for children with craniofacial conditions) and everyone getting to meet her for the first time. Button has a small black patch on her side which is her "button." One of the first-time campers came to check in and looked a little anxious. Then I saw he got a huge smile on his face and knelt down to pet Button. Then he looked up at his mom and said, "Mom, Button has a button, just like me," he lifted up his shirt to show his g-button, the button he uses to eat with. This was the moment that I knew this pup could truly change lives. She helped a scared first-time camper feel a connection within minutes of arriving to camp. Then after her first summer of camps she had campers requesting her to visit when they had upcoming surgeries. Now our campers/patients had a reason to be excited to come to the hospital. Although it may not take away all their nerves, they knew they had a friend waiting on them and they had some excitement, too. (Story provided by Button's handler, Claire Doughtie, Patient Experience Learning Specialist at Children's.)
Since the program is 100% donor funded, can you tell us a few ways people can help?
As one of the only programs at Children's that is 100% donor-funded, we rely on generous donors to help keep our facility dogs in tip-top shape. Donor contributions to our Canines for Kids initiative contribute toward healthy food and treats, regular visits to the vet, special germ-fighting baths and more to ensure our pups are ready to report for duty.