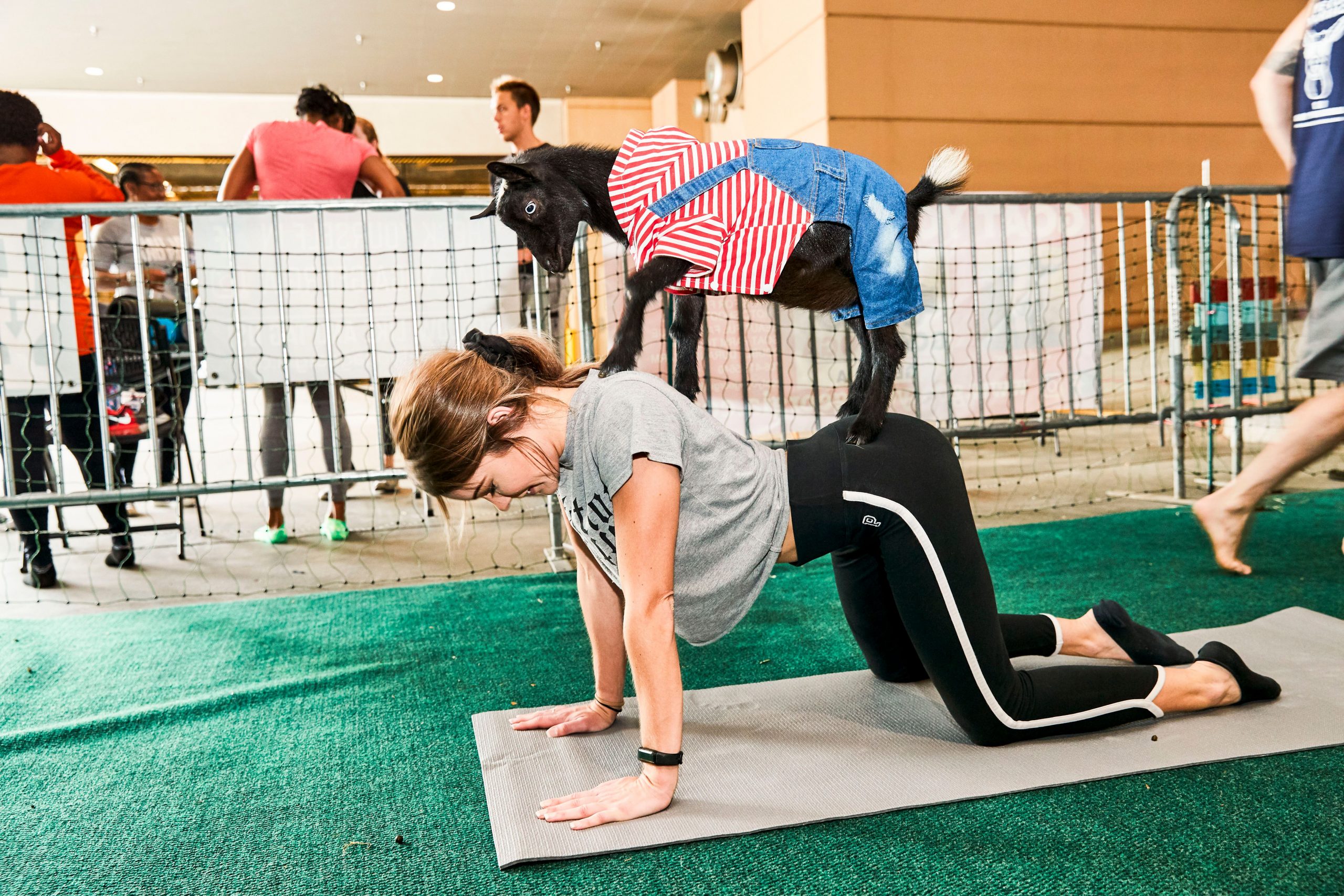 There's perhaps no exercise more tailor-made for the perfect Instagram selfie than goat yoga. Just imagine a glorious group of barnyard goats frolicking among a crowd of Warrior poses and Downward Dogs. And when you get into Tabletop pose, be prepared for one of the cute little goats to hop on your back for a little added resistance.
Double Durango Farm, located in Loganville, hosts Goat Yoga Georgia classes on its property as well as private events around the metro Atlanta area. Classes are one hour long, but extra time is always allotted for goat snuggles and photos. According to Double Durango's Dianne Cassara, goat yoga is open to all fitness levels and is even a great time for children 7 and older.
"There are no expectations for everyone to do all the yoga poses, so we let them know it is fine to sit on their mat and rest if they need a break," Cassara says. "It's more about being outside and with nature, and it just brings pure joy to everyone who has come.
We have had people come and say they had a hard work week and were so stressed and then they do the goat yoga and they are laughing and smiling and have forgotten all about any problems or burdens that they came in with."
While it's true that part of the appeal of goat yoga is the opportunity to hang out with goats, attendees can still expect to get a great workout. And even if you come out more for the goats than the yoga, it's still a unique family-friendly outing that is more than worth the trip to Loganville, and Double Durango offers a picturesque backdrop for the yoga class.
"We have a large barn that can hold 40 people, so we never have to cancel for rain or bad weather, and we feel that we have the best goat yoga venue for public and private events in Georgia," Cassara says. "We have a large outside area as well that is decorated with a vintage 1951 Ford Truck as the backdrop and with string lights, which is really cool when we have evening classes as it's the perfect ambience. We have had visitors come back over and over many times so they start to feel like family to us now!"
In the end, goat yoga is a fun way to get a little exercise outside in the fresh air without taking yourself too seriously. Plus, you get to hang out with adorable goats. To us, that's a win-win.
For more information about Goat Yoga Georgia or to view the upcoming schedule, visit GoatYogaGeorgia.com.