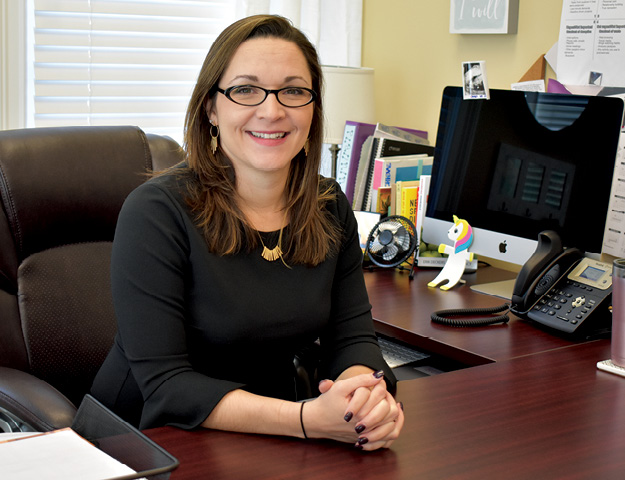 Danielle Hudson Laughlin went from a philosophy major to a law degree and now helps local small businesses thrive.
By: Alicia Carter | Photos by Walt Wooden
Danielle Hudson Laughlin refers to herself as a "second career lawyer," and although her road to practicing law was a little more curved than straight, she says she's always had a passion for government and law. "I studied philosophy as an undergrad," Laughlin says. "I really kind of geeked out on society — the rules we have, why we have them, and how we all work together in an organized civilization." Despite this passion, she found herself working for a global real estate firm as a licensed real estate salesperson during the beginning of the Great Recession. Laughlin's career in real estate would be short- lived, however, and a new role as mother would ultimately lead her back to her true passion: law.
We were starting to see the beginnings of the residential market crash in 2007, and at that time I left real estate to be a mom," Laughlin says. "I had my son and I didn't really know what I would do, but I always wanted to be a lawyer." Laughlin decided to take the LSAT and enrolled at Georgia State University College of Law during the height of the recession in 2008. As a new mom, law school was no small feat, but Laughlin excelled and performed at the top of her class, graduating cum laude. "I treated law school like a full-time job," she says. "I only gave school my 9-to-5 attention, and then once my son was asleep I would do my homework and reading and things of that nature. I've been working since I was 15, so I was used to juggling a lot of things. It really was par for the course for me."
Hudson Legal
Laughlin spent her law school career following up on real estate, and her passion and work ethic eventually led her to open Hudson Legal in 2015. "Our practice is kind of niche down," she says. "When I first opened I had a broader umbrella, and now we really focus primarily on business and real estate litigation." A quick visit to Hudson Legal's website reveals they focus on four main areas: business planning, estate planning, real estate protection, and litigation services. Their specialty, business and real estate litigation, "includes contract disputes, primarily, but it also can include tort claims, such as breach of fiduciary duty, partnership disagreements and derivative action of members in business litigation," she says. "We do a lot of things with commercial landlords who have issues with tenants, and we also represent commercial tenants — small- business owners who have issues with their landlords for various reasons. We have residential real estate work as well, so our focus is really on helping small businesses, but because we are real estate lawyers we do some residential work as well."
An Advocate for the Community
While Laughlin's goal is to help the community with its legal needs, she's also focused on serving and has worked hard to become a pillar in the community. She is a member of the International Association of Women, a mentorship and networking group that offers seminars, webinars and more to help women with professional development. "It's a place where you can recognize other women who are lifting women up," she says. "A lot of the industries represented are predominantly male-dominated. So I think it's important for organizations like the International Association of Women to exist because it gives women a way to stay focused on their long-term goals. I joined because I felt like it was a place where I could try to connect — not only for myself but for my clients. Our clients have a lot of needs beyond just legal services so it's nice to be able to tap into different networks to try to help them find what they need."
Laughlin's commitment to serving the community landed her a Moxie Award nomination in 2018, which recognizes women who are bold in business. "This was the first year that the Gwinnett Chamber did the Moxie Awards for women in the community. I was very honored and humbled to be included," she says. "I was nominated as a 'moxie,' someone who has a force of personality."
That force of personality is what drives Hudson Legal to be a strong and vocal advocate for people in the community. "What sets us apart from other law firms is our heart," Laughlin says. "We really care about our clients. We care about what they care about."
"I think that's the bigger picture — that we're known for the care we show our clients and the community as well," Laughlin continues. "Our goal is to help good businesses stay in business and help them get a larger market share by snuffing out the competition. We want to help the community thrive by helping small-business owners who are here for the right reasons to continue doing good work."
Laughlin's drive is inspiring. That initial passion for law that paved the way for a degree in philosophy helped her see society in a bigger picture. And the willingness to leave her job to return to school to pursue her dream is admirable, especially considering she was raising her first child in the midst of law school. While her path to opening Hudson Legal was unconventional, it was paved with determination and heart. When asked what her message to the community would be, she laughs and says, "Never be afraid to call us!"