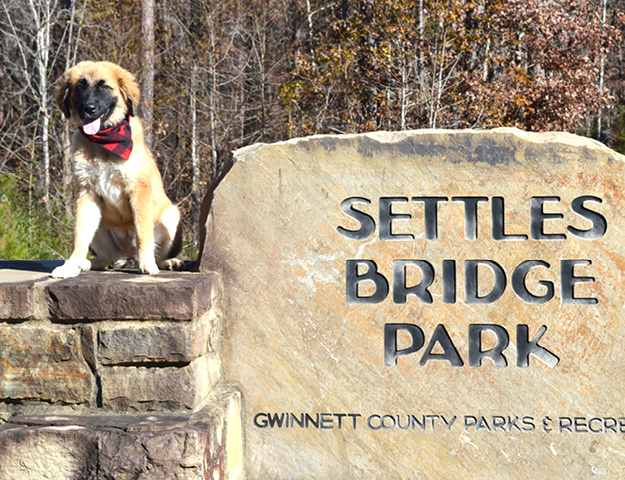 Dogs don't want to be cooped up all day, they like to stretch their legs, run around, and mingle with other furry friends, which is why dog parks are such a valuable part of any community. Having a designated area where dogs can shed their leashes and socialize is beneficial for both pup and owner and an important part of a dog's development. Thankfully, there are plenty of parks around town to take Fido for some dog-time fun!
By: Alicia Carter
Settles Bridge Park
380 Johnson Road, Suwanee
This off-leash park features three separate fenced areas for small dogs, large dogs, and a long dog run. In addition to space to run freely, there's also agility equipment for some extra exercise as well as water stations to help cool off during the summer months. In addition to the dog park, Settles Bridge Park also has several paved and unpaved trails for leashed walks so you can both get your steps in.
Chattapoochee Dog Park

4291 Rogers Bridge Road, Duluth
Located in Rogers Bridge Park, Chattapoochee Dog Park is known for being a friendly space for pups to run freely on the well-kept grassy area. It's separated into two parks, one for smaller dogs under 30 pounds and one for larger dogs over 30 pounds, and features small obstacles and plenty of room for your furry friends to run around. There are water fountains, but they're turned off during the winter so be sure to pack a water bottle.
Newtown Dream Dog Park
3150 Old Alabama Road, Johns Creek
This fenced, one-acre doggie paradise features artificial turf, sprinklers for dogs to play in, obstacles like hoops, tunnels and a bridge, along with water fountains for both people and pets. There are separate areas for large and small dogs, along with benches, shelters, and shade trees. The dog park is situated inside the impressive Newtown Park, which is also home to athletic and recreational options like walking trails, baseball/ softball fields, tennis courts and picnic pavilions, bocce and more.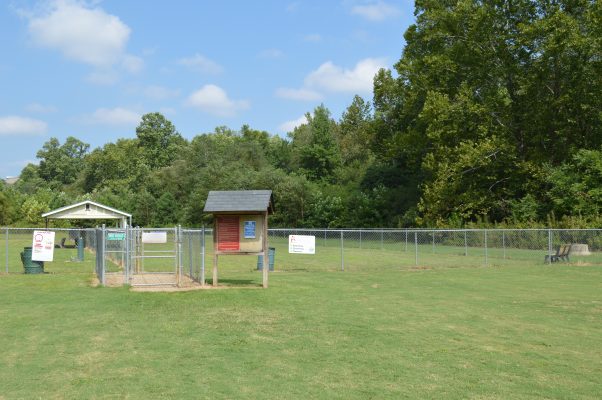 Windermere Dog Park
3355 Windermere Parkway, Cumming
Part of a larger park in Cumming, Windermere Dog Park has separate areas for small and large dogs. There's little shade, but the park is a flat, fenced-in area where the dogs can run and play. Take a seat at one of the benches and relax while your pup gets his energy out, then let him rehydrate at the water area.
Harbins Dog Park
2550 Indian Shoals Park, Dacula
This pet-friendly park is the perfect place for your pup to get in some off-leash play in one of the three fenced areas, including separate small dog and large dog areas. There's also a covered bench and water source during the warm months to keep your four-legged BFF hydrated. The park is open from sunrise to sunset unless otherwise posted.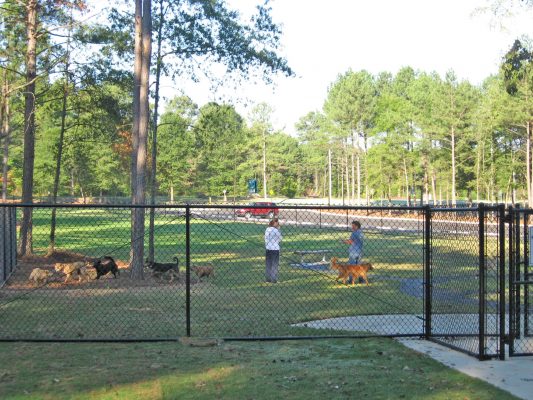 Rabbit Hill Dog Park
400 Rabbit Hill Road, Dacula
Rabbit Hill features plenty of grass space as well as rough space with sand and fun obstacles. The park also boasts tons of trees which means pets and owners will be able to find some reprieve in the shade. There are separate areas for large and small dogs as well as another area for just running.