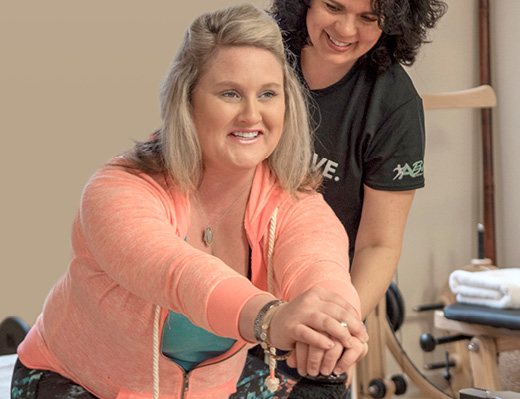 "You can't go home until you have brain surgery. We're going to remove a portion of your skull as well as your first and second vertebrae."
These are the shocking words that Suwanee resident, Kimberly Kelly (age 36) heard two years ago when she first learned that she has Chiari Malformation and Syringomyelia. "I had never even heard of Chiari before…I was in complete shock and so scared. I didn't even know how to pronounce it. I had no idea what was going on," Kelly said.
Chiari malformations are structural defects in the cerebellum (the part of the brain that controls balance). Normally, the cerebellum and parts of the brain stem sit in an indented space at the lower rear of the skull, above the foramen magnum (the opening to the spinal canal). But, a Chiari malformation is when part of the cerebellum brain tissue has protruded through the foramen magnum and into the spinal canal, blocking the circulation of cerebrospinal fluid in the brain. Syringomelia (SM) is a chronic disorder that occurs when cerebrospinal fluid enters the interior of the spinal cord, forming a fluid-filled cyst called a syrinx. In Kelly's case, the syrinx was one of the worst that her doctors had seen, causing severe damage to her spinal cord.
Most cases of Chiari malformation occur during fetal development, but are not diagnosed until later in life as symptoms progress. "For my entire life I had weird symptoms like headaches, my eyes bothered me, I would fall a lot…they used to call me "grace" as a joke when I was little because I was the opposite of graceful," Kelly said. As a child, the symptoms were not severe and were just attributed to clumsiness and regular headaches from allergies or colds. But as she got older, her symptoms worsened. Her most common symptoms were: falling a lot, lack of balance, short-term memory problems, exhaustion, headaches, weight gain and numbness or tingling in her arm or extremities. "The symptoms were all just so weird. I knew something was wrong and went to so many doctors, but they just kept attributing it to allergies, chronic fatigue, anxiety, depression, etc…but I knew it was more than that. I knew something was wrong with me!" Kelly said.
Kelly's diagnosis and emergency brain surgery took place in March of 2014 after she took a fall down the stairs in her home. She was walking down the stairs holding her new puppy, a Cavalier King Charles Spaniel named Cooper, when she stumbled and took the brunt of the fall so as to protect her dog. When her then-husband returned home from work he asked if she had been drinking.
Kelly was slurring her words without even realizing it. What they also didn't realize at the time was that she had had a stroke. Kelly went to the doctor for a regular appointment that Friday and told her about the fall. She also let her know about some other weird symptoms she had been experiencing that week such as numbness in her arm and difficulty breathing, like her throat was closing up. The doctor attributed the numbness in her arm to falling on it and her difficulty breathing to allergies and sent Kelly home. By Monday morning, Kelly's arms, back and fingertips were numb, she couldn't dress herself, lift her arms to fix her own hair, had difficulty breathing, talking and even walking. She went back to the same doctor who immediately said, "I'm triaging you to the emergency room!" It wasn't until they did a complete spinal MRI with a contrast dye injection, that the long-overdue diagnosis came to light. The condition, even more common than ALS, is not necessarily rare, just very difficult to diagnose.
The emergency brain surgery kept her in the hospital for a month and a half. "I made it the fun room though! I always had friends in there, they'd bring me flowers, we'd talk and play games," she said. Kelly was trying to maintain some sense of normalcy in her life. After having to quit her job as a kindergarten teacher and with her husband leaving her amidst her recovery, it was difficult though. "Before all of this, I loved going out with friends, going shopping, getting pedicures, being outside, going to Suwanee Town Center Park," she said. For someone that was used to an active and social lifestyle, her debilitating condition left her fighting for both her physical and mental health again. "I didn't want to let this turn me into a different person or change my outlook on life, because it could have been bad," she said.
A year after the emergency surgery, Kelly's condition took a turn for the worse again and in December of 2015 she went to see a Chiari specialist in New York for a second (and hopefully her last) surgery. There had been some complications with the first surgery that needed to be corrected. Since then, Kelly's condition has improved drastically and she is expected to get back to "99% normal." It's a process and it's a fight – the condition will never go away, but the surgery should stop the progression and the therapy will continue to reh
abilitate her. She visits ABove Physical Therapy in Suwanee four times a week where they help alleviate her neuropathic pain and taught her how to walk properly again. "Thank goodness for ABove Therapy! They are like my family," Kelly said.
The series of misdiagnoses and lack of knowledge were so frustrating to Kelly that she now wants to help bring awareness to Chiari and Syringomyelia and help others that might be going through what she experienced. "I'm trying to do something good with this. I could choose  to sit in my bed and cry or I can get up and do something with my life," Kelly said. As the Northeast Georgia spokesperson of the Chiari & Syringomyelia Foundation she is getting that chance. Kelly was recently asked to be the "face of Chiari" and spokesperson at the Bobby Jones Classic on May 15-16th at East Lake Golf Club in Atlanta. "Bobby Jones died of Syringomyelia and this is an amazing opportunity to honor him and to help bring awareness," she said. A member of 12Stone Church, Kelly's faith has also helped keep her grounded. "I'll admit, there were times where I was thinking, 'God, did you get me mixed up with someone else? You know I'm not this strong.' But now that I've been through it, I know for a fact that He has a plan for me. I might not have figured out exactly what that is yet, but things are starting to happen for me and it will bloom from there.