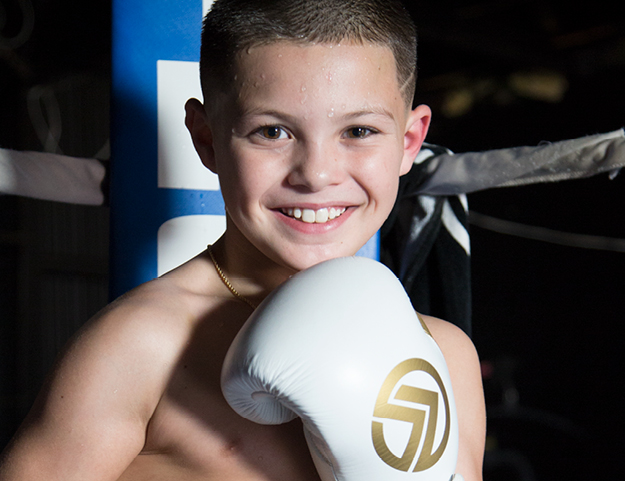 11-year-old boxing champion Javon "Wanna" Walton has already made history: He is the only person in the state of Georgia to be named state champion in boxing and gymnastics, and currently holds the title in both sports. With over 66,000 Instagram followers, tens of thousands of fans are watching the young athlete's undeniable journey to elite, professional status.
By: Rachel Pillow | Photos & Video by Tim Dryden
Check out the behind-the-scenes footage of our cover shoot here.
Wanna has been boxing since he was four years old and became sponsored by Under Armour at age eight. He started gymnastics at age five at Georgia Gymnastics Academy in Suwanee and still practices there four times a week. He has been used in multiple ad campaigns and boxes across the nation for Team Onward's Fight Team. He is already at a Level 8 out of 10 in the USA Gymnastics Junior Olympics Program, on the path to go to the Olympics once he turns 16. Wanna claims to love both sports equally. "I want to go to the Olympics and win a gold medal in boxing and in gymnastics," he said. And with over 66,000 Instagram followers, tens of thousands of fans are watching this young athlete's undeniable journey to elite, professional status.
So, what does this next-level, uber-talented 5th grader do in his spare time? Maintains straight A's in Gwinnett County's award winning and accredited Online Campus program…and of course hangs out with his twin brother, older sister and younger brother. Wanna says that his family and supportive parents keep him grounded and motivated. "He really is self-driven though. Most kids I train I have to stay on top of, but not Wanna. He has always had such a drive and strong work ethic compared to other kids… we knew there was just something different about him," said Wanna's father and coach, DJ Walton.
Onward Athletics
DJ and his wife, Jessica, opened Onward Athletics, a boxing gym and youth travel baseball program in Braselton to support their kids' dreams and help other youth in the area to always "move forward" towards their own goals.
Aside from his own father, Wanna also looks up to Mike Tyson and Muhammad Ali. "In the ring I love Mike Tyson, I love his head movement. I love how every time he stepped in the ring he looked like he was going to rip someone's head off. I loved his power. I also really admire Muhammad Ali and how he danced in the ring, the whole 'float like a butterfly, sting like a bee thing' – and I of course admire who he was outside of the ring," said Wanna. After Muhammad Ali's death in 2016, Facebook published a video to honor the incredible athlete and activist, and Wanna was featured in that video, as well as one of the faces of Under Armour's Muhammad Ali Collection, which he said was a great honor.
Representing Georgia
Representing the state of Georgia for the fourth year in a row, Wanna will compete in the 8-14 year old age group at the 2018 Silver Gloves Regional Championship in Maryland in January, with the hopes of qualifying for nationals for a third year. With Wanna's busy schedule between training everyday and traveling across the nation for boxing and gymnastics, it was necessary for him to be homeschooled, which was not an easy decision at first, but his family has supported him every step of the way and Wanna has continued to excel in his academic career. "I have been a straight A student my whole life and that's not going to change," said Wanna. "It has been so great to be part of a program like Gwinnett County Online so that he can be where he needs to be [for training or tournaments] but still has such individual attention from teachers," said his mom, Jessica.
It takes hard work though. "I train every single day between boxing and gymnastics" he said. Even when he is "playing outside" he is still usually running laps or doing pull-ups," his parents said. But, it's like he was just born to do this: an innate talent. "When I was two years old I saw a boxing match on TV and told my dad, "I wanna do that…but it wasn't until I was four that he took me to the gym," he said. Wanna's father, DJ, was a boxer when he was younger, but then switched gears to football and track & field, but said his son has gotten him back into boxing. "Right when I started I realized that this is a forever sport for me," Wanna said. "If somebody is interested in the sport, the first step to take is just to start training," he advised.
By age 11, Wanna has been featured on the Steve Harvey Show, has been to national championships for boxing, the regional championships for gymnastics, has been in Under Armour commercials that play during Monday Night Football on national television, and more. But despite these accomplishments and opportunities, he "is super grounded and crazy humble," said his parents. "We really are so proud of all of our kids and support each of their own interests," said Jessica. "Our other kids see how hard [Wanna] works and he motivates them in really good ways," she continued. "It definitely takes discipline," said Wanna, "I have to work really hard, but I have fun doing it." This is just the beginning for Wanna and we look forward to seeing where this exciting journey takes him.